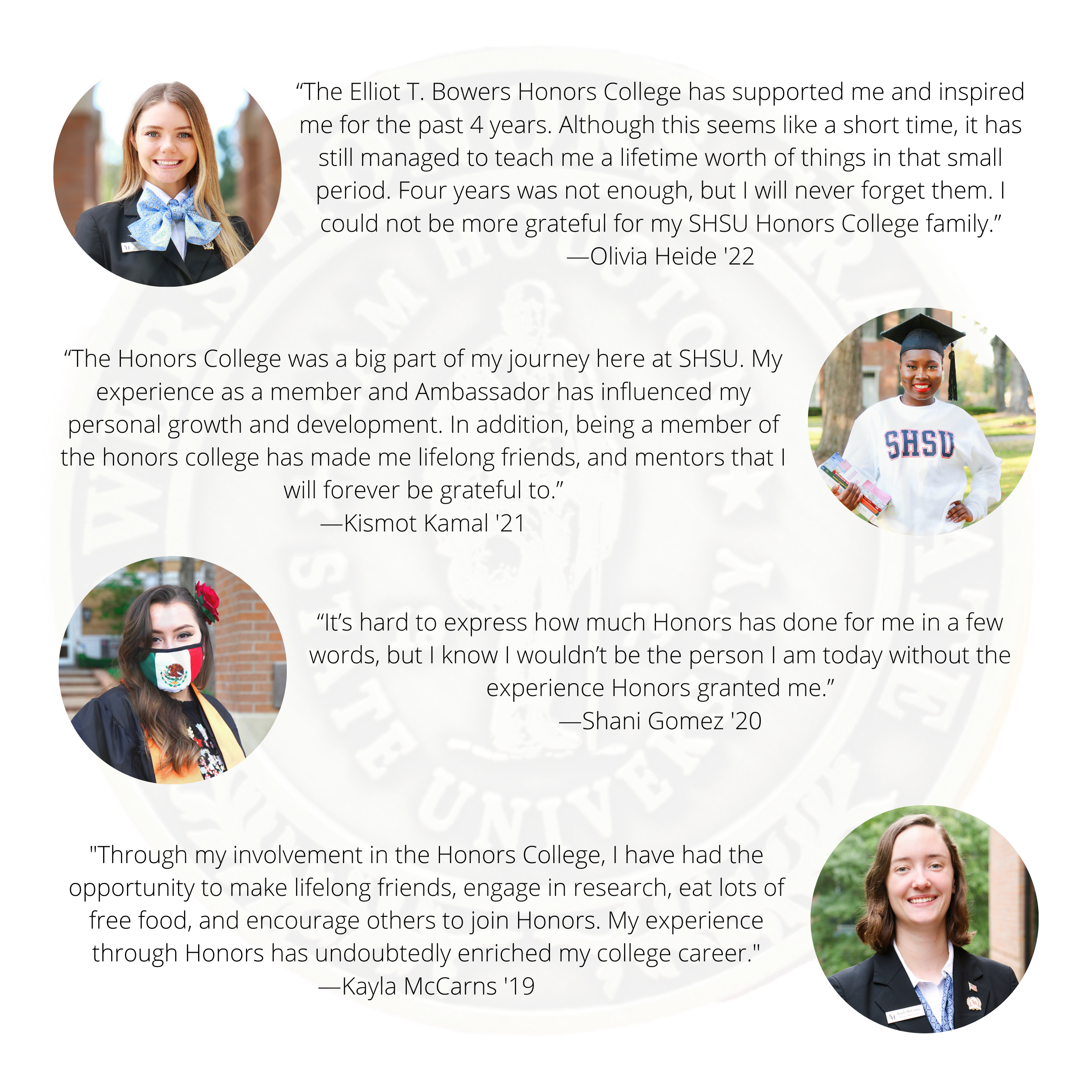 Specialized Courses
Students have access have many chances to work closely with professors in specialized Honors courses, including the ever-popular seminar series. In the past, students have had the opportunity to attend seminars such as HONR 3332.01 Humanities: Hamilton, HONR 3375.01 Dialogues (Hurricane Harvey), and HONR 3331.02 Culture and Society: Harry Potter. During the current fall 2023 semester, Honors students will be able to take HONR 3332.01 Kung Fu, HONR 3342.01 The Word (Domination), and HONR 3343.02 Film and Society (Sci Fi). Each semester, seminars on varying topics are offered in order to ensure each student can find a seminar that he or she will enjoy.
---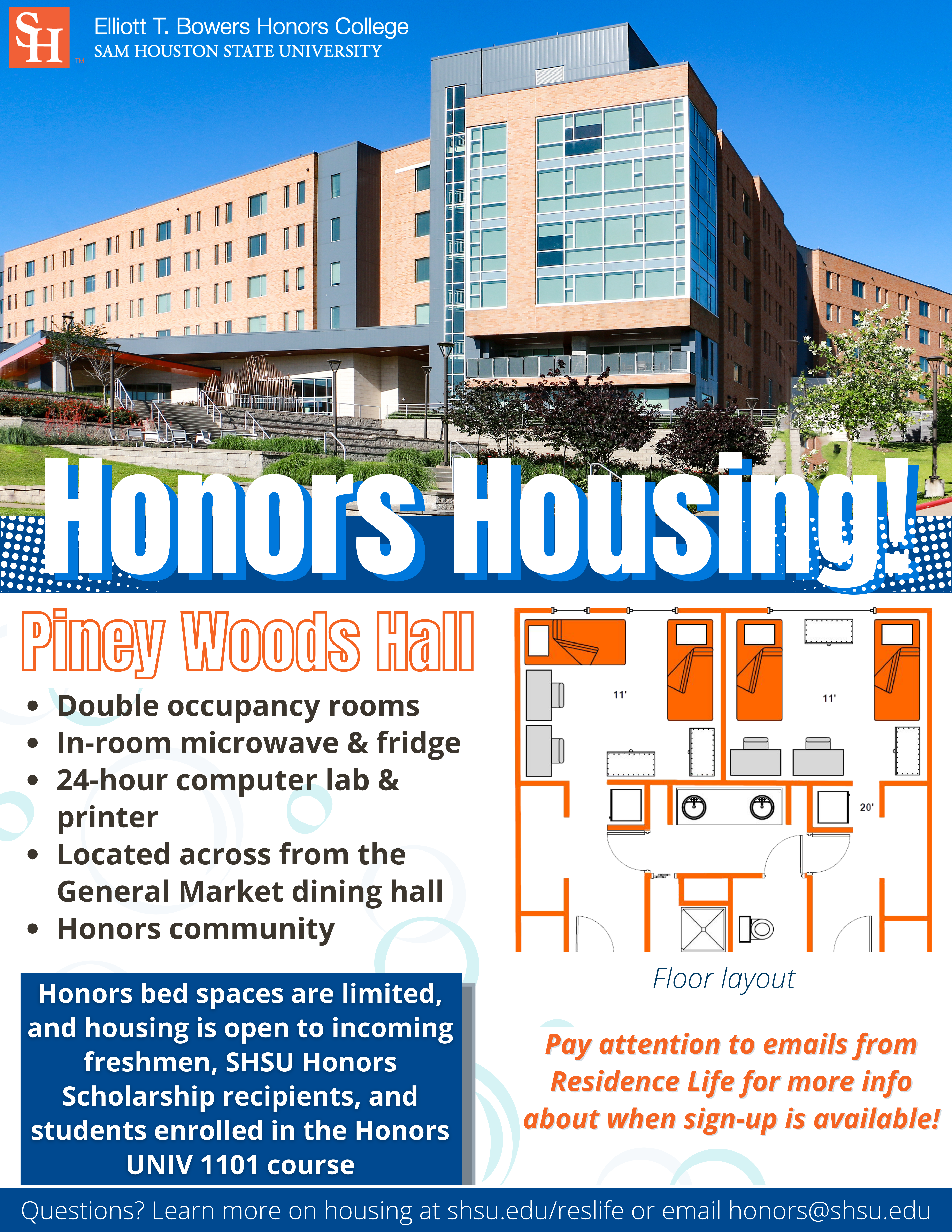 Honors Housing
Our incoming freshman students have the opportunity to live with fellow academically driven Honors students on the top floor of SHSU's newest housing facility, PINEY WOODS HALL. Piney Woods Hall is conveniently located right across the new on-campus dining hall, General's Market, and next to the newly-built life sciences building. Piney Woods Hall also offers different amenities that other dorm halls do not such as an in-hall Community Learning Center, 24-hour computer lab, and areas for both indoor and outdoor community space.
See if you are eligible for HONORS HOUSING.
---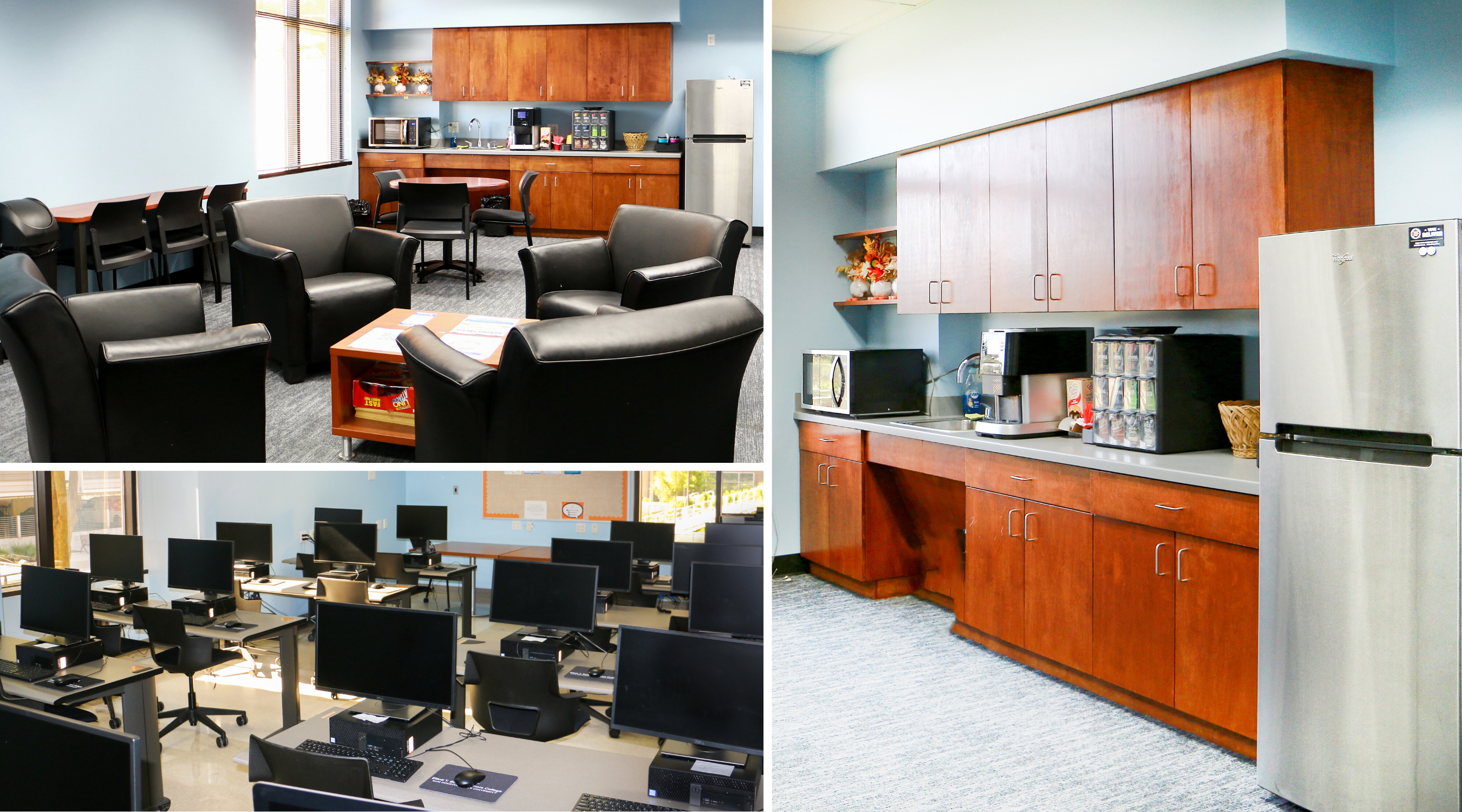 Honors Facilities
Students can VISIT HONORS year-long on Monday through Friday from 8:00 a.m. to 5:00 p.m. In the office, Honors Staff is available to answer questions and assist students. Honors students have access to a private computer lab and lounge located on the 1st floor of Academic Building IV. (Right below the Honors College Office.) The Honors Lab has computers, a printer, and other supplies. The newly-renovated Honors Lounge has two conference tables with digital monitors, a whiteboard, lounge area, refrigerator, sink, and microwave available for Honors students. Additionally, the Elliott T. Bowers Honors College has a reserved study room in the Newton Gresham Library.

---
Advanced Registration
Every semester, Honors students are the first group of students on campus that are able to register once ADVANCE REGISTRATION opens. Honors students are asked to complete a minimum of 10 hours of community service per semester. Once the community service is completed, students are offered access to advance registration. This advantage allows students to schedule their classes in a manner most convenient to them without having to worry about the availability of seats in a certain class.
---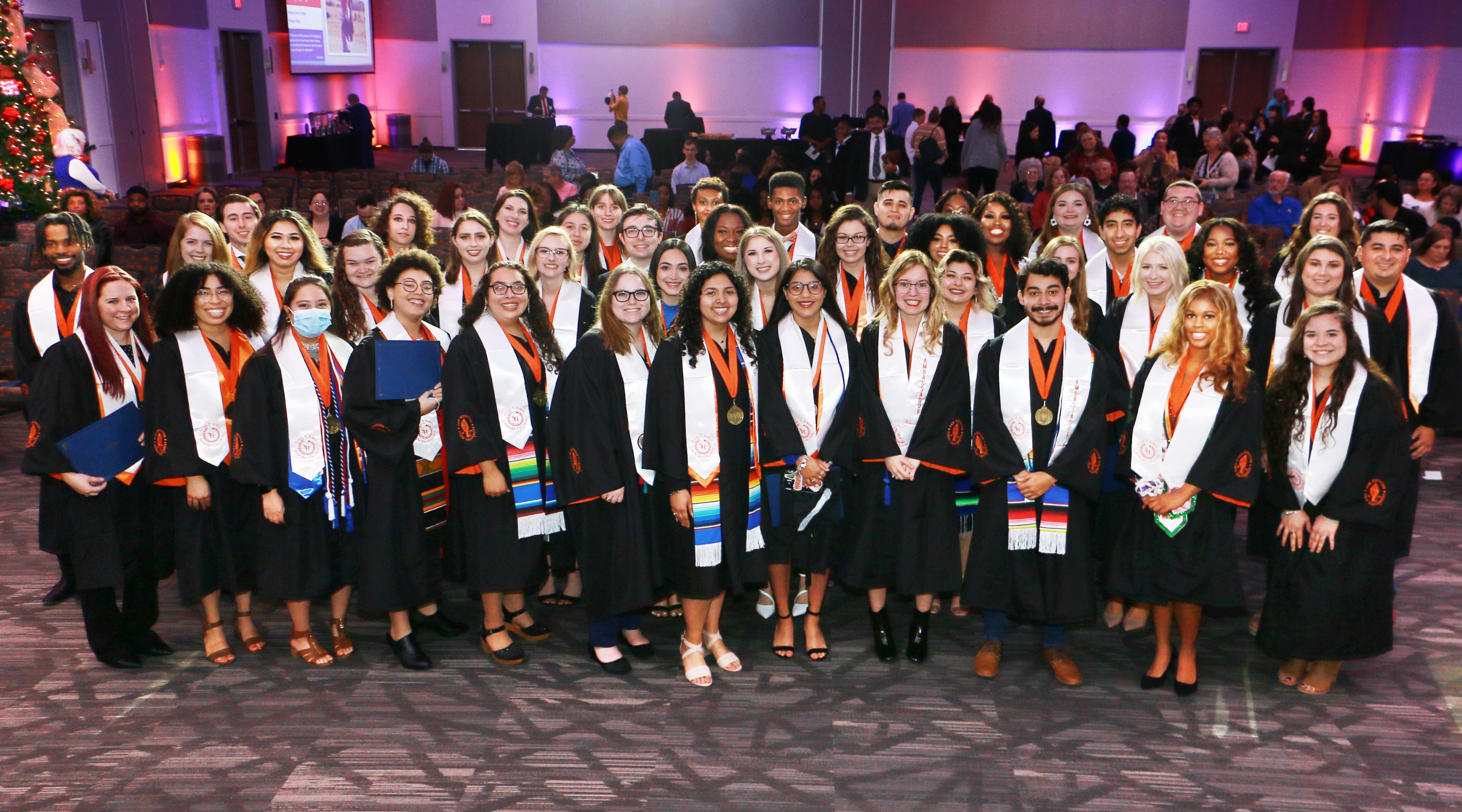 Distinction Upon Graduation
Upon graduation and successful completion of the Honors College requirements, students receive special recognition during their official commencement ceremony, a permanent with Honors notation on their transcript, and an invitation to the Bowers Medallion Ceremony & Reception. At the Bowers Medallion Ceremony, students receive an Honors stole and Bowers medallion to be worn with their regalia during their official commencement ceremony. This distinction is significant in being a representation of the hard work and most importantly, a dedication that all Honors students have.
---

Events
Each semester, the Honors College offers varying events for its students.
Honors Events include Pizza with a Prof, Ice Cream Socials, Honors Welcome Retreat, ProfSPEAK!, Parents Luncheon, and more!
---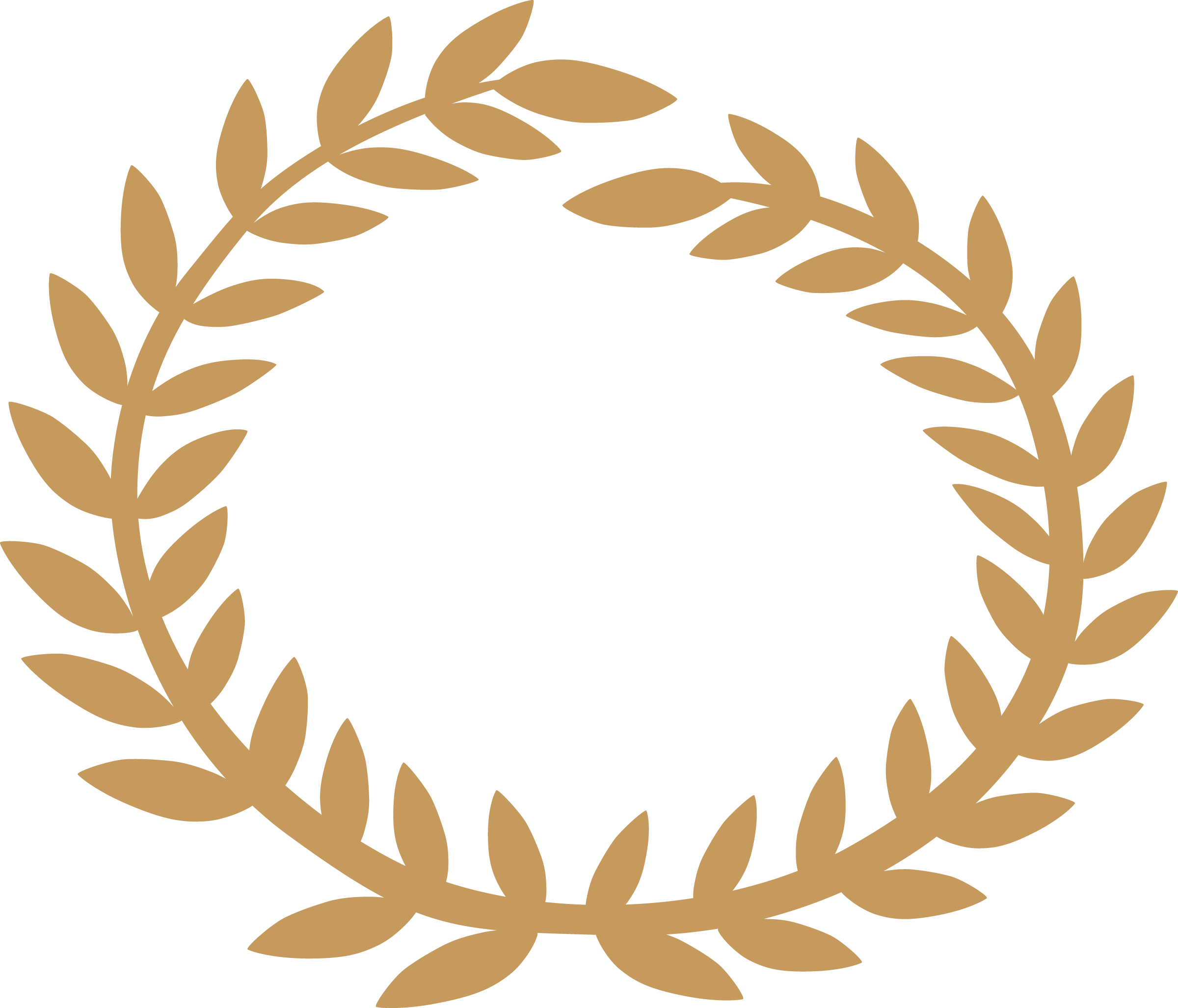 The Elliott T. Bowers Honors College
Academic Building IV Suite 202 | Box 2479 | Huntsville, Texas 77341-2479
Phone: (936) 294.1477 | Email: honors@shsu.edu