Department of Engineering Technology
Construction Management
Senior Capstone projects and industry internship programs give students on-site learning experiences that often lead to full-time employment upon graduation.

Electronics and Computer Engineering Technology
Students working on soldering components to a drone and RC car for their Special Topics Senior Design course.

Mechanical Engineering Technology
Students receive a world class engineering technology education by combining physics, mathematics, and materials science into active learning experiences.

Engineering Technology
The program offers emphases in Electronics, Safety Management, and Career & Technology Education.

Engineering Design Technology
Our students are equipped with the skills needed in the design field for the implementation of technology innovation, utilization of engineering graphics, and problem-solving skills.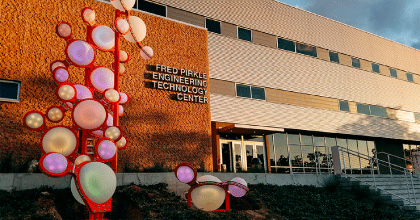 Department of Engineering Technology Facilities
The Fred Pirkle Engineering Center is an innovative learning center that houses state of the art classrooms, specialized laboratories, and faculty and staff offices for two departments (Agricultural Sciences and Engineering Technology) at Sam Houston State University. The center is named after the inventor and SHSU alumnus Mr. Fred Pirkle, who set aside $10 million out of his $25 million gift to SHSU to construct this learning facility.
For more information and images of our other state-of-the-art labs, please visit the "facilities tab" or click the link below.