All requests for maintenance, repair, custodial, landscape and project estimates can be submitted electronically through our self-service portal, FAMIS. Students and visitors should call Customer Service at 936.294.3663 for assistance.
Call Customer Service
For after hours emergencies, contact the University Police Department at 936.294.1800.
Call Police
Billable vs Non-Billable
Our department receives funding only for the maintenance and repair of University building infrastructure, grounds, and support systems in Educational and General (E&G) and Designated space. New projects, maintenance and repairs beyond educational and designated use will be billed.
More Information
Dorm Maintenance
Residents should submit all non-urgent repairs with the StarRez portal. If you have an urgent repair during business hours, call Facilities Operations at 936.294.4474. After hour repairs should be directed to the RA on duty. Business hours are 8am to 4:30pm, Monday through Friday.
StarRez Login
Call Now
Construction & Maintenance Notices
Notice from the City of Huntsville (COH)
The COH has scheduled a sidewalk repair, due to a previous water leak, at 1201 17th Street on Tuesday, November 2 from 8 am to 4 pm. The work location is approximately 200 feet west of Sam Houston Avenue on 17th Street, sidewalk repair will be on the South Side of 17th St.
Oct 27, 2021
Street Closure-Monday, Oct. 25 -Sunday, Nov. 14th
A portion of Avenue I, between Bearkat Blvd. (16th St.) & the 17th St. intersection will be closed to vehicular traffic between Monday, October 25- Sunday, November 14th. This closure is necessary to allow for the safe erection of concrete panels & demobilization of the crane for the construction of the Northside Parking Garage. Remember to use caution in this area, adhere to all barricades & detour signage. Please utilize the site map for closure details & detours.
Oct 19, 2021
View Map
View Map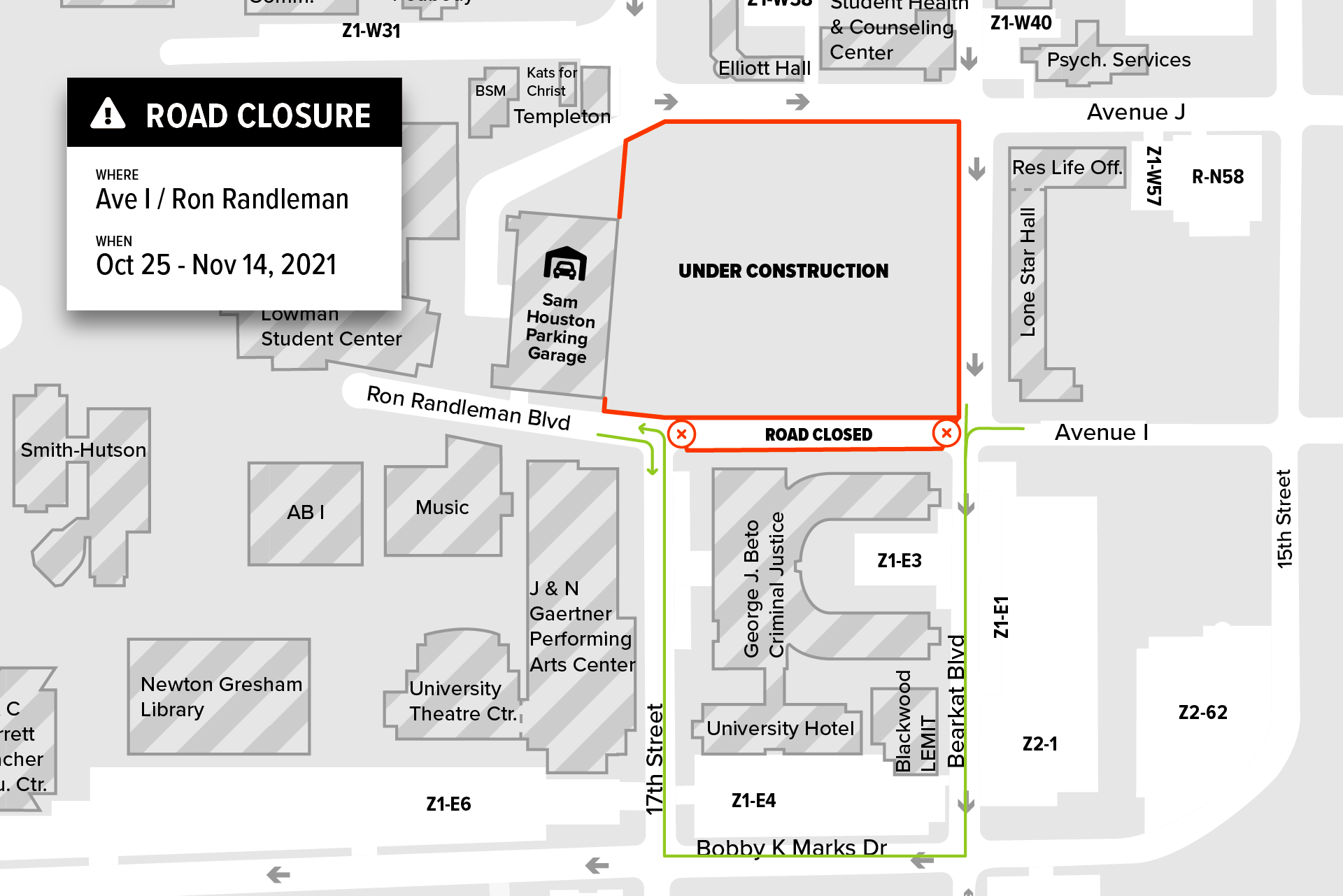 Recognized by Tree Campus USA since 2014
Our university has been designated a Tree Campus USA university each year since 2014 by the nonprofit National Arbor Day Foundation. Tree Campus USA is a national program of the National Arbor Day Foundation that honors colleges and universities for promoting healthy urban forest management and engaging the campus community in environmental stewardship.
Support Urban Forestry
Need Help?
Facilites Customer Service
Vice President of Facilities Management