The LSC will close at noon on Friday, April 2 and reopen at 7:00a on Monday, April 5.
ATTENTION
The LSC is doing the following to ensure best practices with regard to hygiene and facility cleanliness:
Routine cleaning is ongoing, emphasizing door handles and other commonly touched areas
Hand sanitizer dispensers are located at the entrances of the facility for your convenience
Participants are encouraged to collaborate within a double arm's distance of one another
You can assist in preventing the spread by adhering to the following practices as advised by the CDC:
Clean and disinfect frequently touched objects and surfaces
Wash your hands often with soap and water for at least 20 seconds
Avoid touching your eyes, nose, and mouth
Cover your cough or sneeze with a tissue, then throw the tissue in the trash
Avoid close contact with people who are sick
Stay home when you are sick, except to get medical care
Welcome to Your Living Room on Campus!
Please note the email address for the LSC has changed to lsc@shsu.edu.
This building will house our School for Gracious Living. In an environment abounding in beauty, we shall learn the art of social efficiency by following the rules of good manners and right conduct...here [our students] together will perfect themselves in the Art of Gracious Living.
—President Harmon Lowman, March 2, 1950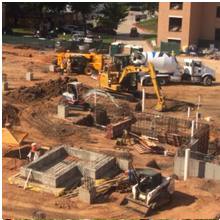 Expansion News
The LSC is home to:
University Bookstore (294-1862)
Information Center
Kat Klub Entertainment Center
Ballroom
Theater
16 Conference Rooms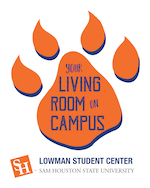 936.294.1759 | 1802 Avenue I, Suite 331 | Campus Map
After 5:00pm and on weekends call or visit the Information Center 936.294.4902
This building houses unmonitored video surveillance.