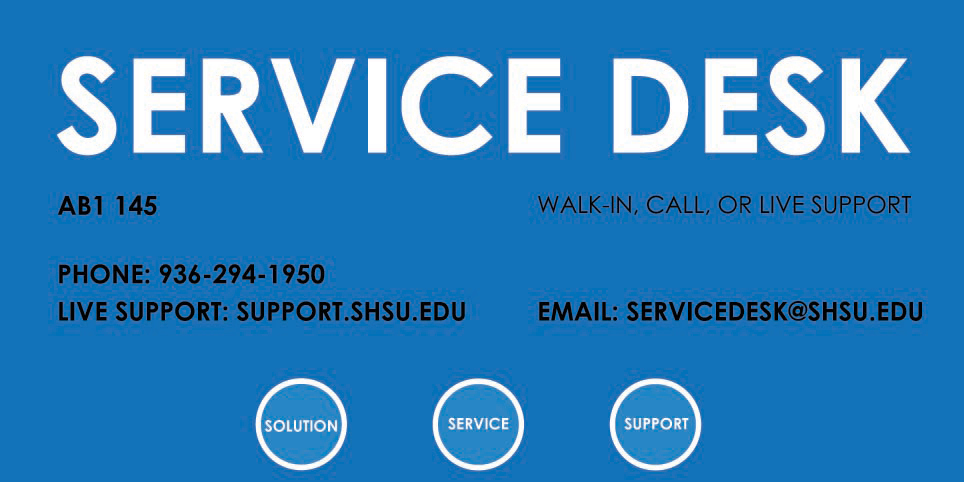 IT@Sam Service Desk is the first point of contact for all technology-related requests or issues for the University. We provide first-level troubleshooting and escalate to the appropriate areas within IT@Sam as needed.
Computer Account Support
For those with SHSU accounts, here are a few common account help categories.
Workstation Support
We have various computer lab locations on campus for faculty, staff, and student use.
Hardware
In order to ensure compatibility and a quick response to problems, the University has authorized IT@Sam to provide computers for University use. See our campus computer management procedures.

If you are having problems with a University-owned computer and need assistance with either hardware or software support, you can place a ticket through the Katalyst Self-Service Portal, call the IT@Sam Service Desk at ext. 41950 or e-mail servicedesk@shsu.edu.
Software
IT@Sam provides an extensive list of centrally-managed, approved software through our installation menu.
Software licensed by your department for faculty and staff may be eligible for installation on the network after completing the software installation request. To ensure license compliance, freeware and shareware should be approved by IT@Sam prior to installation.
Laptop Support
IT@Sam will assist in configuring University-owned laptops for access to the University LAN. If you would like to have your laptop configured for access or need assistance you can contact the IT@Sam Service Desk at ext. 41950 or e-mail servicedesk@shsu.edu for assistance. Please refer to the IT@Sam Software Licensing policies for further information on university policy.