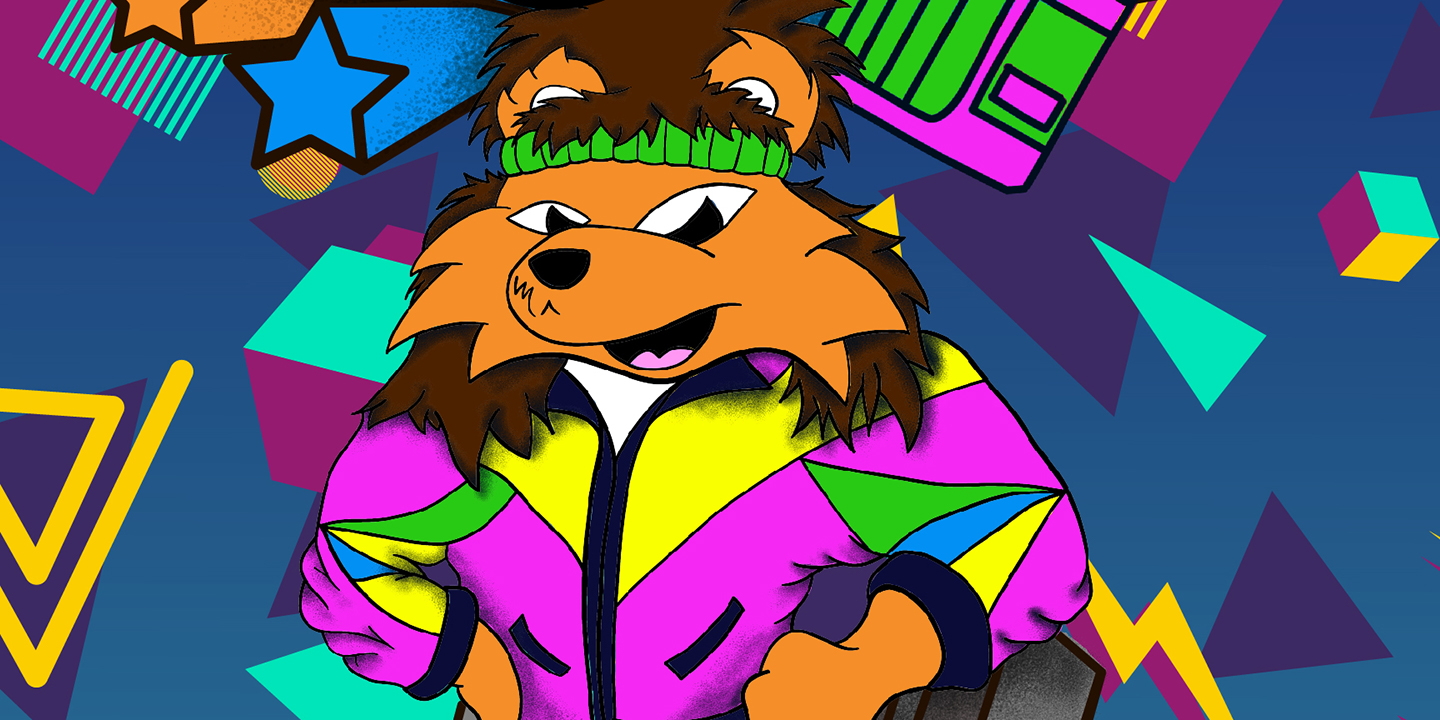 SHSU: I Love the 80's
October 23, 2021
---
---
Homecoming Parade
THURSDAY, OCTOBER 21st, AT 6:15 P.M
Spirit Competition
Homecoming fosters a week-long interaction among students, faculty, staff, alumni and the community. The information packet below features information for student organizations wishing to participate in the Homecoming Spirit Competition.
---
King Candidates
Charles Joyner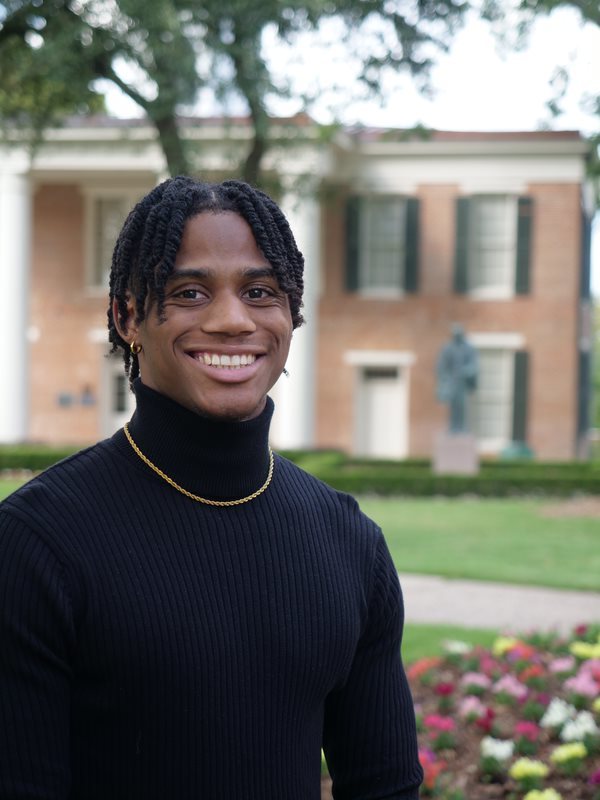 Charles Joyner was born and raised in Brooklyn, New York, and is currently a senior at Sam Houston State University. His major is kinesiology with a concentration in clinical exercise science. He also has a minor in psychology, with the goal to open up his own practice as a physical therapist. He is also the current president of the Theta Mu Chapter of Alpha Phi Alpha Fraternity Inc.
Jared Willis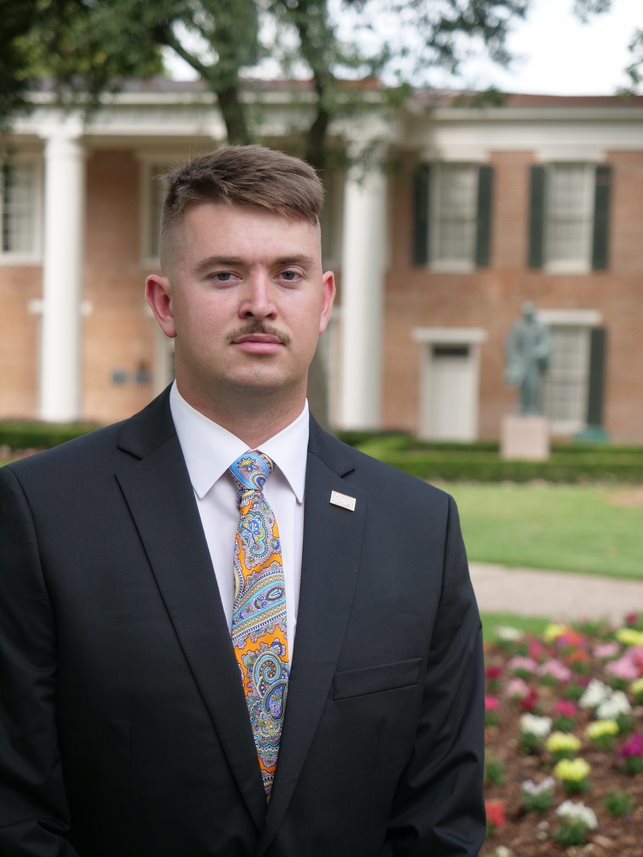 Jared is a senior majoring in Criminal Justice. He is the Vice President of Kappa Alpha Order and is the Risk Management chair for the Interfraternity Council. Jared also serves on the Sam Houston student disciplinary board. He is a specialist in the Army Reserves, where he serves as the CBRN NCO for his unit, and has been awarded multiple Army Achievement Medals during his time in service. In his free time, Jared enjoys competing in intramurals, spending time with friends, watching ANY football, and cooking up good meals. Jared's friends describe him as "the perfect balance of responsibility and a great time." They also note his honesty, which at times can be brutal. Post-graduation, Jared plans to attend Officer Candidate School and continue his career in the Army or become a firefighter in the greater Houston area.
Jesus Martinez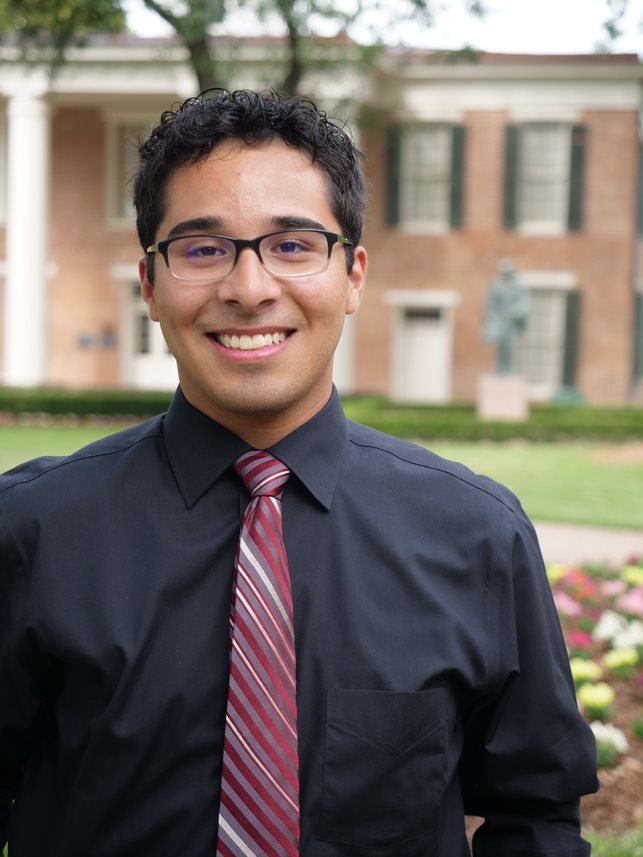 Jesus Martinez is a Senior majoring in Multiplatform Journalism and a minoring in Spanish. He is currently an Orange Key and has served in Welcome Week for the past two years! In addition, Jesus is involved in Student Government, Honors College, Alpha Lambda Delta, Sigma Phi Epsilon, and the Food Pantry. Jesus enjoys going out into the community and living up to the university motto, "The Measure of a Life is its Service." Upon graduating, Jesus hopes to work at a news station as a broadcast reporter and/or anchor.
LaKendrick Bryant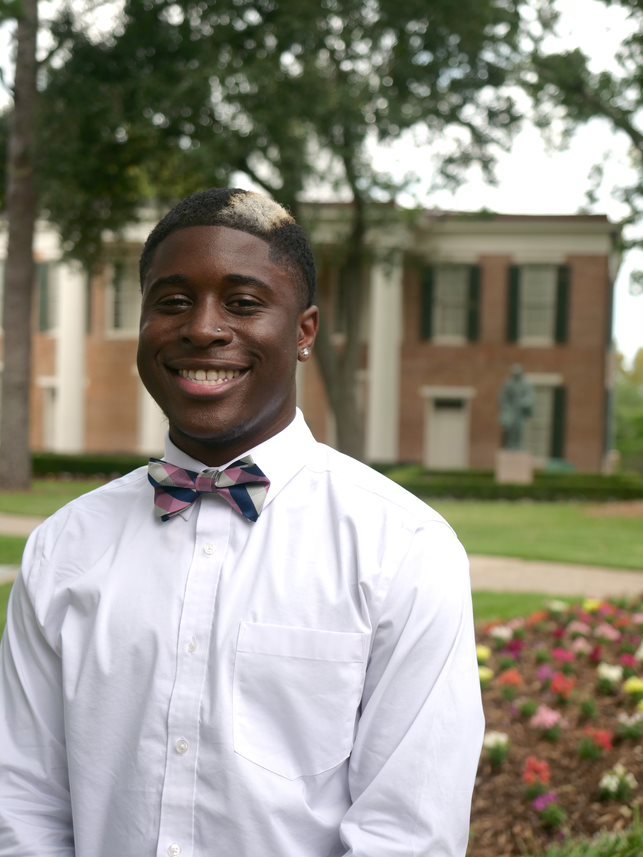 LaKendrick Bryant is a senior from Dallas, Texas. He is majoring in public health and plans on working in a health clinic to educate people on sexual health. He loves to make people smile and hopes he can brighten at least one person's day every day. LaKendrick is the vice president of the Iota Phi Theta Fraternity Incorporated, a member of Fade to Black Dance Ensemble, a member of the Sam Houston State University Spirit Programs, and a Resident Advisor here at SHSU. He also works in the VITA Tax Return Center here on campus. He will be the first person in his family to earn their bachelor's degree. After graduating in the Fall of 2021 he hopes to attend Grad school to earn his masters in public health.
Michael Chambers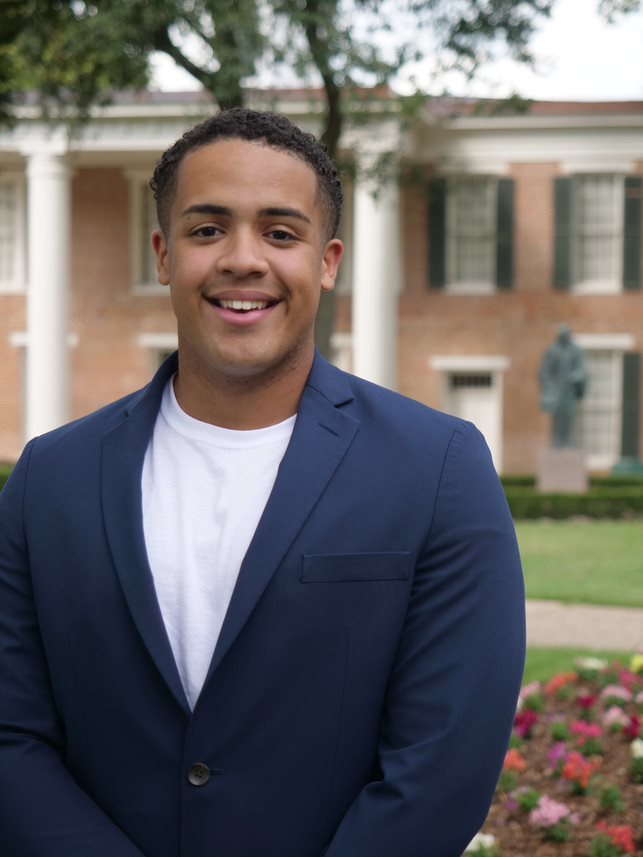 Michael Chambers is a Junior from Spring Texas. He has a major in Political Science with a minor in English. On Campus, he is a part of Delta Tau Delta Fraternity, where he serves and the Director of Recruitment and as Social Chairman. He is also involved in Campus Outreach and the YDSA. After getting his undergraduate degree, Michael hopes to take on law school and eventually join a practice. In his free time, Michael enjoys reading, writing, and staying fit. If elected, Michael hopes to use his platform as Homecoming King to further the student community's interests.
Trebor Powell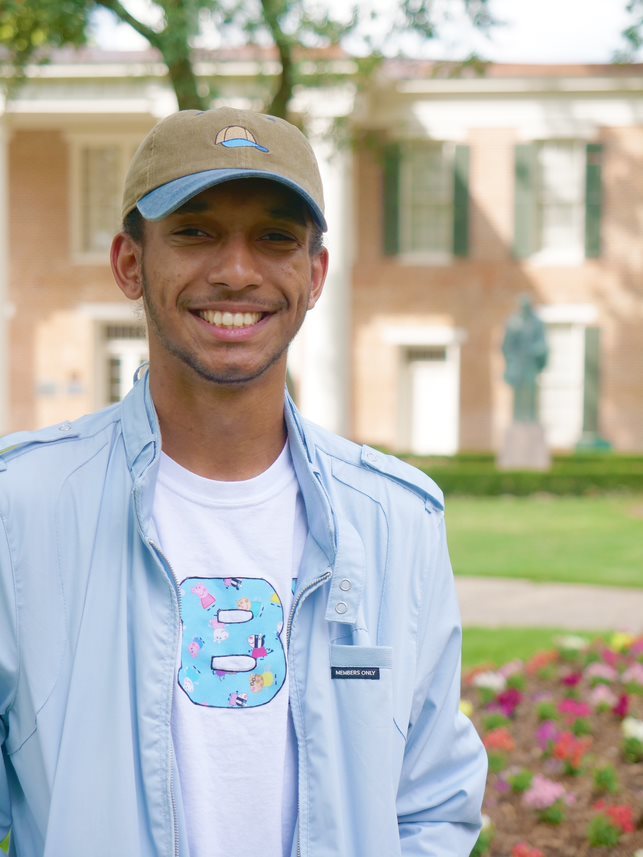 Trebor Powell is currently a Junior and Music Education major here at SHSU. He is originally from Pittsburg, Pennsylvania but has spent a majority of his life in Houston. Trebor is currently the Drum Major of the Bearkat Marching Band, the biggest spirit organization at SHSU. Alongside Drum Major, Trebor is currently the President of Tau Beta Sigma National Honorary Band Fraternity, a co-ed fraternity dedicated to providing service to the community and local bands. He has been an active clarinet performer in the SHSU Wind Ensemble, and a vocalist of the SHSU Men's Choir. Outside of music, Trebor is a Peer Mentor at the Academic Success Center, providing academic support to students in need, and a member of both the Honors College and Alpha Lambda Delta Honor Society. In his free time, Trebor enjoys boxing fitness and strength training, playing and adding to his 1000+ video game collection, dropping bangers on Spotify, and creating content on various platforms for people to enjoy. Trebor's ultimate goal is to become a Music Educator and provide future students with an amazing outlet to fully express their individuality.
Queen Candidates
Ay'Donais Wilkins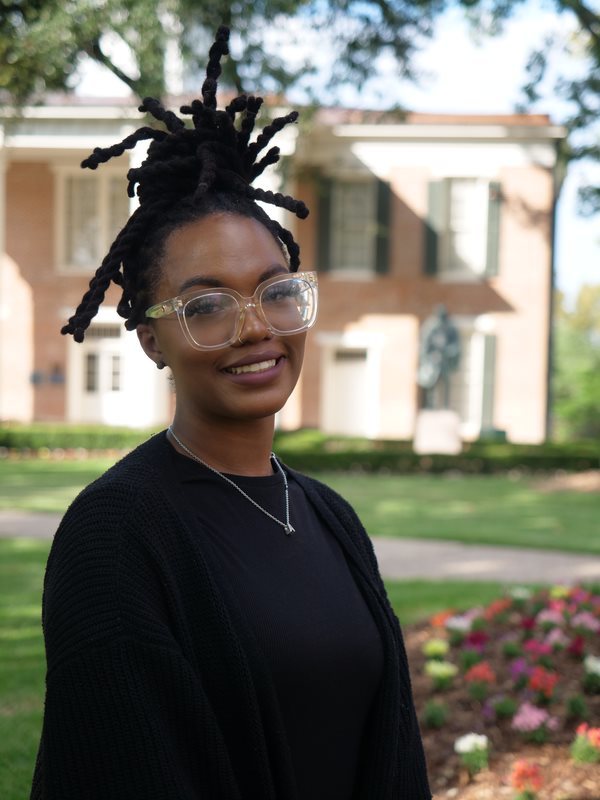 Ay'Donais Wilkins is hoping to become your 2021-2022 Homecoming Queen! She is currently a Junior here at SHSU, majoring in Forensic Chemistry with a double minor in Forensic Science and Biology. Besides academics, she is a part of Society of Forensic Science, Black Women Empowered (BWE), and many other organizations. In her free time, she likes to paint, sing, read, or catch up on tv shows! Having the opportunity to run or even becoming the Homecoming Queen would be an awesome experience and satisfy her childhood dream of wearing that crown. She knows that she could represent SHSU in an effective way, especially with your support and vote! Thank you so much!
Cameron Choate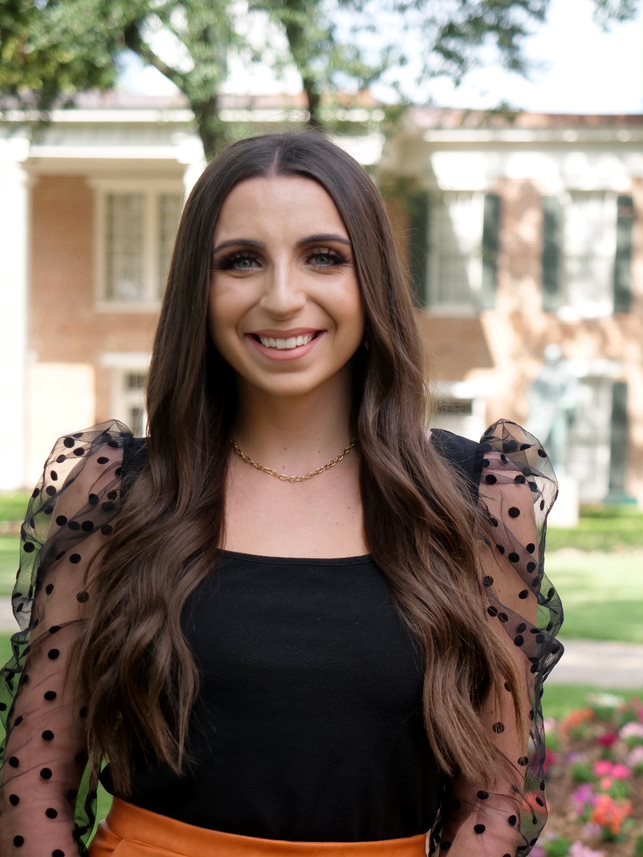 Cameron Choate is a Senior majoring in Supply Chain Management. Cameron is a member of Alpha Chi Omega and commits her time to promote Domestic Violence Awareness alongside her sorority. At the 2020 Pantheon Awards, Cameron was named Greek Woman of The Year. Cameron has been an active member in our community, completing 145+ service hours during her time at Sam Houston. Throughout her college experience, Cameron has learned the true meaning of service for others as she lives out the University's motto, "A measure of a life is it's service." Cameron has successfully held six leadership positions in her sorority, and currently serves on her chapter's executive board as Vice President of Recruitment. Cameron has had a profound impact on her peers, in Greek Life, contributed to the community and earned recognition for her efforts in the classroom by making the Dean's or President's list every semester at SHSU.
Claudia Fuenmayor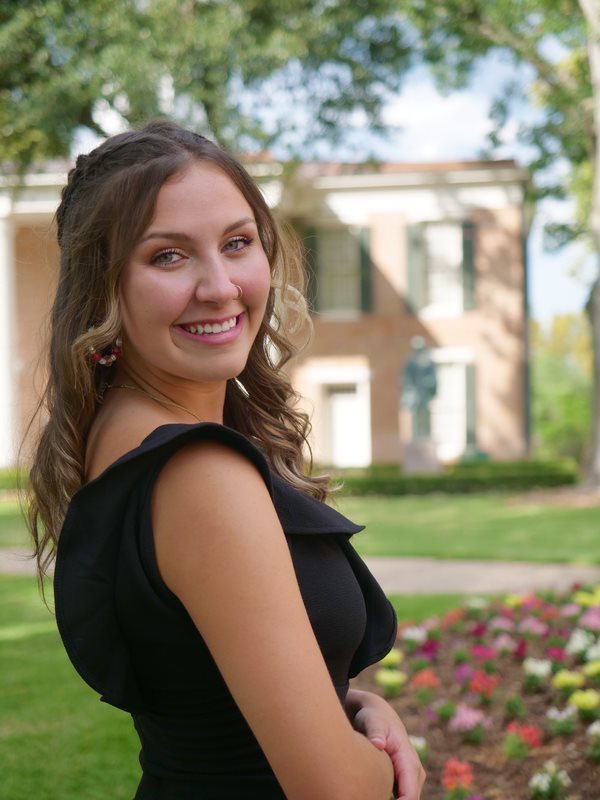 Claudia Fuenmayor is a junior Music Education major. She was born and raised in Caracas, Venezuela. Claudia is an Orientation Leader for SHSU and serves as the SHSU College Representative for Young Band Directors of Texas. She is a member of the women's music fraternity, Sigma Alpha Iota, and the Alpha Lambda Delta Honors Society. Claudia currently serves as a member of the Bearkat Marching Band. She has also had the privilege to be Principle Clarinetist of the SHSU Wind Ensemble. In her free time, she enjoys playing soccer with her co-ed intramural team and volunteering at the Montgomery County Humane Society. Claudia's ultimate goal in life is to expand the beauty of the fine arts in Venezuela and help children use music as a sanctuary away from the unfortunate hardships there.
Faith Evans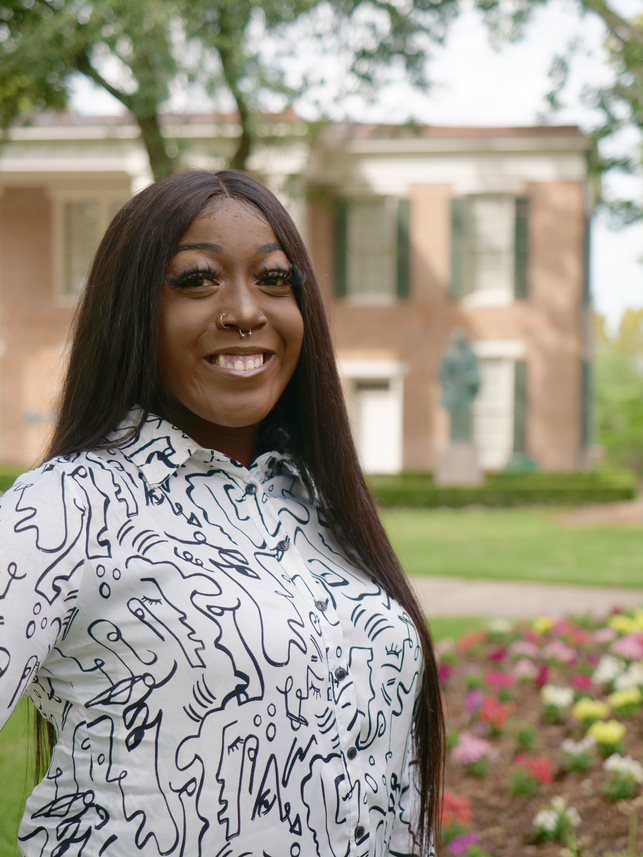 Faith Evans is a senior studying Mass Communications and Minoring in Sports Media from Dallas, Texas. During her time here at Sam Houston, Faith was an Orientation Leader for 3 years and is currently an Academic Recovery Coach in the Academic Success Center, and a student worker for the Bearkat Sports Network. Faith holds positions as the Choir Director of Soul Lifters Gospel Choir and the Secretary of Music Nation. In her free time, Faith enjoys her plants, listening to her favorite artists, Maverick City Music, Ari Lennox, and Sir, and watching Bob's Burgers with her dog, Cash. Furthermore, Faith is an entrepreneur with her own business, "By: Faith Kierra," a one-stop-shop for all your accessory needs. During her time here, Faith has flourished and loves Sam Houston's campus. Faith is on a mission to leave her legacy here and encourages you all to do the same.
Jazmine Martinez
Jazmine Martinez is a Transfer Junior who is Majoring in Criminal Justice. She previously was a part of an Early College Program and attended San Jacinto Community College and Sam Rayburn High School at the same time and obtained her Associates degree as well as her high school diploma. She is the first person in her family to go to college and is the oldest out of 4 siblings. She is extremely passionate and hardworking about everything she does, from extracurricular activities to her education and more. She loves making a change for the better in every aspect of life, she's very outspoken when there is a topic that needs the attention of others and makes sure it is heard by everyone. Jazmine hopes to become a law enforcement officer and one day be a Homicide Detective, it has always been her dream since she was little to protect and serve her community.
Jessica Phillips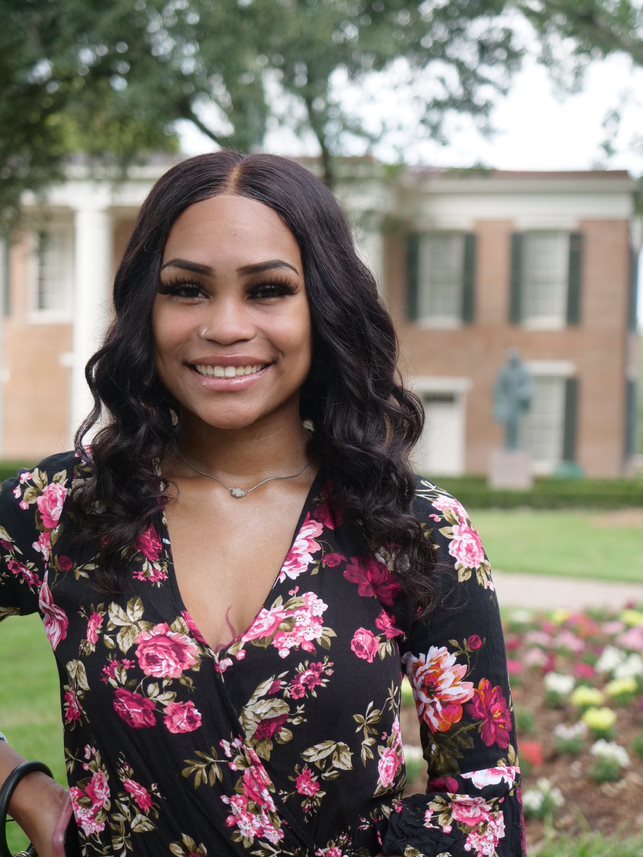 Jessica Phillips is currently a senior at Sam Houston State University. Her major is kinesiology with a concentration in Clinical exercise science. Her minor is psychology. On campus she is involved in Alpha Kappa Alpha Sorority Inc. as Vice President, Choselife Inc., and Alpha Kappa Psi professional business fraternity.
Journey Peacock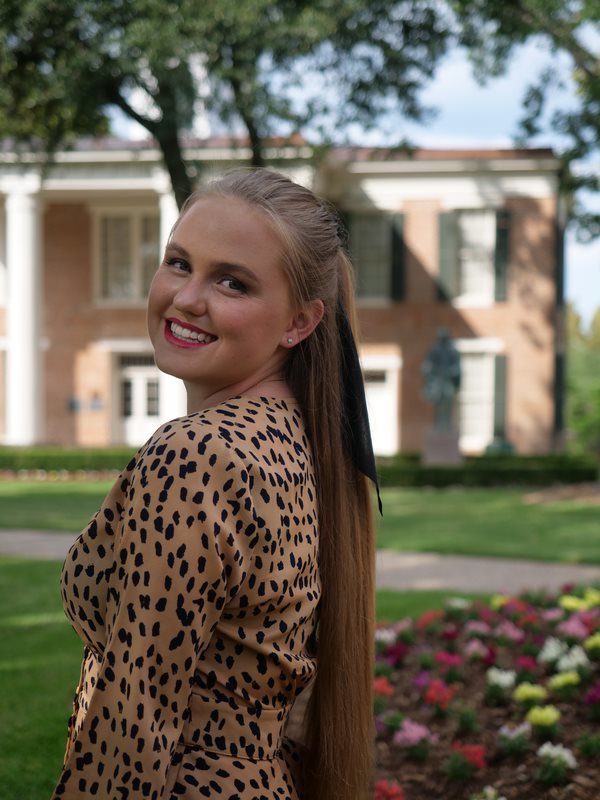 Journey is a Junior Business student. Journey grew up in a small town and embraces the family spirit and community of our Bearkat village. After graduation, she aspires to be a lead Event Planner for a large business or organization - planning events that bring people together for a common purpose. Journey is a student-teacher for Stars and Galaxies here on campus. She is also the event coordinator for a campus club. She is extremely outgoing and loves spending time helping and interacting with people. If Journey had three wishes, she would wish to have longer summer weather, a house full of dachshunds, and for people to be more accepting of other people's differences. She advocates for the idea that there is never a wasted experience; every class and every event is an opportunity to learn and grow.
Kayla Beatte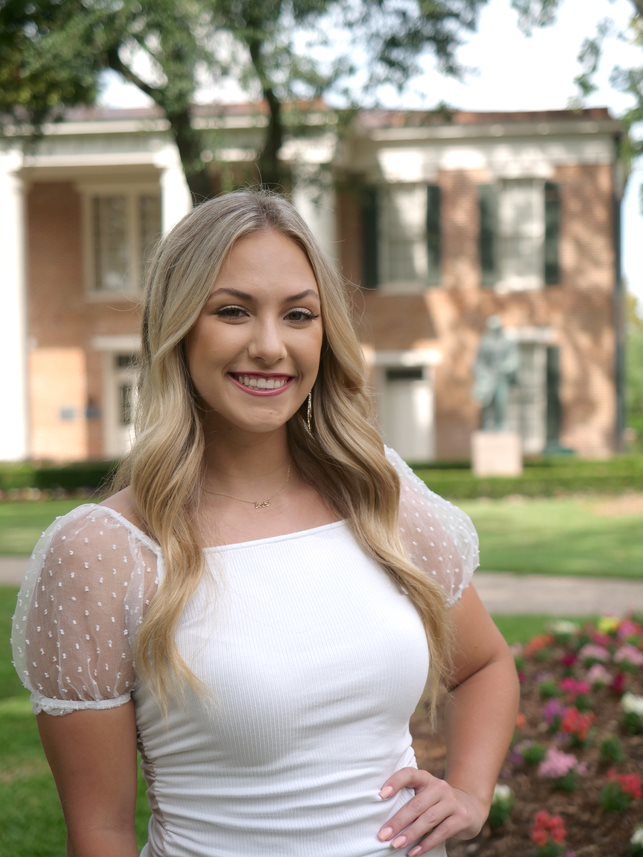 Kayla Beatte is a senior graduating in May 2022, with a degree in General Business. She is currently involved in the Student Alumni Association and since 2019, she has been an active member of Alpha Delta Pi. Kayla believes in giving her all to anything she undertakes and shows this throughout the different positions she's held. She previously was Wellness Specialist, Bid Day chair, and is currently on the executive board as the Vice President of Marketing. Kayla also believes Academics are extremely important and has proven this by making the dean's list. Kayla has spent her time at Sam Houston giving back to the community by participating in many philanthropic events as well as volunteering anywhere she can. She actively lives out SHSU's motto "The Measure of a Life is its Service" and will continue to do so the rest of her time at Sam Houston and post-grad.
Ray'Jaa Turner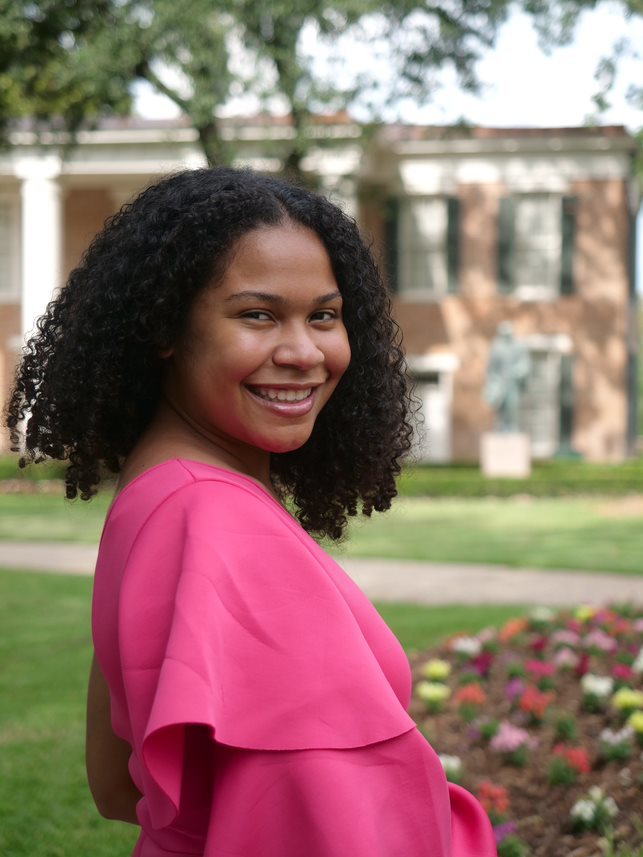 Ray'Jaa Turner is a junior studying Biomedical Science Pre-med. She began her freshman year at Sam Houston State University by getting involved in many campuses' organizations. She is active member of SHSU Association for medical students, NAACP, Acceptance Bearkat Orientation Leader, Welcome Week Leader, Bearkat counselor, Resident Advisor Elliott T. Bowers Honors college, Alpha Lambda Delta Honor society and first Vice President of Zeta Phi Beta Sorority Incorporated. Aside from her involvement on campus she currently works with survivors of sexual assault. She also does public speaking on her own experience with sexual assault to promote and encourage to uplift women. She wants to be able to leave her legacy behind by following her brother's steps who won homecoming king 2019. You should vote for Ray'Jaa Turner as your 2021 homecoming queen.
Stephanie Garcia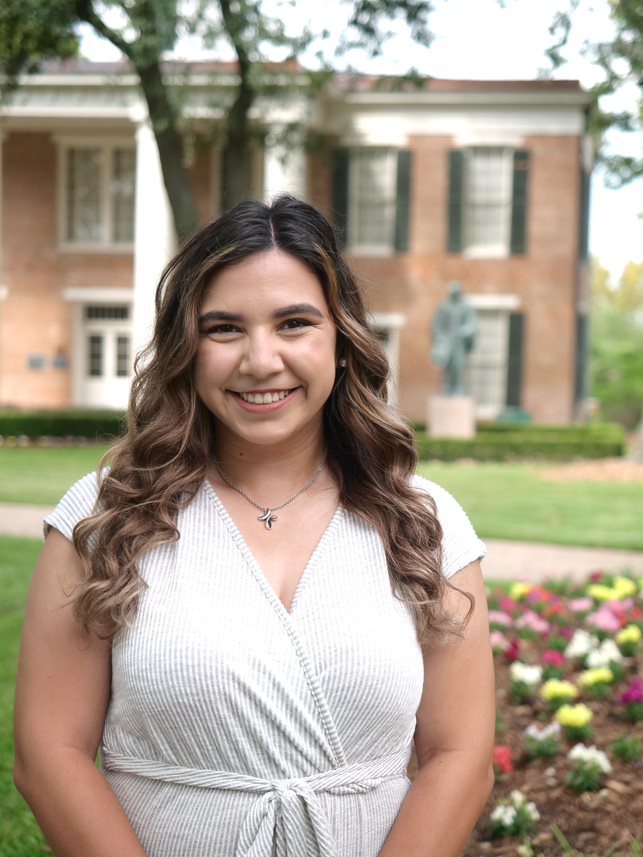 Stephanie is a Senior pursuing a Kinesiology – Clinical Exercise Science degree working towards Physical Therapy. She is a first-generation student from Pasadena, TX, and enjoys giving back to her Bearkat community as much as she can. She strives to embody "The measure of a life is it's service" by serving many roles across campus including being a Counselor at Bearkat Camp, a Welcome Week Leader, and mentoring students in TRIO Student Support Service as a TRIO Ambassador. She is also a member of Sigma Sigma Sigma sorority and previously served as Community Service chair for her chapter. In addition to her on-campus roles, she is actively working on an undergraduate research opportunity within the Kinesiology department. Stephanie is also known to be called "Miss Bearkat Spirit" for her infectious Bearkat pride. You can catch Stephanie playing intramurals, lifting weights, or cheering on the Bearkats at sporting events!
Teryn Moore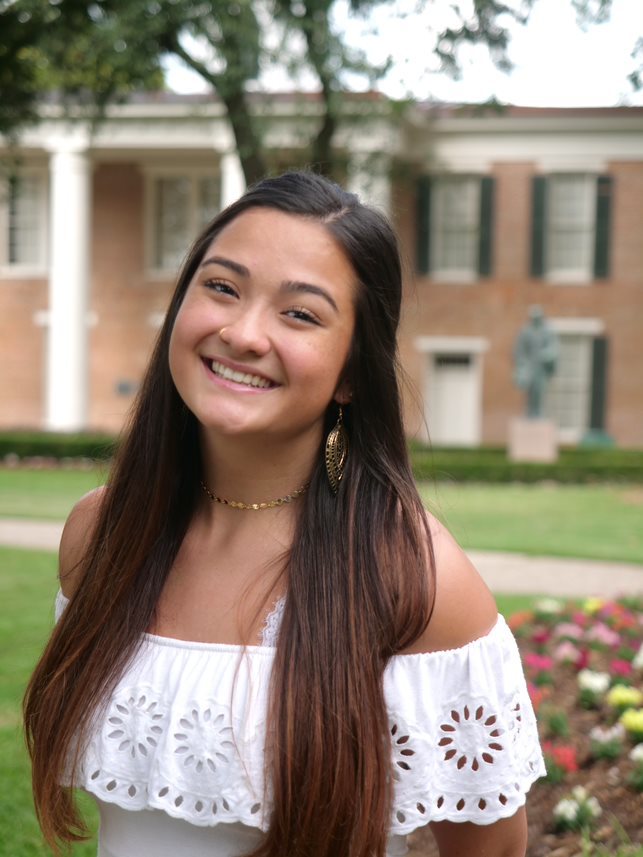 Teryn Moore is a senior accounting major who has strived to live by the Sam Houston State motto, "the measure of a life is its service." Being a first-generation student, Teryn wanted to show her family how much an individual can grow with the opportunity of gaining a higher education. With these standards set, she was inspired to become heavily involved on campus. Currently, she serves as Vice President of Finance for Alpha Chi Omega and Vice President of Beta Alpha Psi. She also volunteers as a Bearkat Camp Counselor and a College of Business Administration Ambassador. During her time here, she has realized that what she loves the most about Sam Houston State University is the genuine pride that everyone has for the community. To be a part of this, she makes every effort to live as her most genuine-self and treat everyone with the respect they deserve.
Uri-El Jackson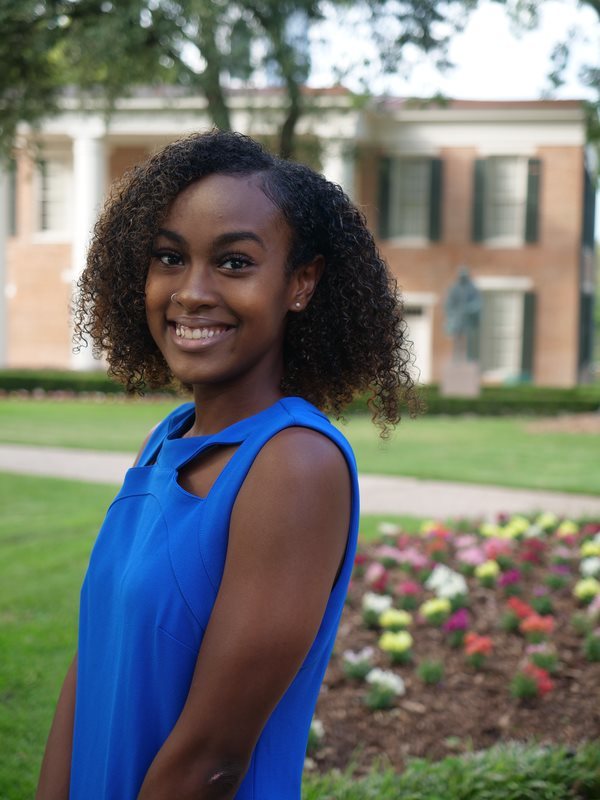 Uri-El Jackson is a junior education major from Houston, Texas. During her 3 years at Sam Houston, she has found her true self by being involved with many organizations on campus and becoming a leader in organizations such as being the President for the College of Education Advisory Board for Diversity, Equity, and Inclusion, program chairs for both Black Women Empowered and As We Are Natural Hair Society and becoming the face that welcomes new students to SHSU through being a Welcome Week Team Lead and Orientation Leader. Uri-El has also had the honor of being a part of promotional videos for the university. Outside of her commitments for school, Uri-El also dedicates her time volunteering for the communities of Huntsville and Houston. Uri-El would like to thank her family and best friends for continuing to support her and her dreams and to Sam Houston for all the love she's received.
Previous Kings and Queens

Saranya Srikanth and Zachary Nutall
2020 Homecoming King and Queen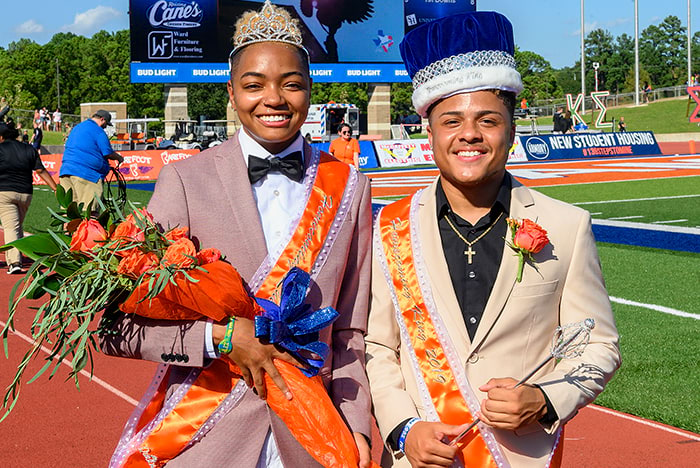 Bria Ferrier and Marsalis Johnson
2019 Homecoming King and Queen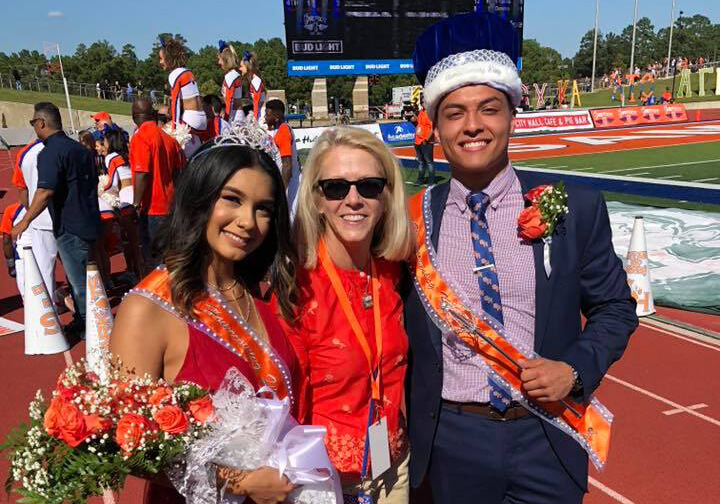 Ethen Espinoza and Ciana Garcia
2018 Homecoming King and Queen

Ruby Bui and Christian Teague
2017 Homecoming King and Queen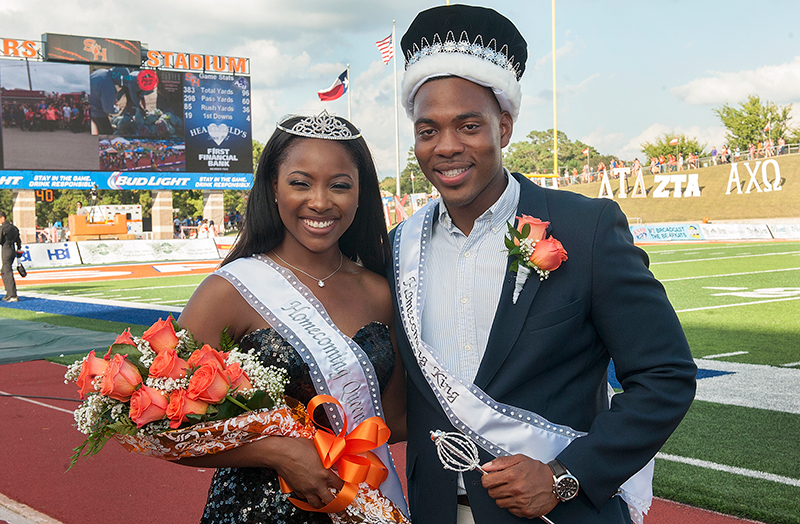 Georgiana Reefer and Lawrence Jones, Jr.
2016 Homecoming King and Queen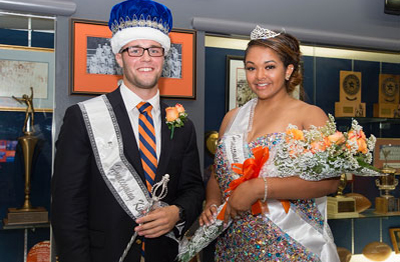 Rick Barber and Cara Goetz
2015 Homecoming King and Queen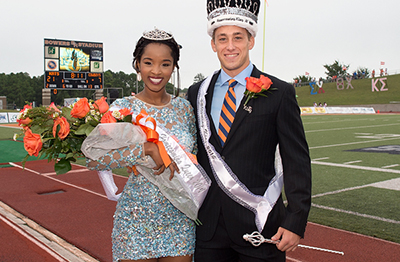 Cheznay Dones and Nick Duhon
2014 Homecoming King and Queen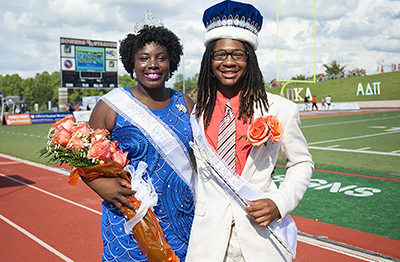 Elizabeth Opara and Keenan Jones
2013 Homecoming King and Queen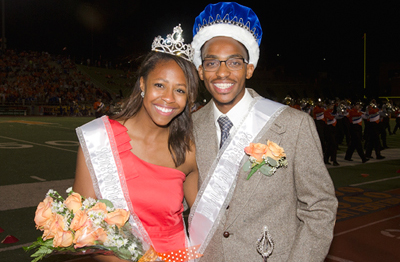 Ashley Baker and Ashton Winfree
2012 Homecoming King and Queen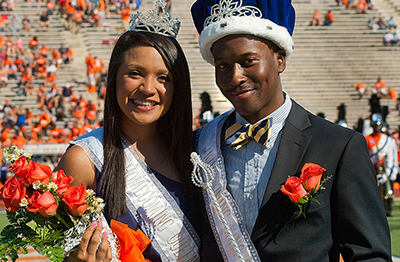 Stephanie Elizondo and Joseph Anderson
2011 Homecoming King and Queen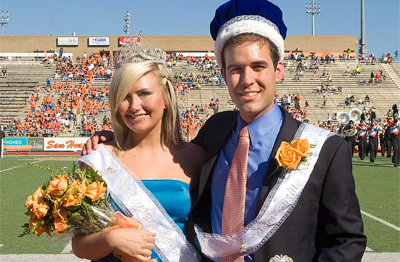 Callie Walker and Hectore Menendez, III
2010 Homecoming King and Queen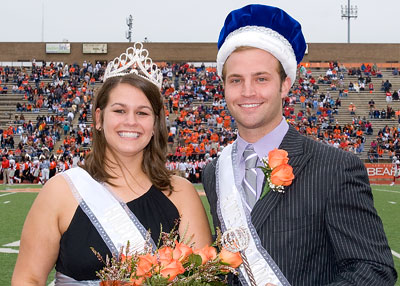 Tiffany Goebel and Daniel Pawlowski
2009 Homecoming King and Queen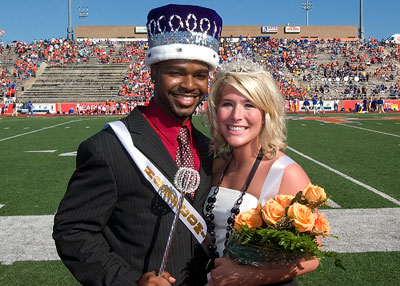 Rashad Deckard and Haley Heft
2008 Homecoming King and Queen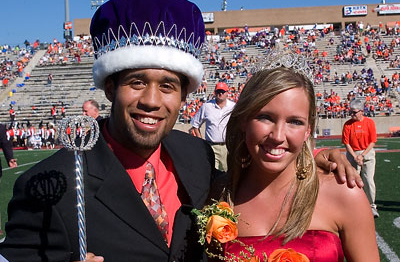 Keith Edmond and Katie Hughes
2007 Homecoming King and Queen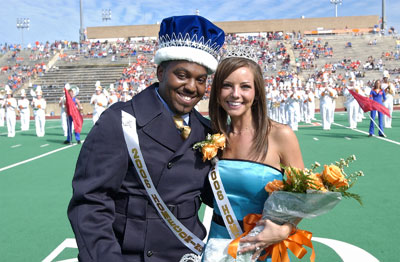 Willie Dean and Hearther Hardee
2006 Homecoming King and Queen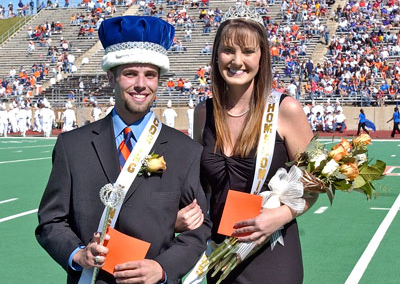 Chris Pedison and Jenna Zibton
2005 Homecoming King and Queen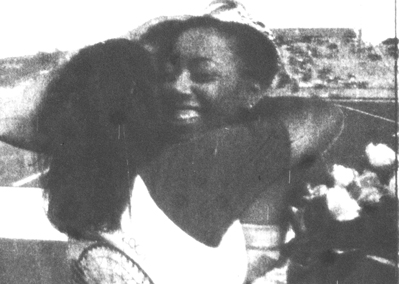 Angie Cartwright and Calvin Davis
2004 Homecoming King and Queen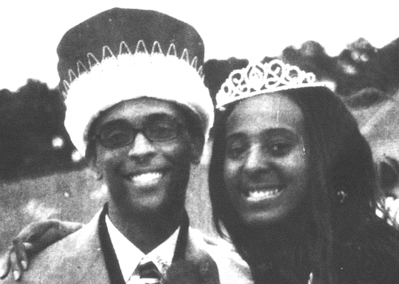 Terence Daniels and Bethany Duncan
2003 Homecoming King and Queen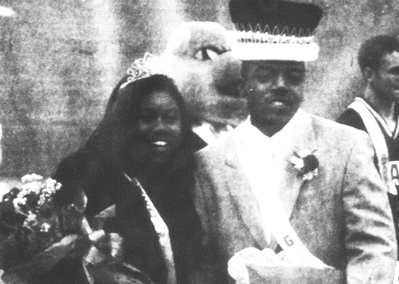 Marlena Cooper and Mical Roy
2002 Homecoming King and Queen
---
Office Decorating Contest
Tuesday, October 19, 2021
Most Original Decoration
College of Osteopathic Medicine Enrollment Services Student Affairs
Theme - Ladies of the '80s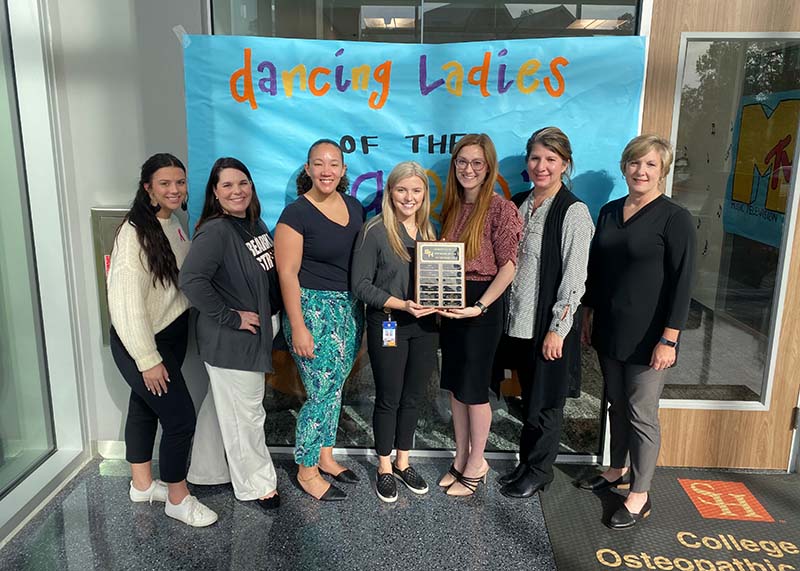 Most Original Decoration - Honorable Mention
Office of the Registrar
Theme - Registrar '80s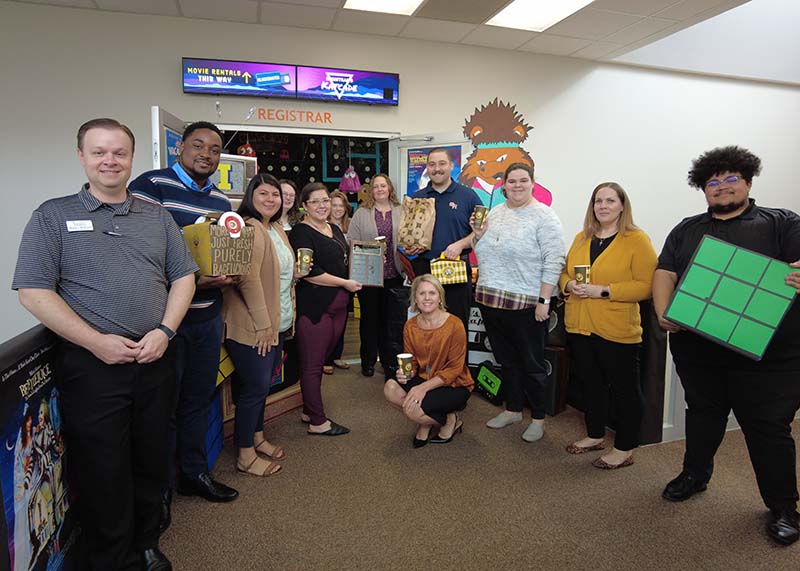 Best Decoration
College of Osteopathic Medicine Educational Affairs
Theme - Cinema '80s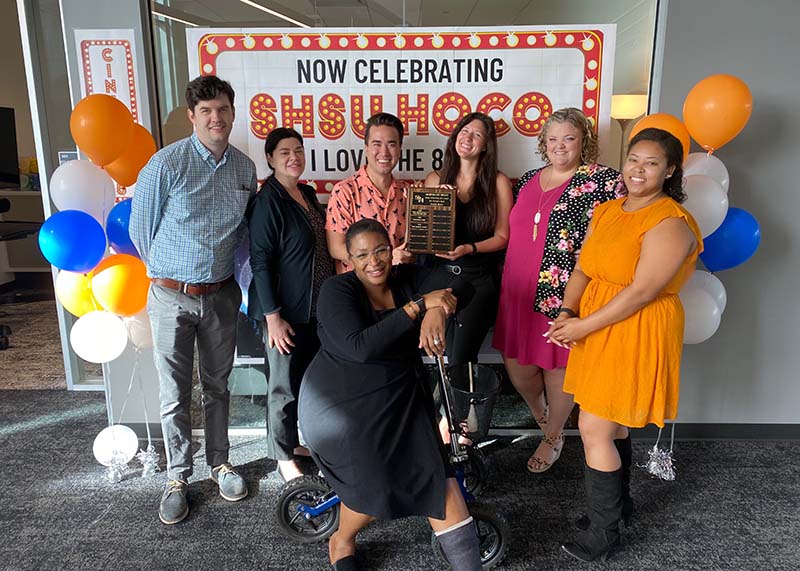 Best Decoration - Past Three Years
Financial Aid and Scholarships
Theme - FAO and SMMCSK8 Party and Arcade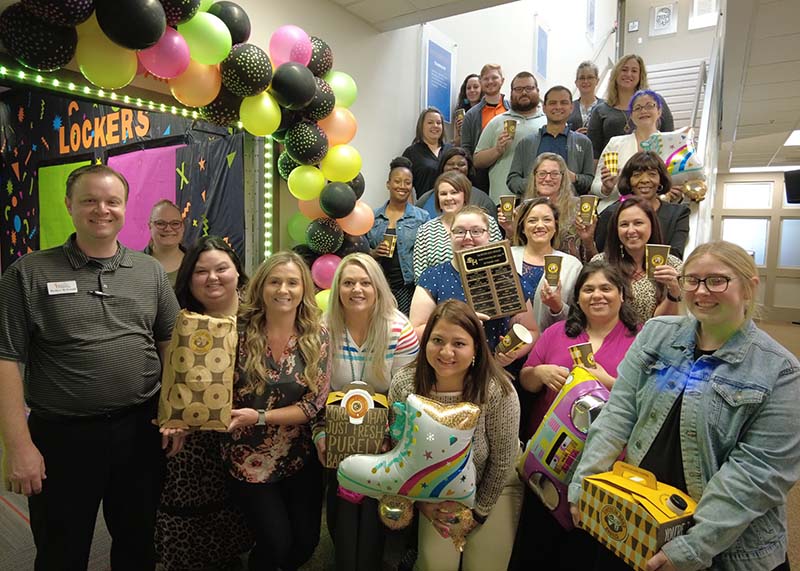 Committee's Choice
Veterans Resource Center
Theme - Alice in Wonderland 1985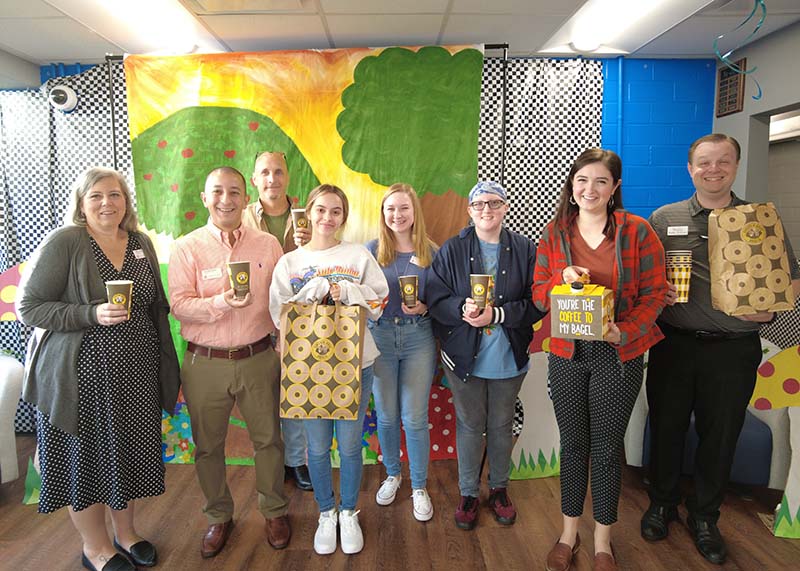 ---
Other Resources
La Quinta
124 I-45 N
Huntsville, TX
(936) 295-6454

Fairfield Inn & Suites
136 Ravenwood Village Dr.
Huntsville, TX 77340
(936) 436-7000
SHSU University Hotel
Ave H at 16th St
Huntsville, TX
(936) 291-2151

Hampton Inn & Suites
120 Ravenwood Village Dr.
Huntsville, Texas 77340
(936) 439-5228
Holiday Inn
201 West Hill Park Circle
Huntsville, TX
(936) 293-8800

Econo Lodge
IH-45 N
Huntsville, TX
(936) 295-6401
Best Western
613 I-45 South, Exit 114
Huntsville, TX
(936) 295-9151

Red Roof PLUS
606 I-45 S
Huntsville, TX 77340
(936) 295-7595