Breakout rooms allow the meeting host to break the meeting participants into small groups for discussion or brainstorming. Breakout room participants have full audio, video and screen sharing capabilities. The host of the meeting will not be assigned to a breakout room and cannot see or hear what is happening in the breakout rooms during the meeting. Also, the breakout rooms cannot hear or see what is happening in the other breakout rooms as well.
Note: Participants joined to the meeting using the web interface or chromebooks are not able to join Breakout Rooms.
1. To create breakout rooms, select Breakout Rooms in the Zoom toolbar.

2. In the Create Breakout Rooms dialogue box select the number of breakout rooms desired, determine if Zoom will automatically assign participants to rooms or if you will manually assign participants to rooms and select Create Rooms.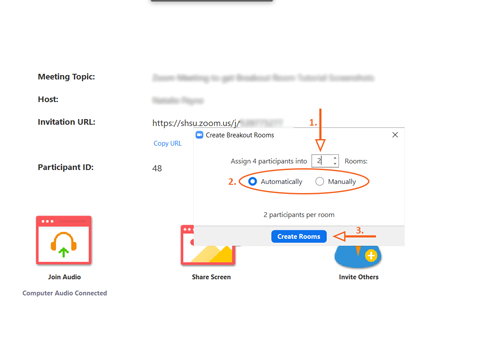 3. Zoom will display the Breakout Rooms dialogue box, which shows which participants are in each room. The host does have the ability to exchange and move people around in different rooms. Once all rooms are created, select Open All Rooms.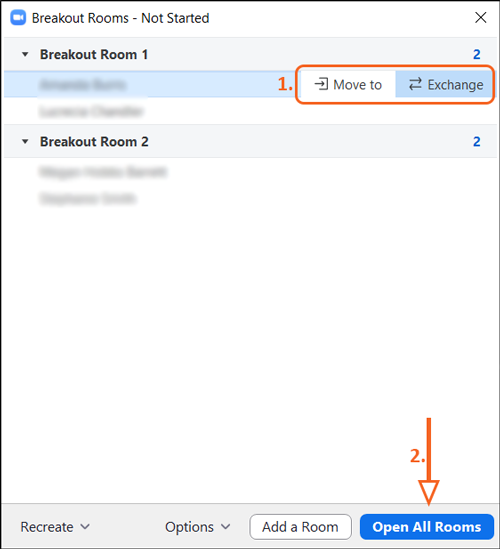 a. Zoom does provide Breakout Room options. Those can be viewed by going to Options. Some of the options include setting a timer on how long the Breakout Rooms will be before the rooms start and how long the countdown timer will run when you close the meeting.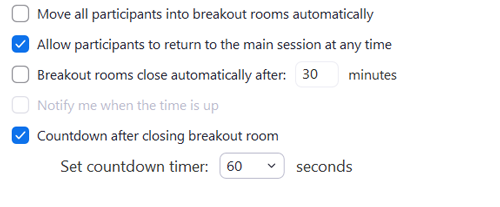 b. Zoom also allows the ability to Recreate the Breakout Rooms if needed. When the breakout rooms are recreated, the existing Breakout Rooms will be replaced.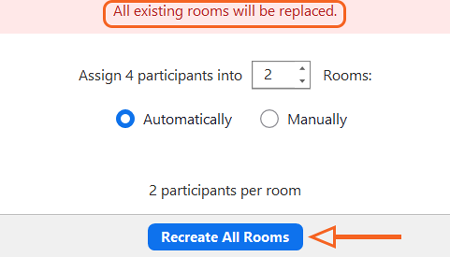 4. Once the host opens the rooms, Zoom will display a dialogue box to participants to Join the Breakout Room.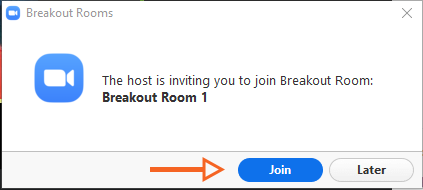 5. Once the Breakout rooms are opened, the host will see the Breakout Rooms – In Progress dialogue box. The host can Close All Rooms from this screen to end the Breakout Rooms and bring all participants back together.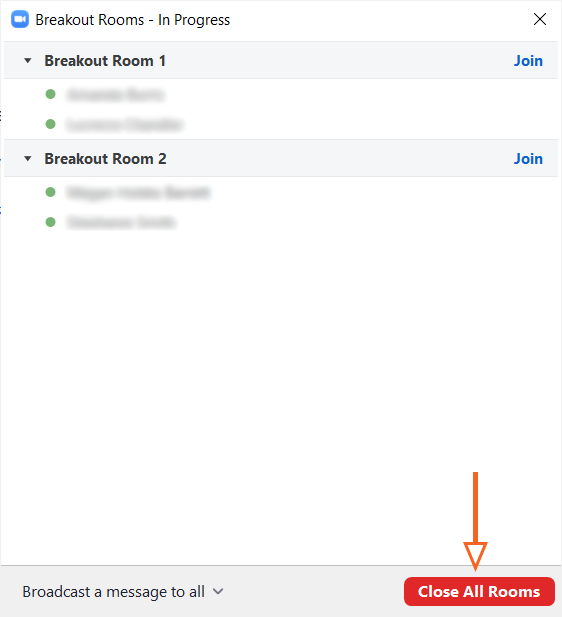 a. The host can also Broadcast a message to all from this dialogue box to display a message to all participants while in the Breakout Rooms.

6. When the time is up or the host closes the Breakout Rooms, a timer will display for the participants, as well as the host.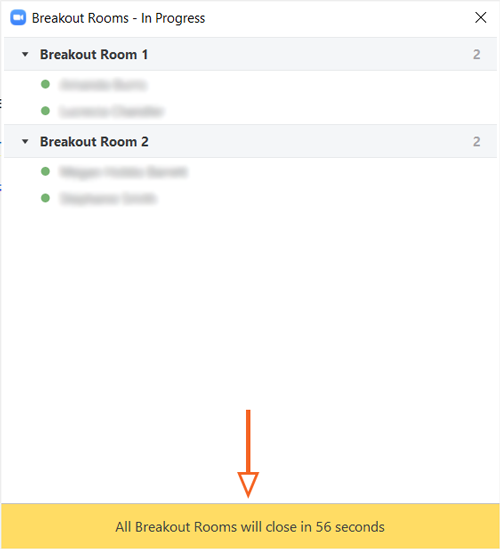 7. If a participant needs to leave the Breakout Room early, they can select Leave Breakout Room from the Zoom toolbar.



8. Once the countdown to close the Breakout Rooms has started, participants will be provided with an option to Return to Main Session prior to the countdown being complete.