Ad Astra - Search for an Event
To search for an event in Ad astra, follow these steps:
Go to Ad Astra and log in with your SHSU username and password

At the top of the page you will see a number of tabs. Select the Events tab.
Then choose Events when the next screen appears.

You can filter through all the events in Ad Astra by:
Keyword
Start Date/End Date
Day of the Week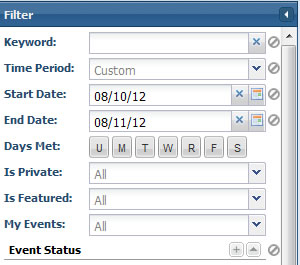 Once you have selected what you want to search, select Search at the bottom of the page
The results of your search will be populated in the adjacent window