Ad Astra - Reserve a Computer Lab
To reserve a computer lab in Ad astra, follow these steps:
View the SHSU Room Technology site to ensure the lab meets your technology requirements.
Go to Ad Astra and log in with your SHSU username and password

Go to the Events Tab, and then select Event Request.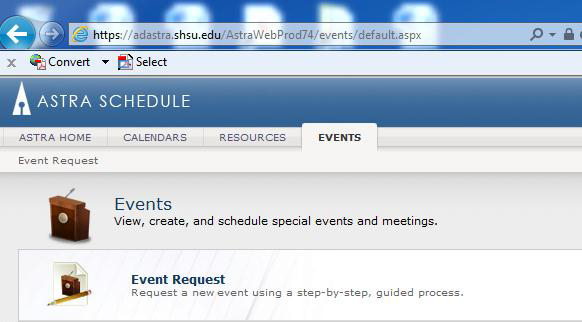 Select Computer Lab Reservations in the drop down list to select the Computer Lab Request Form.

Enter the Contact Information (the Requestor and the Professor information are required).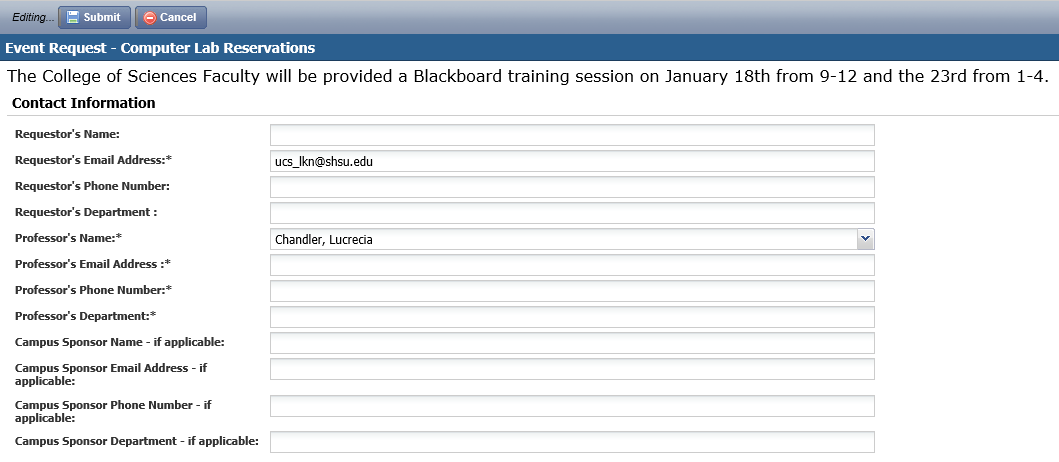 Under Event Details section of the form, enter the Title of the Meeting. The Title of the Meeting must be the Course Name, for example MATH 3333.
Then enter the Class and Section Number, CRN Number, Type of Instruction, and Number of attendees.

Under Event Meetings section of the form, fill in the Meeting Name, and Meeting Type. For the Meeting Type, select Lab from the drop down menu. Include the Maximum number of Attendees.

Under Meeting Recurrence section of the form, choose the date/time frame of your lab request. Notice the three tabs, Single Meeting, Recurring, and Spanning. Select the appropriate one, enter the Meeting start/end Date and Time for the reservation, and click Create.
After clicking Create you should see the meeting listed under Meetings section of the form. Click the box next to the meeting to select it. Then click Assign Rooms.

Another window will open up to Assign Room. You will see a list of all of the computer labs including the Main Campus, and The Woodlands Center (All of The Woodlands Center labs begin with, TWC). Find a room that shows to be Available for your meeting and click on it once. The item should turn green and show that it is selected. To change your mind, click on the green Selected area, and it will be deselected. You can then choose another.
Click OK to save.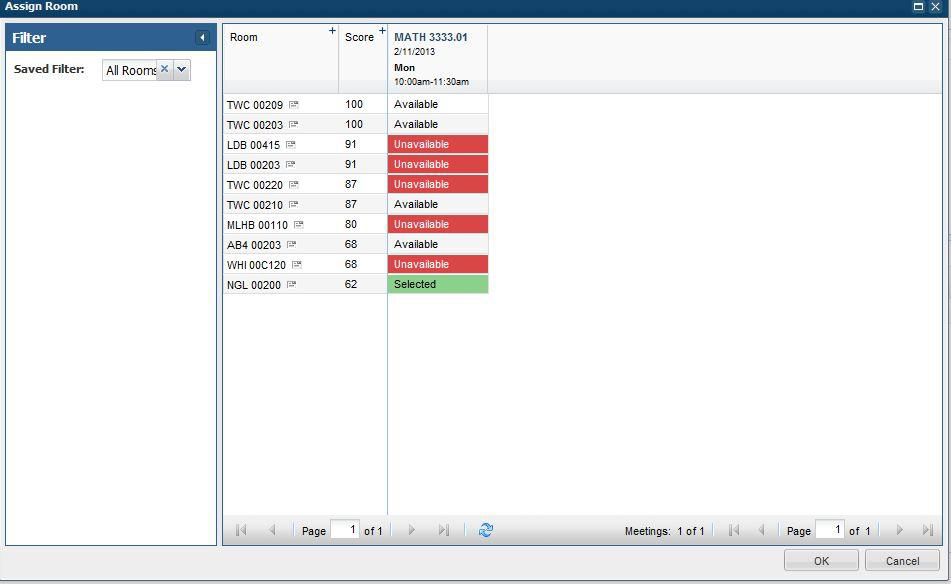 Complete the remaining Room and Resource Needs and Other Information section of the form.

Click Save at the top left hand corner of the window.