What is MyAccess.shsu.edu?
The myAccess VPN system will allow you to access network drives ( S:\ drive and T:\ drive) from a non-networked SHSU. You must request and be approved for this type of access. Once your access has been approved, you will be able to access files on the SHSU network from any computer off-campus as long as there is an internet connection.
For information on the S:\ drive and T:\ drive, you may visit here.
Accessing Network Drives
To access your S:\ and T:\ drives from a machine that is not on the SHSU network, open a web browser (i.e. Internet Explorer, Safari, or Mozilla Firefox) and go to http://myaccess.shsu.edu. Once on that page, you will enter your SHSU username and password and click on the "Sign In" button.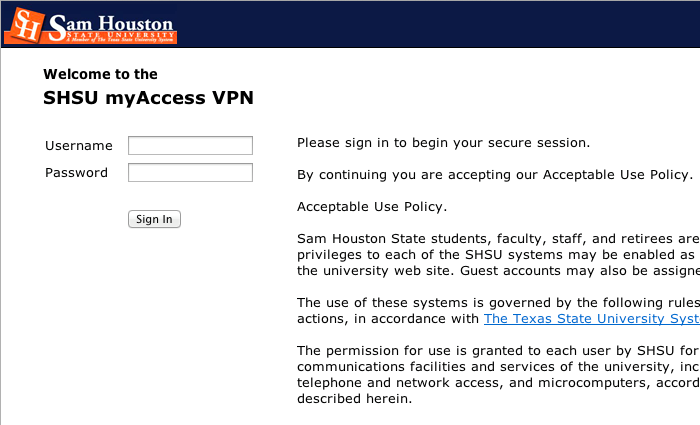 Once you log in, you will see links displayed to your "S: Drive" and "T: Drive."
To access your files, you will click on one of the hyperlinks listed. If trying to access files on the T drive, click on the "T: Drive" link,. A list of all the folders you have access to on the T drive will appear. You can then continue to click on folder names until you get to the files that are needed.
The same applies to your S:\ drive. If you click on the "S: Drive" link, you will then be able to see all files and folders that are saved on your S:\ drive.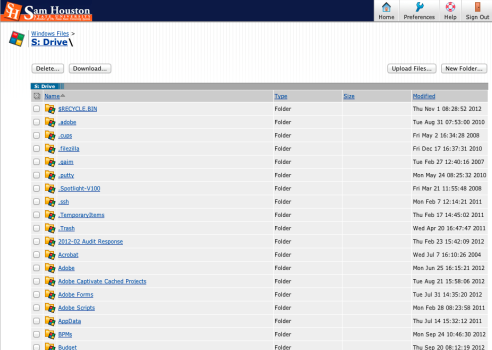 Managing Your Files
Once you've located the folders or files you want to work with you have several options available to you like downloading, uploading, deleting and even create new files.
You can download the file to your local computer by clicking on the link for that file. You can also download multiple files by clicking on the checkbox next to each file and then clicking on the "Download…" button at the top of the screen.
You may also delete files from this screen. Just click on the checkbox next to each file to delete and then click on the "Delete…" button at the top of the page.
Another option that you will have is to upload a file. To do so, click on the "Upload Files…" button from the top, right-hand side of the page. A window will then pop up to allow you to select the files that you need to upload.
Last, you can create a new folder if needed. Just click on the "New Folder…" button to proceed.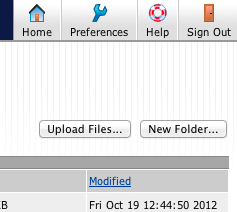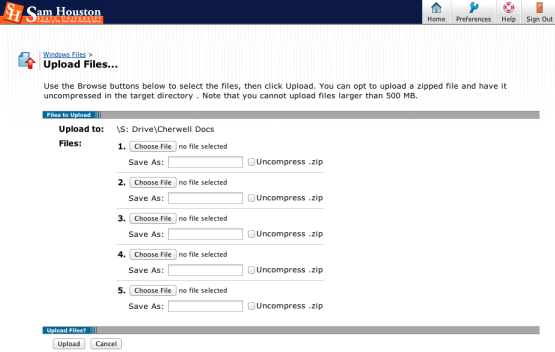 Exiting MyAccess.shsu.edu
To properly logout of myaccess.shsu.edu you will need to click on the "Sign Out" button located on the top-right hand corner of the browser window.
FAQ
1. I'm receiving a message that my session will expire. Why am I getting this message?
You may see a session expiration message if the session has set idle for a period of time. If you see this message, just click on "OK" to extend the session if it is still needed.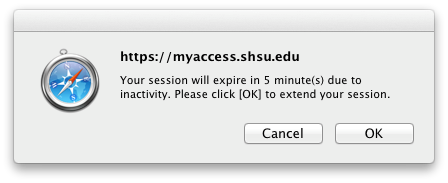 2. Will the file changes I make through myaccess.shsu.edu be reflected when I log into my computer on campus?
Yes, the changes will be updated.
3. Do I have to be on the internet to log into myaccess.shsu.edu?
Yes, you have to have an active connection to the internet.
Additional questions can be directed to the Service Desk by calling 936-294-4357 or by sending an e-mail to servicedesk@shsu.edu.