IT@Sam - Technology Tutorials
Form Mail
---
If you would like a page setup on your SHSU departmental website, please call the Service Desk (4-HELP) so we can get you set up.
How all the forms are sent and how to receive the data.
First have the user input the information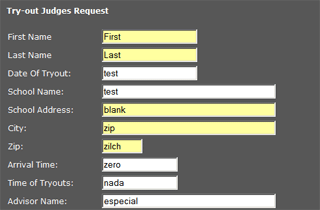 ---
You will then receive an email notifying you that you have received new form data. Click the link to go to samweb where the data is now stored.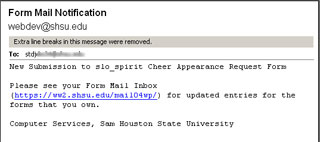 ---
Use your SHSU Computer Account username and password to log in.
Find the entry that you wish to view or download, and click on the name of the person.

---
Select your download type that you want to use.
For Adobe, use XML.
For Access, use comma separated values.
For Excel Spreadsheet, select Excel Spreadsheet.