Fred Pirkle Engineering Technology Center
---
Check out this article about the Pirkle Building!
https://www.shsu.edu/today@sam/T@S/article/2019/pirkle-design-recognition
---
The Fred Pirkle Engineering Center is an innovative learning center that houses state of the art classrooms, specialized laboratories, and faculty and staff offices for two departments (Agricultural Sciences and Engineering Technology) at Sam Houston State University. The center is named after the inventor and SHSU alumnus Mr. Fred Pirkle, who set aside $10 million out of his $25 million gift to SHSU to construct this learning facility. Dr. Stanley Kelley, our former department chair, oversaw the construction of the Pirkle Center to ensure that the building embodies Mr. Pirkle's vision. The center has four floors, each named after a noted US inventor.
Edison Innovation Level 1
The first floor (Thomas Edison) contains machine and woodworking shops, electronics and robotics labs and a large collaboration area. The proximity of labs and shops to the collaboration area enables students to solve real-life problems by going from an idea to the design and build phases of a product in the same location.
Collaboration Area with Adjacent CNC Machine Shop, Laser Processing Shop, Clean Manufacturing Lab, and Wet Chemical Lab
Electronics Lab
Robotics Lab
Student Group Meeting Rooms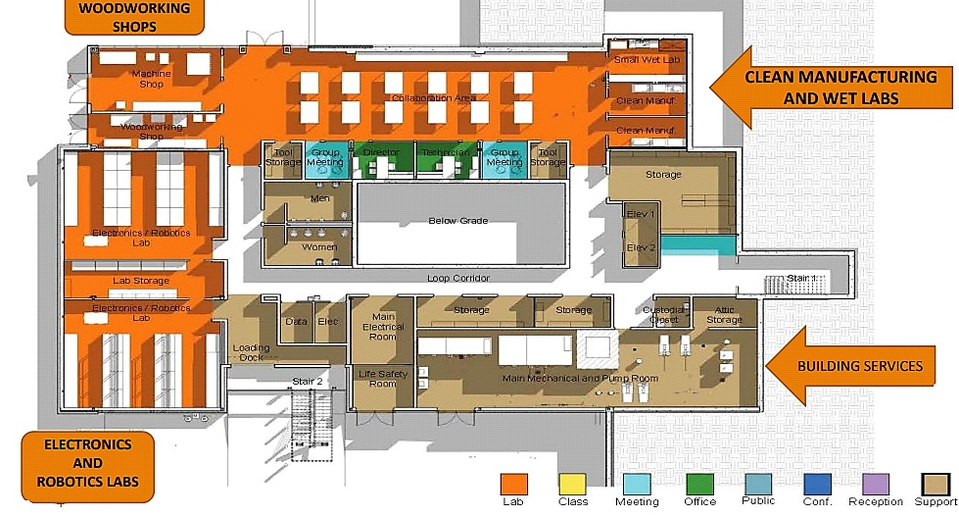 Fred Pirkle Level 2
The second level (Fred Pirkle) has classrooms, specialized labs, and the Pirkle Museum. The museum is a tribute to Mr. Pirkle's inventions and vision.
Innovative Lobby / Pre-Function Space
Fred Pirkle Honorific Museum
Multipurpose Classrooms
CAD Lab with Plotter Room
Alternative/Sustainable Energy Lab complete with Wind Tunnel Lab and Energy Terrace
Academic Outside Learning Courtyard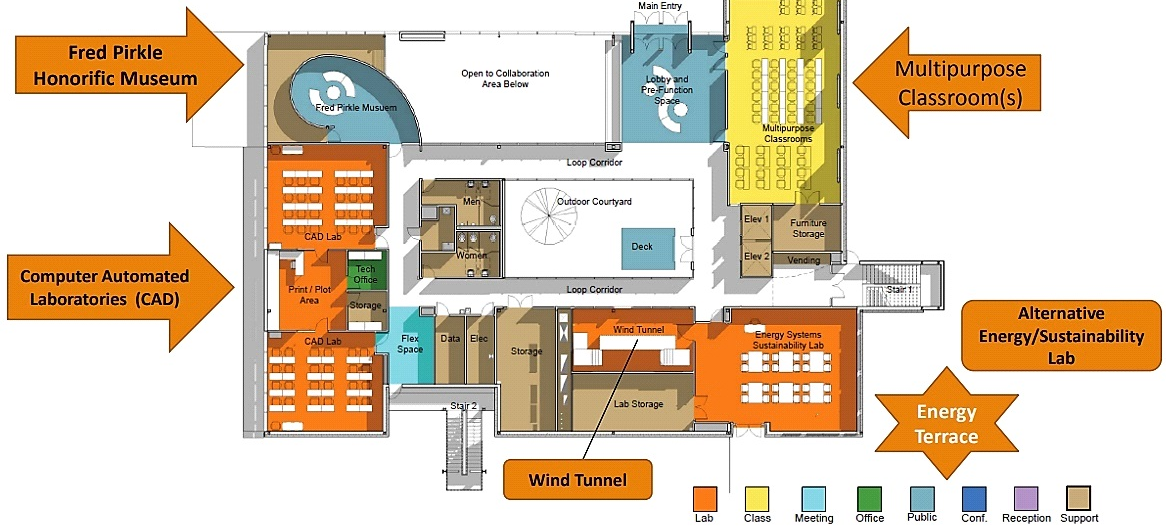 Thomas Jefferson Level 3
The third level (Thomas Jefferson) contains offices, classrooms, the Ann Christian memorial student lounge, wildlife physiology lab, multimedia workroom, Heath Schielack Memorial Agribusiness classroom, and floral design lab.
Animal Science Physiology and Research Lab
Agriculture Science Computer Lab
Floral Design Lab
Agriculture Science Student Teacher Classroom
Adjunct Faculty Offices / Resource Room
Student Lounge/Multimedia Workroom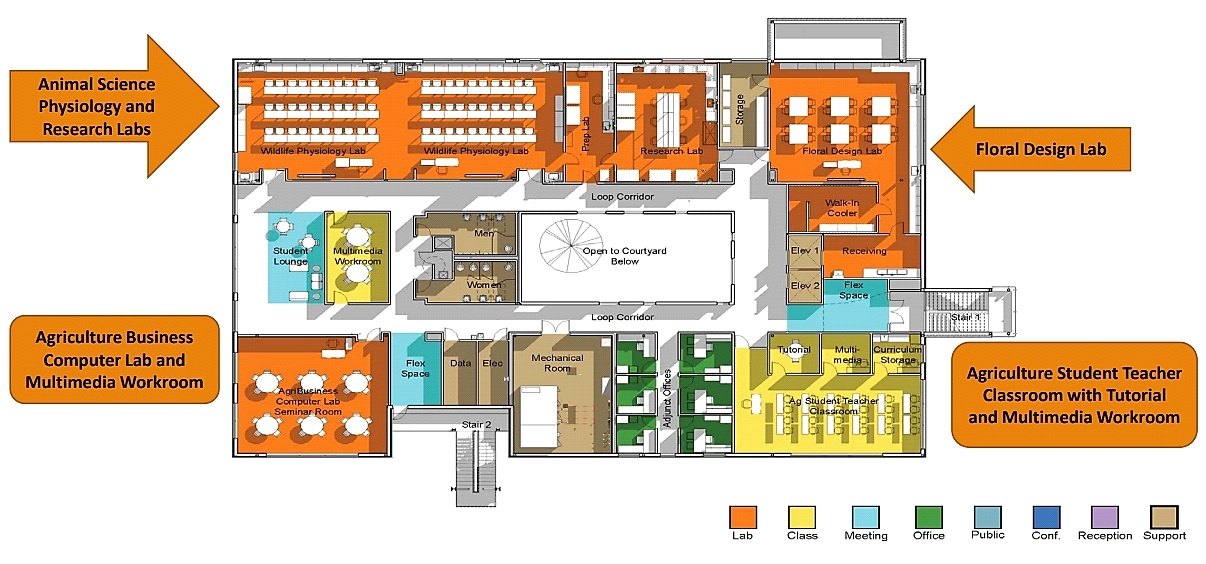 Sam Houston Level 4
The fourth level (Sam Houston) contain faculty, staff, and TA/GA offices. This level also includes two conference rooms.
Departments Chair Suite
Faculty and Support Staff Offices
Seminar and Conference Rooms
Group Work Areas and Business Centers
Grad Students & Teaching Assistant Areas