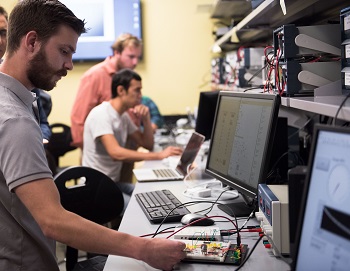 James Holekamp, who recently graduated with an Electronics and Computer Engineering Technology (ECET) degree from SHSU and now working as an Electronics Engineer at Martin Company.
"I want to thank you all for providing me with the education that enabled me to pursue my dreams. The coursework in instrumentation and interfacing, microcontrollers, and solid state electronics especially helped to me obtain this position. Additionally, my undergraduate research opportunity in the SCADA lab provided me with a great deal of knowledge that advanced my skills and qualifications for the engineering job. I learned so much while attending SHSU and I could not be more grateful".
---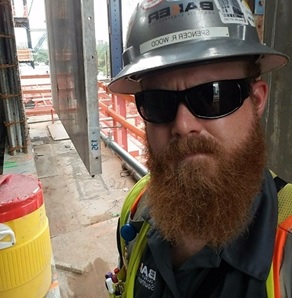 Mr. Spencer Wood (Class of 2017), Project Engineer at Baker Concrete Construction Inc., Los Lunas Facebook Data Center Campus Project in Albuquerque, New Mexico
"SHSU prepared me to enter the construction industry with both a knowledge of the field and the office which was essential for me to find a career that could capture my interest and further establish my background. The Construction Management program was a great resource for making connections and giving me multiple opportunities to meet with and interact with various employers in the construction and industrial sectors. Through the Engineering Technology Career Fair and the Career Services Center at SHSU, I was easily able to procure a summer internship that leads to part-time employment during school as well as a full-time offer when I graduated. Through the Sam Houston Construction Associations monthly meetings and events, I was not only able to find employment but receive multiple offers from various companies giving me the choice I wanted to pursue a career that would be hands on. The professors in the engineering technology department were phenomenal. Most of my faculties had years of experience in the construction industry which proved to be a great resource when trying to decide which route I wanted to go career-wise as well as for general advice while I was interning and job searching. SHSU helped me build my resume with their professional leadership class and the opportunity to serve as historian for the Sam Houston Construction Association. There were countless opportunities to get involved and get my name out there through the various job tours and community activities that were put on through the Construction Association. This has helped immensely in building relationships with clients and contractors as I have worked alongside many people I've met through these activities building across the southwest. SHSU's Construction Management program was truly the real deal and I believe gave me the competitive edge over others in my field."
---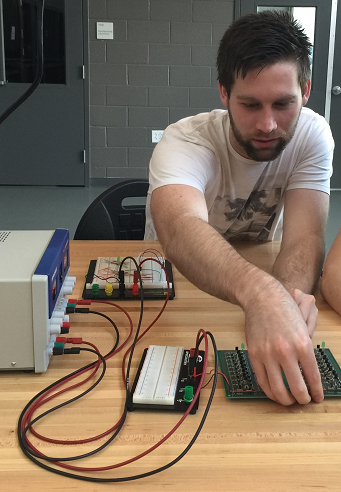 Jeremy England graduated with a degree in Electronics and Computer Engineering Technology (ECET) and is now working as a Professional Services Engineer for Weatherford.
"The teachers at SHSU, especially in the computer and electrical departments, are phenomenal. As with any degree, you'll learn the basics of what the course offers, but what makes SHSU stand out is that the teachers give you incredible opportunities if you are willing to ask and take them on. Looking back, my favorite experiences from SHSU were the hands-on projects that we got to come up with and build each semester that could be as fun and/or challenging as your mind and time allowed. It was quite an event to behold all the crazy contraptions fellow classmates would build in areas like robotics, electronics, programming, artificial intelligence, renewable energy, and much more.
During my time at SHSU, I was an ETEC worker, TA, and Ambassador which let me sharpen my teaching skills, presentation skills, and allowed me to go to events to showcase the cool things we were doing in our department. I was also given the opportunity to be a part of a SCADA/ICS Lab which allowed me to apply my book knowledge to real life components and work with industry standard equipment that easily jump-started my career by five-plus years. The experience I gained here allowed me to get an incredible job within a month of graduating, and I couldn't be more ecstatic and thankful for everyone at SHSU involved in getting me there; so, a final thanks to you all, and cheers!"