Mail Merge - Creating the Merge
In Word, open a new document.
Click Mailings > Start Mail Merge, and then select the type of merge you want to run.
Click Select Recipients > Use Existing List.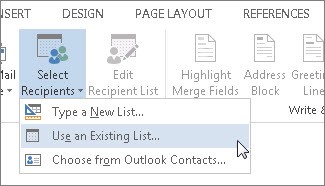 Browse to your Excel spreadsheet, and then click Open.
If Word prompts you, select Sheet1$ and click OK.
Now the Excel spreadsheet's connected to the mail merge document you're creating in Word.
To include only some of the people or items from your spreadsheet, click Mailings > Edit Recipient List.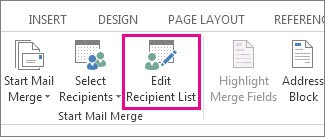 The Mail Merge Recipients box opens. Here, you can select just the rows you want to include. To make them easier to find, you can sort and filter the information. For more information about sorting and filtering items.
Next, you can insert mail merge fields that pull the information from your spreadsheet into your document. For example, to add a greeting line to an email message or a letter, click Mailings > Greeting Line.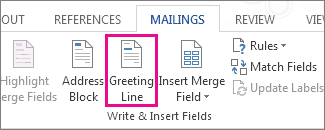 Or add addresses from your list by clicking Mailings > Address Block. For more information about adding fields from your spreadsheet.
When your document's ready, click Preview Results and click the arrows to see each specific copy of the document.
To finish the merge, click Finish & Merge, and then click Print Documents or Send E-mail Messages.