The College of Humanities and Social Sciences (CHSS) Wall of Honor was established by the CHSS Alumni Advisory Board to acknowledge faculty and alums who have distinguished themselves throughout their careers through personal and professional achievements and who have made significant contributions to SHSU, the students, society, and thus have brought honor and distinction to our university.
The College of Humanities and Social Sciences is pleased to announce the 2013 Wall of Honor Recipients:
The official ceremony for the Wall of Honor was held on Thursday, March 7, 2013 at 4:00 p.m. in the CHSS building on the Sam Houston State University campus.
---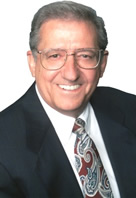 Robert Roy Hazelwood graduated from Sam Houston State in 1960 with a Bachelor of Science degree in Sociology. At that time he became a commissioned officer in the army Military Police Corps and attained the rank of Major at his discharge in 1971. In 1972 he began criminal investigative experience with the Federal Bureau of Investigation in the Norfolk, Virginia end Albany, New York FBI offices. In 1976 he became Supervisory Special Agent for the FBI in the Behavioral Science Unit of the National Center for the Analysis of Violent Crime. In 1980 he received his Master of Science degree from NOVA University in Ft. Lauderdale, Florida.
Hazelwood has received over 100 certificates and/or awards from police departments throughout the world for his help in solving crimes of violence.
From 1978 to 1982 he researched, collected and analyzed over 150 cases of death curing dangerous autoeroticism, the largest collection in the world; this led to the authoritative book Autoerotic Fatalities. In 1983-84 he conducted the largest known survey of police officers' attitudes toward the crime of rape. From 1984-1987, he was Senior Investigator in research entitled "Possible Linkages Between Sexual Abuse and Exploitation of Children and Juvenile Delinquency, Violence and Criminal Activity," funded by the U. S. Department of Justice Office of Juvenile Justice and Delinquency.
From 1986 to the present he has researched the area of sexual sadism, reviewing literature and interviewing incarcerated individuals and family members. He is also researching the area of serial rape. Hazelwood has published numerous articles, syllabi, and books dealing with crimes in his specialty area.
During the past 20 years he has addressed more than 100,000 professionals representing the disciplines of law enforcement, mental health, corrections and medicine through the world. He has appeared as an expert witness in local, city, county, state and federal courts. He has also testified as an expert witness before a Presidential committee and committees of both the U. S. Senate and House of Representatives.
Roy Hazelwood has been a credit to Sam Houston State University, to the College of Humanities and Social Sciences, and to his profession. His distinguished career is a testament to success through taking risks to explore the "path less trodden".
---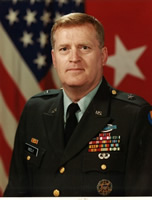 General Cecil N. Neely came to Sam Houston in 1953 from Madison County, where he had demonstrated his leadership abilities as the first president of the Madisonville High School Honor Society.
After completing approximately 90 hours at Sam Houston State, he joined the United States Army as a private and rose to the rank of brigadier general during the 29 years he served. He was recognized on many occasions for the service he provided that went above and beyond the call of duty.
He holds the nation's highest peacetime award, the Distinguished Service Medal. He also received the Bronze Star for valor in Vietnam, as well as the Combat Infantryman's Badge, the Parachutists' Badge and numerous other U. S. and foreign awards. He has also been inducted into the Infantry "Hall of Fame" at the United States Army Infantry School in Fort Benning, Ga.
He was a member of the Joint Chiefs of Staff at the Pentagon and served as Nation's Duty Officer for the President of the United States and the Secretary of Defense. During the time he was enlisted, he completed his undergraduate degree at the University of Nebraska and earned the Master of Arts degree in history from Sam Houston State in 1971.
After his retirement from the military, Neely began a second career in public service. In 1995, he returned to his Texas roots and took the role of county judge for Madison County. He was also instrumental in establishing Madison County's own District Attorney's office to help solve legal problems within that county. In an old elementary school owned by Madison County, Neely established a "one-stop" center for the Texas Department of Health, GED Center, Work Force Development Center, Texas Department of Human Services, County Extension Agent, Texas Department of Transportation Driver's License office, Alcohol and Substance Abuse Program, and other youth programs. Neely has also been a member of the Brazos Valley Council of Governments since 1994, serving as chairman for two years. The regional planning council covers a seven-county area providing services in the areas of health, housing, assistance to the elderly, and public safety planning.
General Neely is a credit to Sam Houston State University, to the College of Humanities and Social Sciences, and to the United States of America. His distinguished career of valor, leadership, and service is an inspiration to all.
Neely and his wife, Lynn Hardy Neely, who received her Master of Education degree from Sam Houston, are the parents of three children -- Susan, Russell and Michael.
---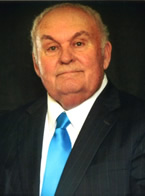 Dr. Richard A. Cording received his Bachelor of Arts in Philosophy and Social Studies from the University of North Carolina in 1960, his Master of Arts in Philosophy from the University of Missouri in 1964, and his Ph.D. in Philosophy and Intellectual History from the University of Missouri in 1969.
Richard (Dick) Cording has devoted his career to Sam Houston State University. He is one of the university's most beloved and sought after teachers. His outstanding performance in the classroom was formally recognized when he became one of the first recipients of the University's Excellence in Teaching awards in 1978.Under Cording's leadership as Chair, the Philosophy Department added courses such as Critical Thinking and Contemporary Moral Issues that have become staples in the curricula of Philosophy Departments across the country. Cording's major innovation was to create the course on Death and Dying. A tribute to his reputation as a teacher has been the large numbers of students who flock to his courses.
Cording's personal warmth, candor, wit and wisdom have earned him a special place among his peers. He has played a particularly important role among arts-and-sciences deans in Texas. He was responsible for establishing TADLAS (Texas Association of Deans of Liberal Arts and Sciences) and turning it into an active, effective organization.
As dean of the College of Arts and Sciences he assisted many faculty members in achieving their goals, enhancing their professional and personal lives. Throughout his career, in spite of his administrative roles, he remained attached to the role of hard working faculty member struggling with the day-to-day chores of teaching, committee work, and advising students. His office was always open to faculty and students.
Dr. Cording has made major contributions to his profession, Sam Houston State University, the College of Humanities and Social Sciences, the Philosophy program, and particularly to the thousands of students whose education he helped to shape.
---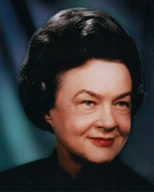 Dr. Mattie B. Medford received her Bachelor of Home Economics Education from Texas State College for Women in 1940, her Master of Home Economics Education from Sam Houston State University in 1956, and her Ph.D. in Home Economics Education and Textile Science from Texas Woman's University in 1969.
Dr. Medford truly exemplifies the motto of Sam Houston State University, "A Measure of Life Is Its Service."Her life has been one of service, to this university, to the department, to its students, and to her family. Dr. Medford was a strong leader for the Department of Family and Consumer Sciences. During the time she was a faculty member, and then chair, the department moved from being one that primarily served students wanting to become teacher-certified in home economics to one that offered a variety of programs, including food service and nutrition leading to the R. D. credential, food service management, fashion merchandising, and interior design. She and her contemporaries interwove the courses and standards for these programs so that they supported one another. She shaped the Department of Family and Consumer Sciences into the dynamic academic department it is today. As a teacher and administrator she exemplified the highest standards not only academically but in her mentorship of both students and other faculty members.
Dr. Medford continues to have a strong fan club of former students, who often mention what a tremendous influence she was for good in their lives as she frequently sent heartfelt, beautifully handwritten notes of encouragement and inspiration. Her ability to balance work and family served as a role model for students and faculty alike.
---
Past Wall of Honor Recipients: