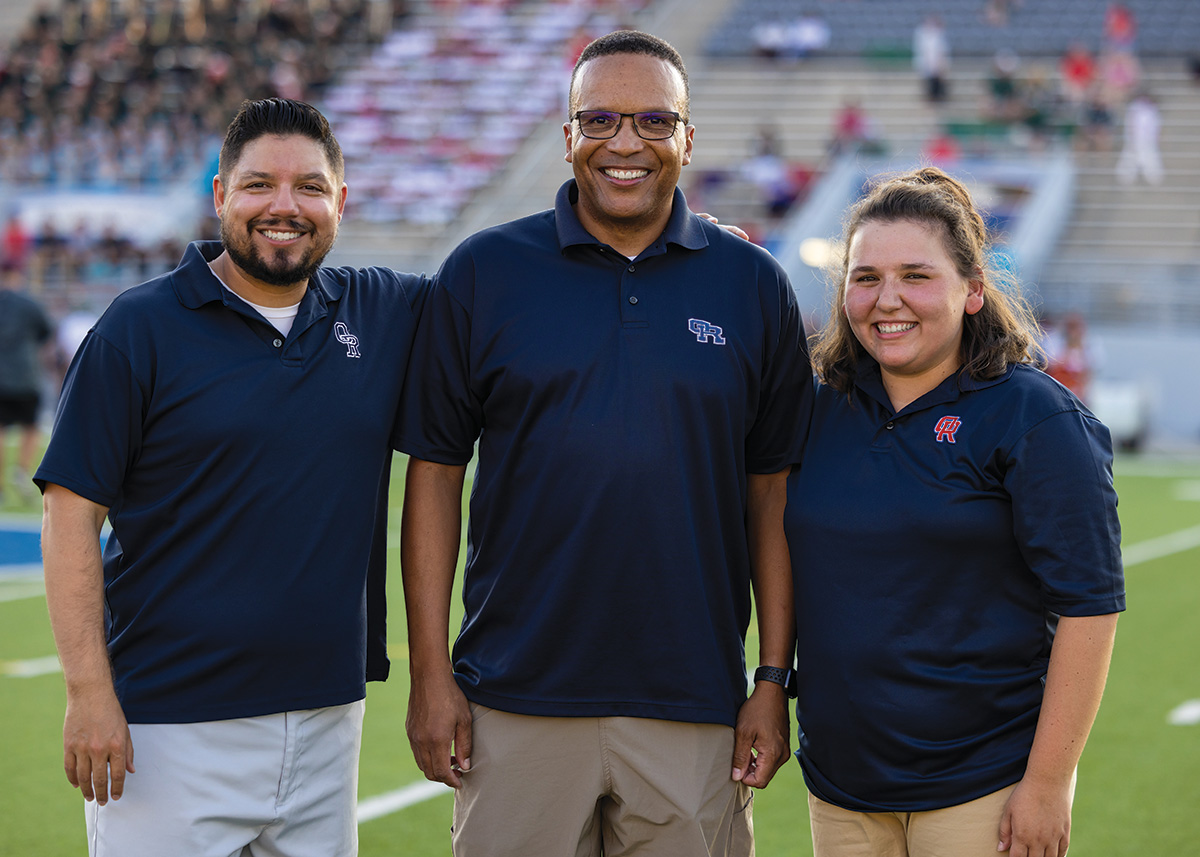 At Oak Ridge High School in Conroe, three Bearkats are developing the next generation of musicians. While juggling band rehearsals and football half-time performances, they have also focused on 'fine tuning' their own futures through Sam Houston State University School of Music's Center for Music Education.
To excel in the competitive field of band directing, ORHS Band Director Jerriald Dillard and Associate Director Albert Vela, recently earned their master's degrees in band studies. Madeline Gregory, the band's assistant director, is less than a year away from completing the same degree.
The practicality of SHSU's program has contributed to its popularity by accommodating the busy schedules of music educators. The degree combines a concentrated summer residency in Huntsville with online courses students complete over three summers.
"Fortunately, the timing works out well for high school band instructors. We can end the school year, complete our summer band camps and then, fully jump into the master's program for two and half weeks." Gregory said. "There is still work to do and remote meetings throughout the year, but it works out because we go at our own pace."
One of the significant features that drew Vela to the band studies master's program was its flexibility to address and strengthen specific skills based on his needs and goals.
"It's not a one-size-fits-all program. There are different tracks to tailor your area of focus. If there was something I really wanted to grow in, I could target that in the classwork," Vela said. "This is important in a field that is constantly changing. Being at the forefront of where we are as a music society and industry is valuable to our careers."
After completing his undergraduate degree from SHSU's School of Music in '99, and building a career and family, Dillard was unsure he could manage it all while also trying to earn an advanced degree. Once SHSU launched the new program in 2018, he realized the options it offered working professionals and was ready to take on the challenge.
"When Dr. Matthew McInturf, a professor I've remained in contact with from my undergrad years, told me about a new master's program he thought would fit my schedule during the summers, he got my attention," Dillard said. "There were certain career opportunities in the past I wanted to attain, but it required a master's degree. Then, I finally took the advice from my dad and stepmom from years ago: never stop learning."
---