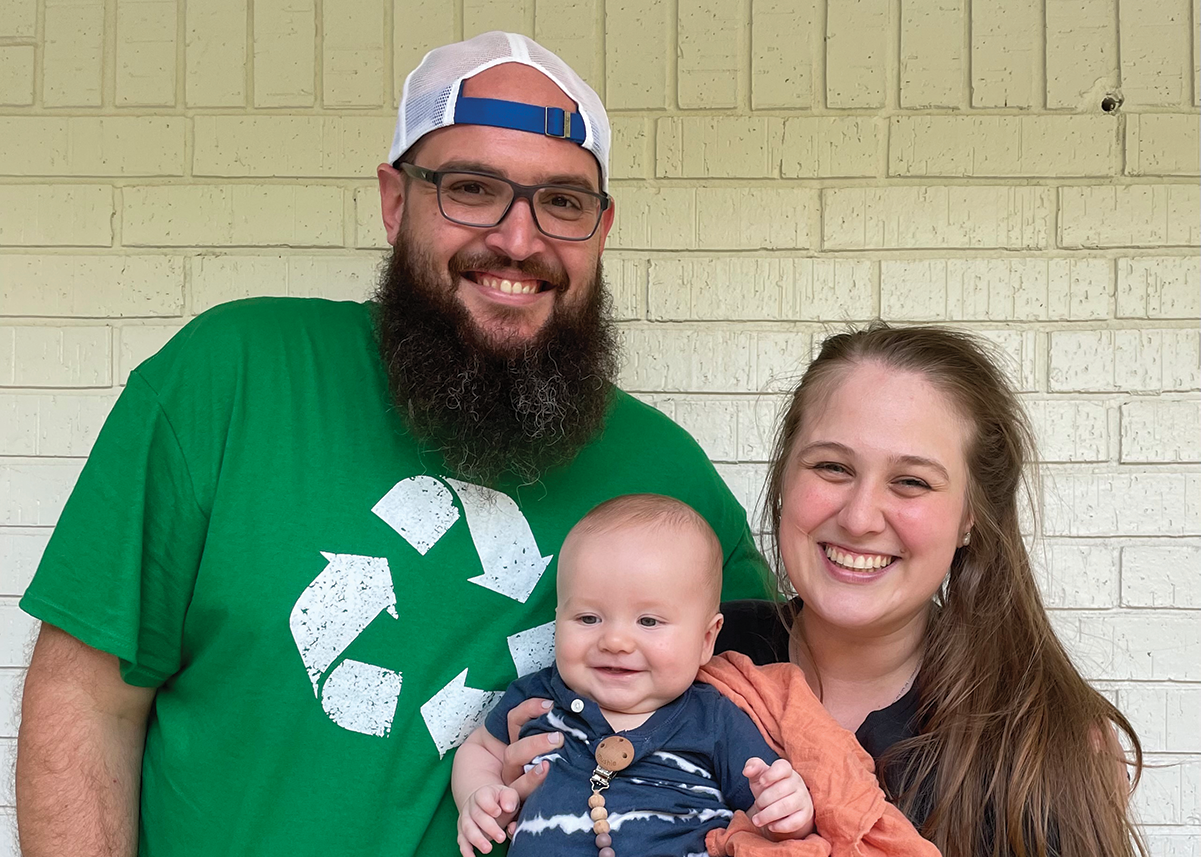 A Message from the President
Art D. Anthony, Sr. '55, served as superintendent of South Folk Schools in Taylorville, Illinois for 10 years. He now writes historical western fiction set in Texas. His latest novel, "Too Many Rivers to Cross," explores the early settlers of Mexican Texas during the early nineteenth century. He is a life member of the SHSU Alumni Association.
Jimmie (Gibbs) Munroe '76, has officially taken the reins as president of the Women's Professional Rodeo Association, having served in the role twice before. Her previous rodeo career includes three WPRA world titles, 11 trips to the National Finals Rodeo, a two-time NIRA National Champion Barrel Racer and an NIRA National Champion All-Around Cowgirl. She was inducted into the National Cowboy Hall of Fame and the ProRodeo Hall of Fame. She is also an SHSU Distinguished Alumni.
Ron Gay '77, '84, was inducted into the Texas Lions Club's Hall of Fame. He is a registered representative with Cambridge Investment Research and a senior sales executive with Brown & Company Insurance Services. Gay joined the College Station Noon Lions in '80 and was elected club president in '91. He currently serves as vice president of the Board of Directors for Catholic Charities of Central Texas, and he is a member of the Board of Directors of the Catholic Foundation for the Diocese of Austin. He is a life member of the SHSU Alumni Association.
Chuck Jones '81, of Dahlonega, Georgia, was appointed to the Lumpkin County Water Authority where he is also serving as the 2021 chairman. He and his wife are supporters of the Women's Heart Center at Northeast Georgia Health System and the Lumpkin County High School's honors scholarship program. He is a life member of the SHSU Alumni Association.
Mattie Provost '84, '95, has been named first female chief deputy in Fort Bend County. She started her career at the Houston Police Department, moving up the ranks to assistant chief. Provost earned the Texas Law Enforcement Master Peace Officers' Certificate, is a certified mediator, Texas Crime Prevention Specialist and has served as an executive member of the Labor Relations Committee.
John Kolinek '90, was sworn in as the new chief to lead the Baylor University Police Department. A Waco native, he joined the Baylor police force in '15 as a captain, following a 25-year career with the sheriff's office.
Mary Lyke '90, senior vice president of the Americas and EMEA with P2 Energy Solutions, has been named one of the "Top 50 Most Powerful Women in Technology" by the National Diversity Council. The award honors female leaders who have become champions for diversity in the technology industry, as well as inspirations in their communities. Lyke is an experienced sales leader, skilled in enterprise software, sales, customer relationship management, and strategic partnerships.
Nathan L. Curry '95, was inducted as a member of the Arabia Shrine Center in Houston, Texas. The Shriners, best known for the Shriners Hospitals for Children that it administers, are a fraternity based on fun, fellowship and the Masonic principles of brotherly love, relief and truth. Curry has been an active Freemason since '04 in California and Texas. Curry continues a career in law enforcement.
Eve Stephens '98, has served 22 years with the Austin Police Department and is currently a lieutenant assigned to the training academy. She has worked in the child abuse unit, internal affairs, financial crimes, undercover narcotics and staffing. She was the first Asian female to promote to the rank of sergeant and later, the first Asian female to receive lieutenant rank in APD. She is a life member of the SHSU Alumni Association.
Brian Gibson '01, was appointed principle for Morgan Elementary in Lamar Consolidated ISD. Prior to becoming principal at Velasquez Elementary in 2014, Gibson served as an assistant principal in Fort Bend ISD.
Shane Loosier '02, was recently re-elected for his second term as Walker County Constable Pct. 2 and was sworn in on January 1, 2021. He is a life member of the SHSU Alumni Association.
Michael Curl '03, Kingwood Middle School principal, has been named "Texas Secondary Principal of the Year" by the Texas State PTA. He is the first principal from Humble ISD to win the award and was selected from more than 400 nominees statewide.
Melissa Isaacs '05, '16, of Jewett, Texas, was appointed by Governor Abbott to the State Board for Educator Certification. Isaacs is a secondary school teacher for Buffalo ISD. She is a member of Innovative Teachers of Texas, American Association of Family & Consumer Sciences, the Career and Technical Association of Texas and the Texas FCCLA Board of Directors.
Trina Silva '06, recently took on a new role at the University of Houston as director of development of the College of Liberal Arts and Social Sciences and was elected as UH Staff Council secretary. She is a life member of the SHSU Alumni Association.
Justin Berry '07, '12, was appointed by Governor Abbott to the Texas Crime Victims' Institute Advisory Council. Berry currently serves the Austin Police Department on the Special Events and Emergency Management Unit. He is also the appointed vice president of the Austin Police Association, a supporter of Operation Blue Santa and a member of CLEAT and the Texas Narcotic Officers Association.
Dwight Smith '07 (MA), was named Humble ISD "Teacher of the Year." Smith is a criminal justice teacher at Summer Creek High School and has been in education for 22 years.
Jadrian Wooten '09, '10, is an award-winning educator and researcher. He is currently an associate teaching professor at Pennsylvania State University within the Department of Economics and is the author of the recently published "Parks and Recreation and Economics." The book explores learning economics using the TV series, referencing scenes and characters from the show to teach economic concepts.
Wade Abadie '10, joined Capital Farm Credit as relationship manager in the Conroe Credit Office. Previously, Abadie was a land specialist and licensed real estate agent for Whitetail Properties Real Estate, LLC in San Antonio, Texas.
Lesa Johnson '11, was honored with the title, "Social Worker of the Year" by the National Association of Social Workers, Brazos Valley Chapter. Johnson is highly regarded for her ability to procure resources and provide mental health interventions.
Dr. Katelyn (Stafford) Bruno '11, was promoted to assistant professor of Medicine, in Cardiovascular Medicine at Mayo Clinic. During the COVID pandemic, Bruno was redeployed to assist in the development of the US COVID Convalescent Plasma Expanded Access Program. Bruno and program leadership built the database used to register around 2,500 hospitals across the US and territories, register 15,000 physicians, enrolled 105,000 patients and treated almost 95,000 with plasma. She is a life member of the SHSU Alumni Association.
Eboni Bell '12, has joined Stages Theatre in Houston as the inclusion, engagement and training director. She is also co-founder and board president of Iconotheatrix, a Houston-based youth theatre organization.
Gregory Clark, Jr. '12, '14, a U.S. probation officer, was promoted to senior officer as an evidence-based practice specialist. Clark resides in Beaumont, Texas.
Susan Cotter '12, was recently promoted to captain in the Harris County Sheriff's Office. She previously served as the Drug Recognition Expert Agency coordinator for Harris County, supervising one of the largest county DRE programs in the nation.
Cody Grubbs '12, from Navasota, Texas, was promoted to recycling coordinator at Blue Bell Creameries. Working to revamp the recycling program, he continues to look for ways to reduce waste and help preserve the environment. In March, he and his wife welcomed their first child, Jackson James.
Lindley Mock '15, began her educational career in Klein-Collins High School as a Family and Consumer Sciences teacher. In addition, she was the sponsor of 48 cheerleaders on three Cheer Squads. Moving to Montgomery High School in 2020, Mock is now a culinary arts instructor and co-sponsor of the award-winning Belles Dance Team. She is also co-owner of the Prairie Place event venue in Montgomery, Texas. Mock is a lifetime member of the Montgomery County Fair Association and the Montgomery Area Chamber of Commerce. She is a life member of the SHSU Alumni Association.
Daniel Jackson '17 (MA), a historian and combat-tested pilot, recounts the heroism of World War II aviators in his book, "Fallen Tigers: The Fate of America's Missing Airmen in China during World War II."
Kendra Ireland '19, was awarded the National Science Foundation Graduate Research Fellowship. She is currently a PhD candidate at Emory University.
Eloy Vega '19 (MA), has been appointed as Port Neches Fire Chief. He is a Laredo, Texas native, and has served the Laredo Fire Department for 22 years. He has worked in the training division, fire prevention and arson divisions. Vega is a certified law enforcement officer and certified emergency manager.
---