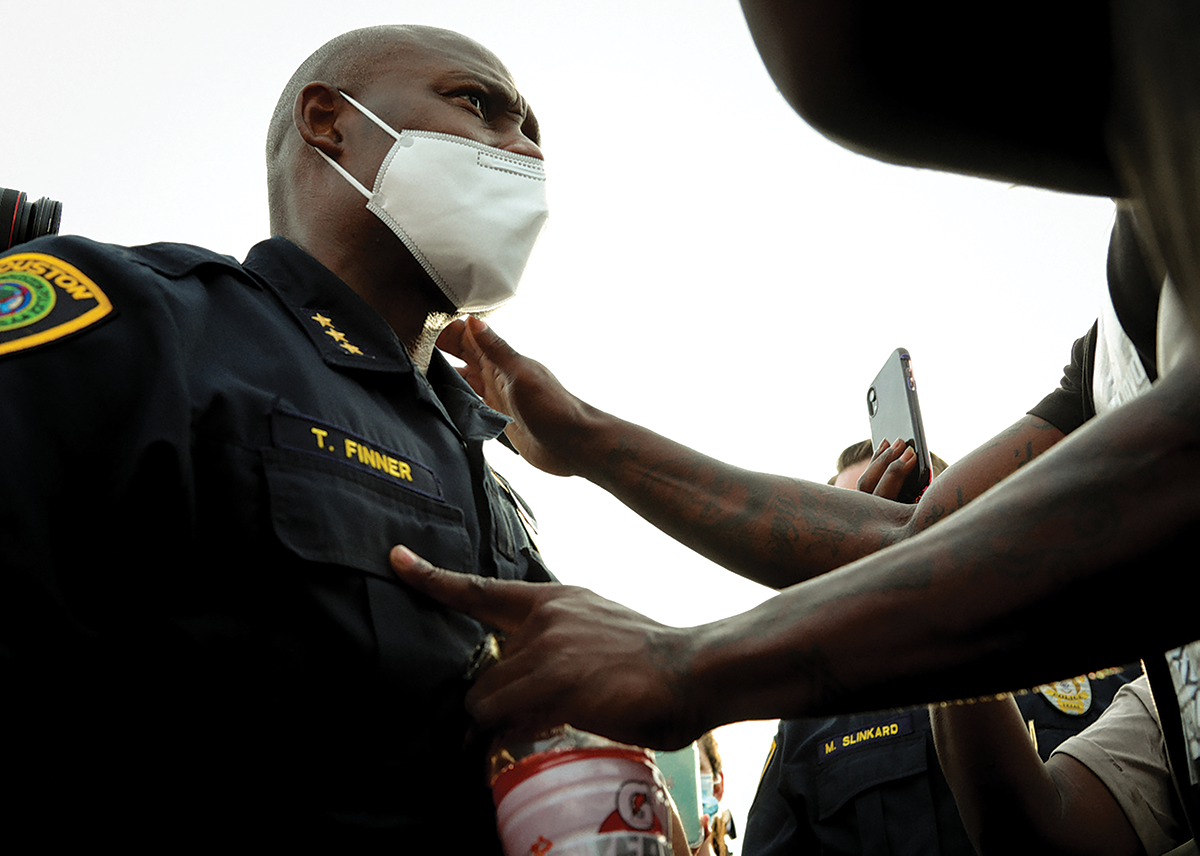 Photo by Mikol Kindle Jr
Q&A with Houston's Top Cop, Troy Finner
When one Bearkat succeeds, we all feel the enthusiasm. That certainly rang true in the spring when Sam Houston State University alumnus Troy Finner was officially announced as Houston's new police chief. It was a joyous moment for Bearkats everywhere as they lit up social media with celebratory messages.
Discovering a love for law enforcement while taking a class at SHSU, Finner earned his bachelor's degree in criminal justice in '89. Graduating at the top of his class, he could have pursued a career with the FBI or other federal agencies, instead he returned to his hometown roots, joining the Houston Police Department.
Finner's HPD career has spanned more than three decades, beginning in 1990 as a patrol officer. As he moved up the ranks, he began performing duties that included outreach with at-risk youths in high-crime areas, serving as a liaison to the Mayors' Office and working with internal affairs.
Today, as Houston deals with spikes in violent crime, and law enforcement agencies across the country are under intense scrutiny, Finner assumes command of HPD at a critical juncture. While he knows there are still tough times ahead, he is also optimistic that true progress can be made by building bridges of trust.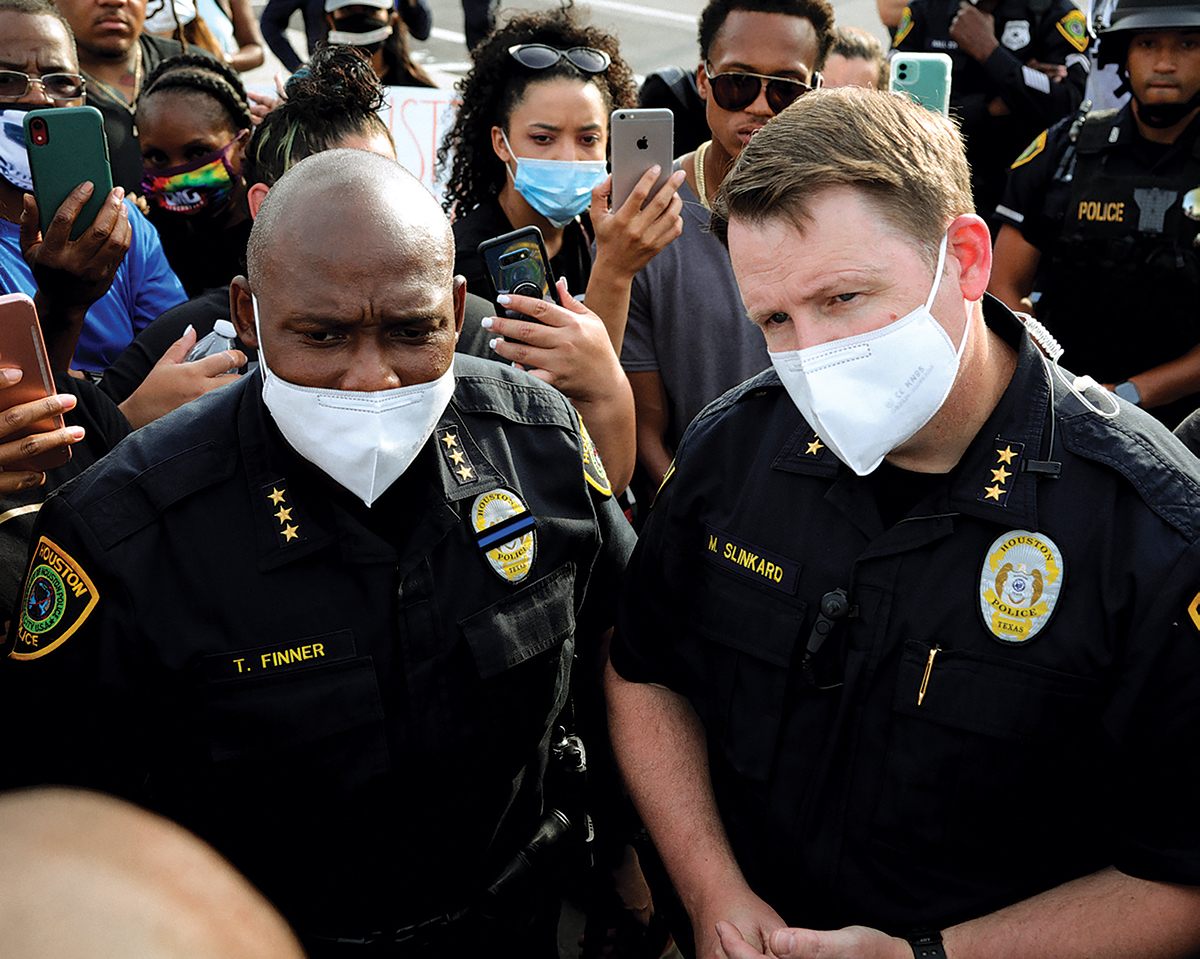 Photo by Mikol Kindle Jr
What a great lesson—love people and do something to help people in your life. Chief Finner
Shortly following the transition into his new role as chief, Finner caught-up with his alma mater to reflect on where he has been, how he got there and what the future holds.
What was your upbringing like?
I am very proud of Houston, where I was raised and have been my entire life, apart from college for a few years. I was born in Fifth Ward and raised in Hiram Clark in a family of six children. My dad was always working, and my mom was at home looking after us. I thank God for that upbringing. That's where it all started.
My parents taught us to always consider others, not just you or your family. What a great lesson—love people and do something to help people in your life. I was the first in my family to graduate from college, and mom and dad really set the tone to develop a decent man. I give thanks to them.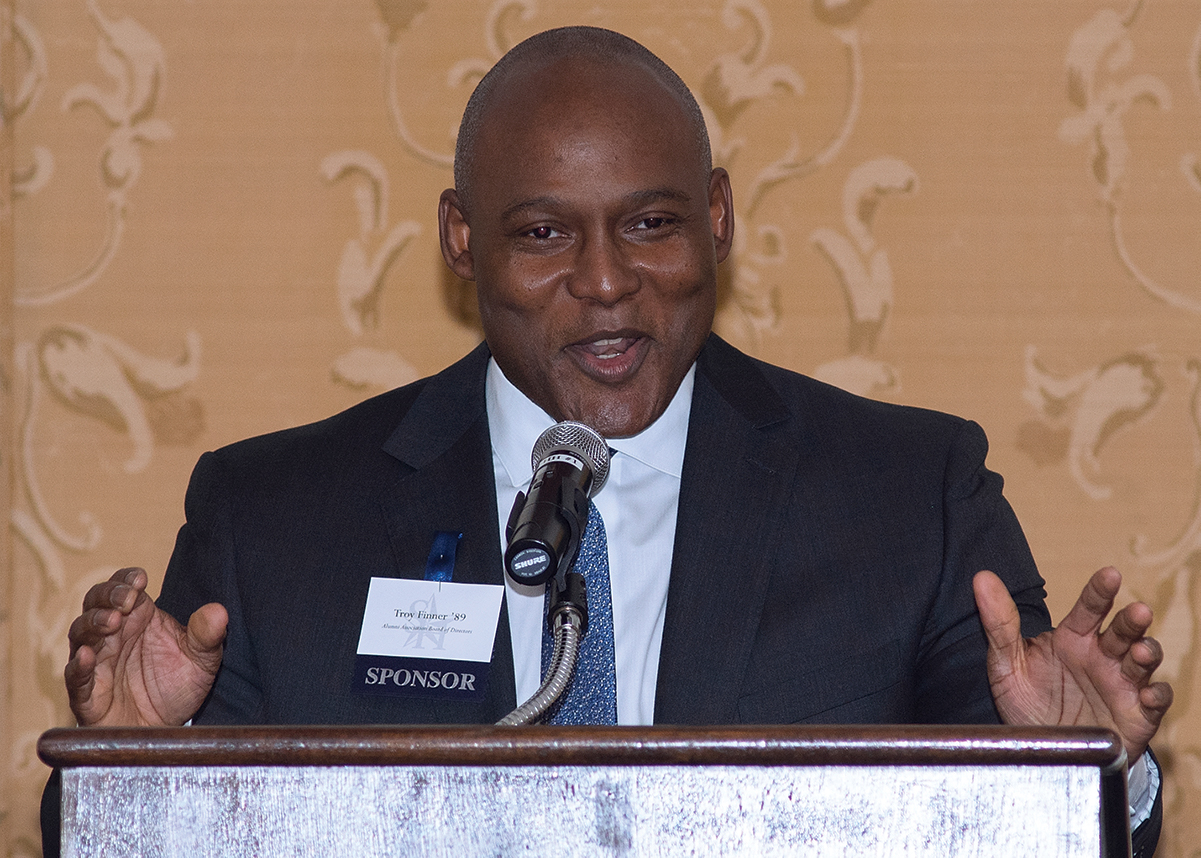 Did you always plan to go to college?
Mom didn't go past high school, but education was always important to her, and she stressed the fact that if you want to do something and be something, you need a college degree. I can remember as a kid, she would put us on a bus from Fifth Ward and take us to River Oaks. She would tell us, "You don't have to be a millionaire, but you can aspire to be whatever you want to be, work hard, treat people right and get a college degree." That really resonated with me, and I always wanted it.
How did you end up at SHSU?
The late, wonderful Joey Chandler from SHSU enrollment (at that time), was an incredible influence throughout my time at Sam. I met her while attending Blinn Junior College. She was there recruiting students and was instrumental in my transition to Sam. With no college funding, she showed me the way to get a few scholarships and make it possible. I owe so much to Joey and was fortunate to talk to her a few months before she passed to share that.
What advice do you have for first-generation students today?
Don't cut yourself short by thinking "this is not for me"—yes, it is. The idea of going to college can be intimidating when you don't have the resources at home, but reach out to high school or college counselors and believe in yourself. My parents didn't have money to save for my college because they were just trying to survive everyday life with six kids.
If you put in the effort, there is somebody willing to help you, just like Joey did for me, along with so many professors along the way. Of course, you have to put in that work and study hard so you can compete for scholarships and grants out there, but there's so many people at Sam Houston with open arms ready to help you, and I speak from experience.
When did you know you wanted to pursue a career in criminal justice?
At first, I didn't know what I wanted to do. Since I was decent in math, I took a few courses expecting it would be like finance, and I was terribly bored. I remember taking a serial murder class in criminal justice and it really piqued my interest. I think that's where it started for me in law enforcement.
You have spoken recently about the importance of building bridges; can you describe that?
In policing, and especially positions of leadership, you have to send the message to everyone that relationships are so important. Police departments exist because of good relationships and they get torn down because of bad relationships. The key is every officer understands that perception is a person's reality. If you had a past negative experience with police, I can't discount that. Even when we disagree, we must give value to a person's life experience and their perception. Sit down and have honest, respectful communication. That's how you build bridges of trust. If you don't, that is when good people and good police officers throw stones at one another. Who is hiding in the midst of all of that? Criminals and bad people, so we must focus on building those true relationships.
What advice do you have for students considering a career in criminal justice?
This is what I want young men and women to know—even with the negative noise out there, what a great profession law enforcement is. You can help so many people and you can make such a difference. Don't look at the negative. Look at what you can do for yourself, your family, and community. What a great way to make an impact in a positive way being a professional, true guardian of a neighborhood, of a city.
---