Last update: January 10, 2022

Students, Staff, Faculty, and other Stakeholders are provided a variety of methods for confidential communication. Students are required to fill out End-of-Course Evaluations. Students also may contact the SHSU Dean of Students with grievances, or the COCA to report violations of accreditation standards.
All Stakeholders may use the SHSU-COM Feedback Form to provide feedback or address concerns to the COM.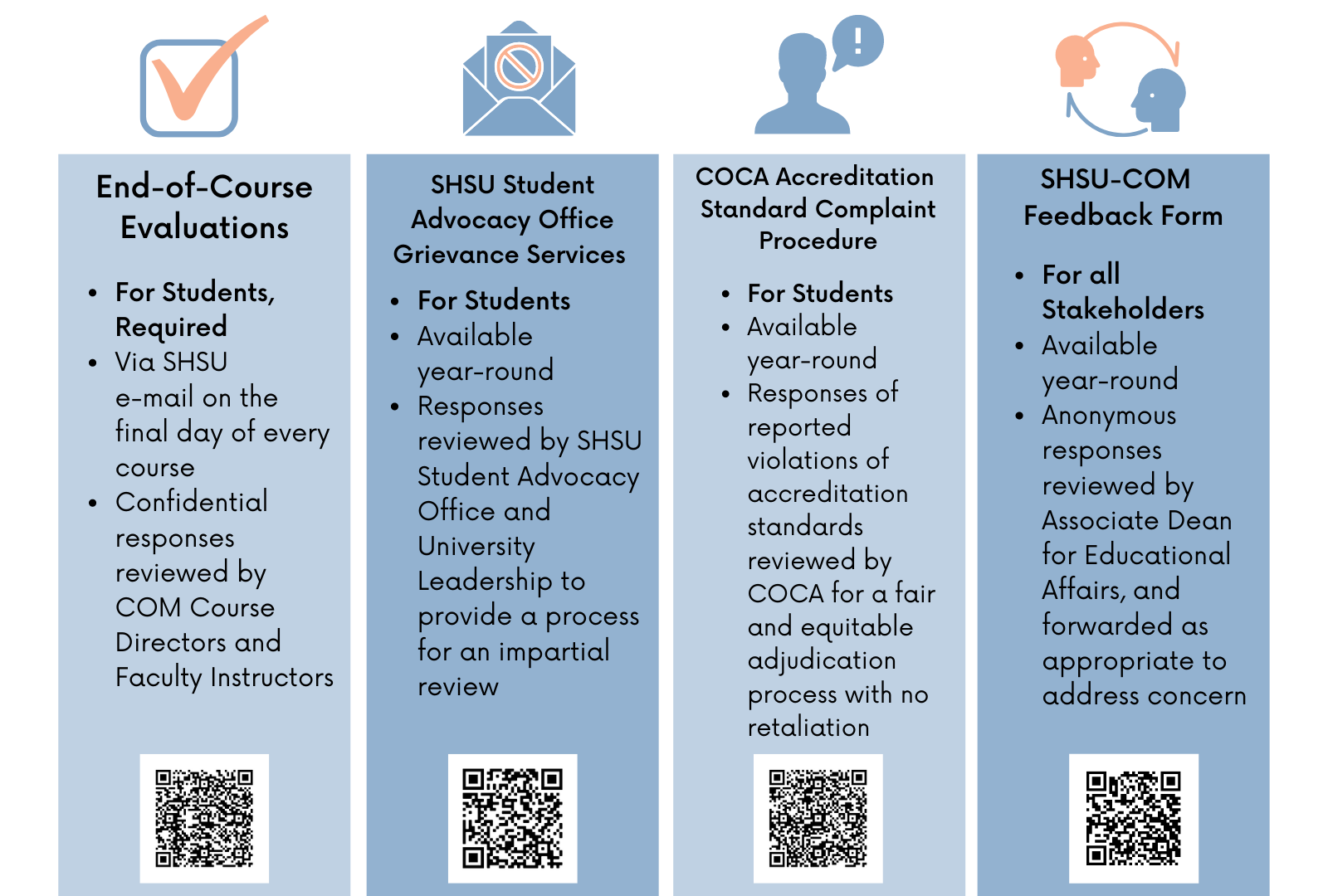 The SHSU-COM Feedback Form offers an anonymous mechanism for all Stakeholders to provide feedback or concerns directly to SHSU-COM leadership. Responses will be reviewed by the Associate Dean for Educational Affairs and forwarded as appropriate to SHSU-COM leadership.
To offer an appropriate resolution, please report with the greatest details possible.
Resolution summaries updated on a monthly basis.
SHSU-COM Feedback Resolutions

| Date Reported | Reporter Classification | Summary of Concern | Summary of Resolution |
| --- | --- | --- | --- |
| 9.28.21 | Staff | Systems course -realign material and assessments | Course director is aware of the feedback and made some adjustments to the course |
| 9.28.21 | Student | A faculty/staff behavior | Additional diversity training is upcoming. Identifying the person of concern is important for targeted intervention. |
| 9.29.21 | Student | Dress code email lacked empathy | Not the intention; Timing of email not optimal; MSA followed up with students asking what they can do to help; only sent dress code reminder due to the number of visitors in the building. |
| 9.30.21 | Student | Comment by faculty in class | Faculty member was not aware of the impact of the comment; this was brought to their attention |
| 10.01.21 | Prefer not to identify | Room capacity on the event request form | Room capacity was added to the form. |
| 10.07.21 | Prefer not to identify | Emails to students also sent to faculty and staff | Medical Student Affairs will work with Ms. Haney to have all things shared with students shared with faculty and staff as well. |
| 10.7.21; 10.19.21 | Faculty; Faculty | COM building adopt a fragrance free policy | A policy does not exist in SHSU Facilities or Human Resources. For an individual accommodation, please contact HR. |
| 10.11.21 | Faculty | Co-curricular/Extra review sessions schedule | A new policy regarding scheduling curricular and co-curricular events was just approved and will be shared COM-wide. |
| 10.12.21 | Prefer not to identify | New cleaning product heavily scented | The cleaning product being utilized has been reviewed and approved by SHSU Facilities. |
| 10.12.21 | Student | Research compliance – informed consent and spiritual content | This was shared with leadership so that it could be discussed with the course director |
| 10.26.21 | Student | Student and police officer incident | Met with UPD to discuss student interactions and safety concerns |