Feedback
Last update: Dec. 22, 2022
Students, Staff, Faculty, and other Stakeholders are provided a variety of methods for confidential communication. Students are required to fill out End-of-Course Evaluations. All Stakeholders may use the SHSU-COM Feedback Form to provide feedback or address concerns to the COM.
Find Support
Sexual Misconduct and Title IX investigations, grievance processes, and support services are facilitated through the Office of Institutional Diversity and Inclusion. These services include medical, counseling, legal assistance, and law enforcement. Students also may contact the SHSU Dean of Students with grievances, or the COCA to report violations of accreditation standards.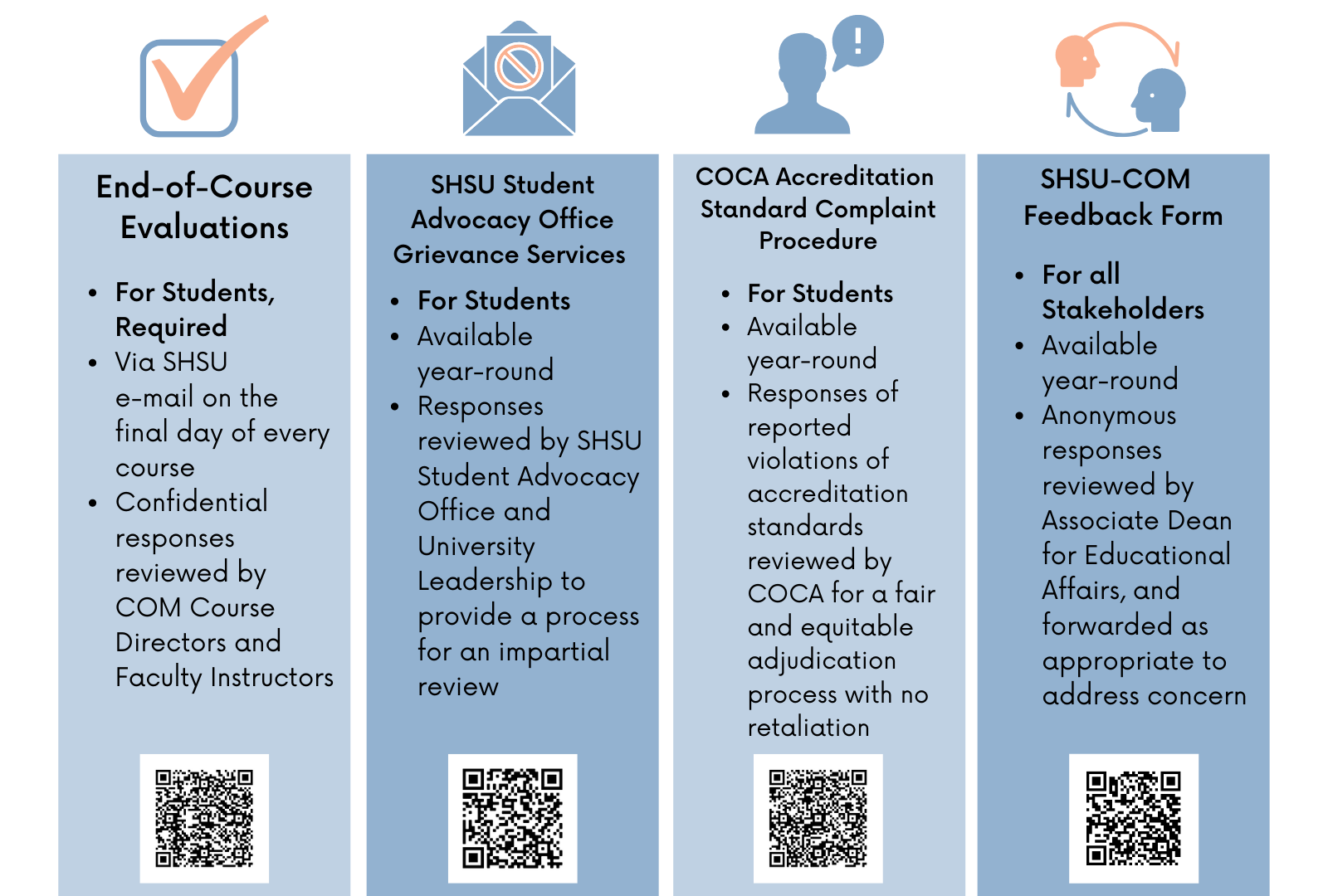 The SHSU-COM Feedback Form offers an anonymous mechanism for all Stakeholders to provide feedback or concerns directly to SHSU-COM leadership. Responses will be reviewed by the Associate Dean for Educational Affairs and forwarded as appropriate to SHSU-COM leadership.
To offer an appropriate resolution, please report with the greatest details possible.
Resolution summaries updated on a monthly basis.
SHSU-COM Feedback Resolutions

Date Reported
Reporter Classification
Summary of Concern
Summary of Resolution

9.28.21

Staff

Systems course -realign material and assessments

Course director is aware of the feedback and made some adjustments to the course.

9.28.21

Student

A faculty/staff behavior

Additional diversity training is upcoming. Identifying the person of concern is important for targeted intervention.

9.29.21

Student

Dress code email lacked empathy

Not the intention; Timing of email not optimal; MSA followed up with students asking what they can do to help; only sent dress code reminder due to the number of visitors in the building.

9.30.21

Student

Comment by faculty in class

Faculty member was not aware of the impact of the comment; this was brought to their attention.

10.01.21

Prefer not to identify

Room capacity on the event request form

Room capacity was added to the form.

10.07.21

Prefer not to identify

Emails to students also sent to faculty and staff

Medical Student Affairs will work with Ms. Haney to have all things shared with students shared with faculty and staff as well.

10.7.21; 10.19.21

Faculty; Faculty

COM building adopt a fragrance free policy

A policy does not exist in SHSU Facilities or Human Resources. For an individual accommodation, please contact HR.

10.11.21

Faculty

Co-curricular/Extra review sessions schedule

A new policy regarding scheduling curricular and co-curricular events was just approved and will be shared COM-wide.

10.12.21

Prefer not to identify

New cleaning product heavily scented

The cleaning product being utilized has been reviewed and approved by SHSU Facilities.

10.12.21

Student

Research compliance - informed consent and spiritual content

This was shared with leadership so that it could be discussed with the course director.

10.26.21

Student

Student and police officer incident

Met with UPD student interactions and safety concerns

01.15.21;

02.2022

Staff

Communication from Provost's Office to shared services personnel

Listserv populated through Banner - appears shared services has different communication route; cannot change another entities listserv and have no way of knowing who receives which correspondence.

01.12.22; 01.24.22

Prefer not to identify; Student

Social Media Utilization

Training on University Policy is forthcoming.

01.20.22

Prefer not to identify

COM building temperature

Constantly working to regulate temperature in building; report specific areas, and that information will be submitted to main campus where it is controlled

3.10.22

Student

Arrangement of ALC room - difficult to see speaker

Exploring how to rearrange the room and still maintain the group dynamic that the space was designed to facilitate.

3.11.22

Prefer not to identify

Research process and requirements including travel

More robust procedures and tracking processes are being implemented and refined.

3.15.22

Prefer not to identify

Communication and sharing information consistently

Communication is something we are always working to improve. Incorporating a variety of modes such as a newsletter, email correspondence, Blackboard announcements and postings, digital signage, meetings, coffee chats, etc. are being utilized.

3.15.22, 3.16.22 (3);

Student

Communication about sites/rotations on March 15, 2022

Discussed with Clinical Affairs and they are working to share as much information they have with students.

3.17.22

Staff

Peer tutoring for OMS2 students

Looking forward to being able to provide this in the future.

4.4.22 (4)

Faculty; Student

Evening classes for Education major students at TWC

Sent anonymous feedback to TWC and COE for review.

4.6.22 (2)

Prefer not to identify; Student

Student concern regarding interaction with faculty/staff

Met with student to address communication and approach to situations.

4.9.22

Faculty

A faculty/staff member's communication

Discussed the feedback with the supervisor.

4.26.22

Student

Lack of timely response to anonymous feedback

Dr. West will do her best to speed the process up. Please contact her directly if needed.

5.2.22

Prefer not to identify

Board Prep

Resources and materials for Board Prep are analyzed annually and modifications may be made if needed.

5.2.22

Student

Ultrasound Training

Ultrasound Training continues to be included in pre-clerkship and was also incorporated in the clerkship preparation course.

5.5.22

Student

TV Screens

The issue has been reported to IT@Sam.

5.9.22

Other Stakeholder

Travel Funding

SHSU-COM has student travel guidelines that align with university requirements.

5.23.22

Student

Changes

Transitions in faculty and staff are not uncommon in Higher Education. During changes, everyone works to ensure support and resources are maintained.

5.27.22

Faculty

Student Support

Opportunities to assist with student tuition in the form of scholarships and grants are a current focus.

7.8.22

Student

Transcript Information

Academic Standing is noted on the transcript at the end of each term. This includes good standing and academic probation.

7.8.22

Faculty

SPAP Timeline

SHSU-COM will examine timelines, policies and processes.

7.8.22

Other Stakeholder

Class Rank

Any reference of Class Rank in MSPEs will use "top 20% of the cohort" instead of 5th quintile.

7.22.22

Faculty

Clerkship Preparation Course Grading

Grades are determined by the course director.

8.15.22

Faculty

Patient Encounter Form in Leo

Adjustments were made to streamline the form and short videos were posted in Bb for student reference in an attempt to expedite the process.

8.15.22

Student

Clinical Experiences

Core clerkship experiences are being monitored and adjusted as needed.

8.15.22

Student

Providing Feedback

Several feedback options are available including completing the anonymous feedback form, course and faculty evaluations, thorough your class representatives, etc.

8.16.22

Student

Birds around the building

Investigating ways to reduce the number of birds flying into the windows.

8.25.22 (2)

Student (2)

COMLEX-USA Level 1 Performance Celebration

Class of 2024 will be recognized directly for their performance on Level 1. Additional information will be shared soon once logistics are settled since students are in different regions.

8.25.22

Student

Notification regarding rotation changes

Discussed sending a direct email to students when changes are made to rotations in Leo.

9.7.22

Prefer not to identify

Patient encounter logs

Created and posted videos to expedite the logging process as well as refined the diagnoses and procedures list.

9.7.22

Faculty

Preceptor evaluations

Reach out to Clinical Educations with concerns about matching preceptors to students for evaluation purposes.

9.7.22

Faculty

Class Rank

Rank will not change but performance on clerkship rotations will be highlighted in the MSPE.

9.9.22

Faculty

Earning Honors in a Course

Discuss with the course director.

9.16.22

Faculty

Diagnoses in the patient encounter logs

The request to refine and update the list of diagnoses will be shared with the clerkship directors.

9.20.22

Faculty

Clerkship grades

Will be posted in Blackboard as soon as COMATs are available and will be on the transcript within 10 business days.

9.23.22

Student

Blackboard

Blackboard Learn is SHSU's Learning Management System (LMS) that all of the colleges utilize. More information may be accessed at: https://online.shsu.edu/campus/bbultra/

9.23.22

Faculty

Clinical Regions

Stakeholders are constantly monitoring resources and experiences in the clinical regions and are working with partners to expand and enhance opportunities in each region.

9.30.22;

10.27.22

Student

COMAT Thresholds

Leadership is constantly monitoring performance and will continue to examine data and thresholds (fail, pass, honors). Discussed with OMS3 class on

10.22.22

Other Stakeholder

Narrative Comments on Clinical Evaluations

SHSU-COM is monitoring narrative feedback provided by preceptors; additional training regarding needed narratives for MSPEs was conducted as a CME offering on November 10, 2022.

10.26.22;

10.31.22;

11.03.22 (6);

11.04.22;

11.05.22;

11.06.22.

Students

Course Concerns

Feedback was shared directly with leadership and brought to the attention of all stakeholders.

10.31.22

Other Stakeholder

Grading Scale

SHSU-COM grading scale is F/P/H. Various scales were considered but this was decided prior to the matriculation of the first cohort.

10.31.22

Other Stakeholder

Rotation Location

Rotation data is constantly being monitored and adjustments made as needed.

11.04.22

Student

Retest and Remediation Exam Schedule

Leadership worked with stakeholders to adjust retest and remediation exam schedule for the end of the Fall semester to help reduce exam fatigue.

11.04.22 (2)

Students

Group chat and feedback

Met individually with specific student doctors about concerns and written correspondence.

11.04.22

Student

Ethics

Concern shared directly with leadership.

11.11.22

(2)

Prefer not to Identify; student

Internal classroom temperature

Submitted work request to get the temperatures raised to higher temperatures.

11.15.22

Student

Exam Information

Focusing on consistency of strengths and opportunities reports and other data. Reporting structure for performance recorded in Blackboard is consistent among the foundational courses.

11.22.22

Student

After Hours Security Personnel

Concerns discussed and written feedback shared with UPD.

11.22.22

Student

Course Content

This type of feedback should be included in the course evaluation.

12.06.22

Other Stakeholder

Physician Lounge Access

Each hospital has the sole right to decide whether they will have a physician's lounge and what the rules of entry are.

12.07.22

Student

Journal Club

Journal clubs are required components of most residency programs and our mission is to prepare our student doctors for success in GME. SHSU-COM journal club is typically one hour per article.

12.13.22

Staff

COMAT arrival time in one region

This information was shared with Clinical Education.