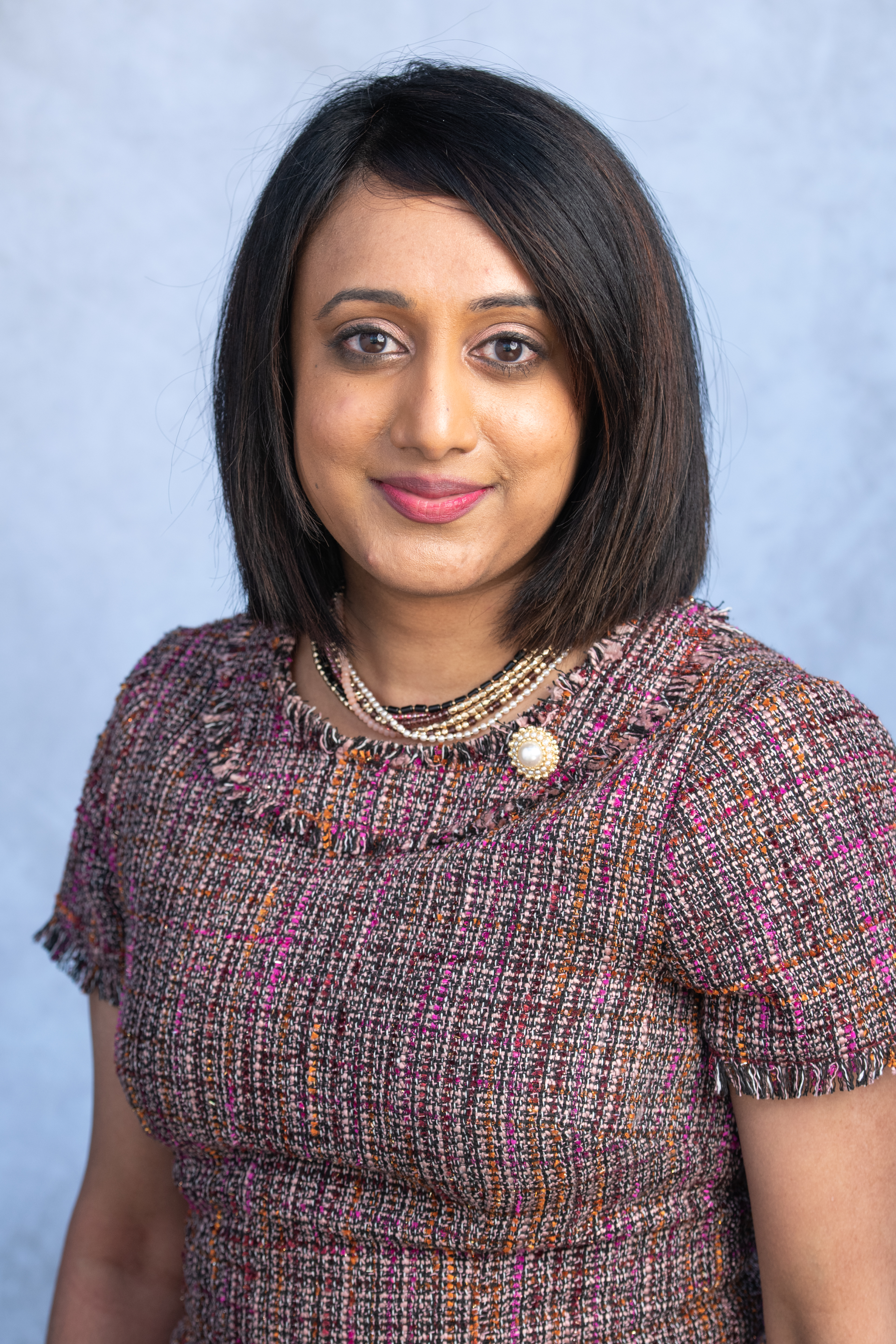 Dr. Sureni V Mullegama, PhD, FACMG is a board certified clinical molecular geneticist whose specialty is molecular genetics and neurogenetics. She joined Sam Houston State University in January 2021 as an Assistant Professor of Genetics at the College of Osteopathic Medicine.
She earned her Bachelor of Science degree in Genetics, Cell Biology and Development from University of Minnesota, Twin Cities. Following that, she received her doctorate degree in Human and Molecular Genetics from Medical College of Virginia (MCV) at Virginia Commonwealth University. During her tenure at MCV, she received the prestigious Roscoe D. Hughes Award for Most Outstanding Graduating PhD Candidate and Roscoe D. Hughes Award for Excellence in Human Genetics Research. She went on to complete a 2-year post-doctorate residency at Baylor College of Medicine. She subsequently completed a 2-year Clinical Genetics Fellowship at University of California, Los Angeles (UCLA), where she earned the David Rimoin Award for Research Excellence in Medical Genetics.
Dr. Mullegama is a board-certified clinical geneticist After her extensive education, she went on to be an Assistant Professor at Baylor College Medicine and Assistant Director at Baylor Genetics. After this, she went on to be an Assistant Director of Clinical Genetics and Neurogenetics at Gene Dx.
Her scholarly work is rooted in providing answers to patients and their families regarding their genetic conditions specifically neurodevelopmental disorders. The answers may come through clinical genetic testing, molecular genetic research, or genetics education. She has a passion for ending patient's diagnostic odysseys by identifying novel disease genes. Through cutting-edge molecular and cytogenetics techniques, she led the identification of MBD5 as the causative gene for two novel genetic disorders: 2q23.1 deletion syndrome and 2q23.1 duplication syndrome. Over 100 families received a diagnosis from these findings. She authored several papers on this gene and disorders. Recently her efforts in ending a cohort of patients' diagnostic odysseys led to the disorder being named after her and her group Mullegama-Klein-Martinez syndrome (MKM syndrome), a novel cohesinopathy that she discovered by coupling clinical genetic testing and basic molecular genetic research. She also is interested in addressing genetic health inequities in rural areas.
She has been nationally recognized for her research by American College of Medical Genetics and Genomics for the ACMGG Foundation: Perkin Elmer Diagnostics Award. Recently, she was awarded the College of Osteopathic Medicine, Excellence in Research (2022). She has published over 40 peer reviewed articles and chapters in the field of Medical Genetics. In addition, she peer reviews articles for genetics journals.
Dr. Mullegama's teaching philosophy is centered on the quote by Benjamin Franklin "Tell me and I forget, teach me and I may remember, involve me and I learn." As a teacher, she believes that each student learns differently (visual, auditory or kinesthetic learners). It is her goal to integrate all types of teaching styles, in possible, to target how each student might learn. She particularly focuses on interactive learning where the student is an active participant in their learning. In her classroom, there are three types of participants, the student, the teacher, and the thinker. Everyone in her classroom gets to be one of these participants to truly promote an activate participation in learning. Her goal is to have her students develop a love of medical genetics, to understand that genetics is involved in many aspects of medicine, to develop critical thinking skills when approached with patients with a possible genetic disorder and encourage lifelong learning skills in the evolving field of medical genetics.
Dr. Mullegama is an avid dog lover. She has two West Highland White Terriers (Westies) that take up free time.