Recreational sports experiences at SHSU have evolved through the years providing opportunities for affordable student outings.
The Sam Houston State University Rodeo Team qualified for another national finals this summer in Casper, Wyoming.
Wide World of Sports
While Sam Houston State University's recreational sports offerings have changed over time, its mission to serve the needs of students has remained intact. Though it may have been necessary years ago to have 10 racquetball courts in the Recreational Sports Center, today, some of those courts have been repurposed to fit other campus needs, such as small workout rooms for personal training classes. This type of adaptability can be seen across the board as recreational sports keeps up with trends of today's students.
Associate Vice President for Student Affairs Keith Jenkins feels that no matter the need, students can find a program to get involved with on campus.
"I challenge anyone to find something they feel like they can't participate in," Jenkins said. "If any student came up to me or the rec staff and asked for something to do, we will find a way for you to find your place in our programs, I promise you that."
Over time, the college experience has transformed to accommodate the diverse needs of today's students, including the types of sports and activities provided. What remains constant is the desire to be with fellow students outside of the classroom and dormitory, sharing in the fun and camaraderie of sports.
"Our student body is always changing and growing. However, when students are a part of a university, they still want that interaction," Jenkins said. "No matter the education model, students still want to be engaged in athletics or participate with others outside of school."
Just as education continues to become more innovative, so do the student interactions. Every summer, Assistant Director of Intramural and Club Sports Brian Weaver, along with his team, meet with intramural directors across the state to talk about new programs and industry trends.
"It is where we get really good ideas," Weaver said. "We will try anything for a couple of years. If we hear an idea from another school, or students come to us with something, we are willing to give it a shot to see if it takes off in popularity."
The influence of trends that come and go have always been a part of recreational sports. Previously, sporting events like donkey basketball, box car racing, boxing, competitive hacky sack and even fencing have seen their time at SHSU. Student participation has been key from the beginning, whether as a spectator or running on to the tennis court in front of fellow students.
"If I was not in class or asleep, I was at the rec," said alumna Laura Munroe ('87). "It is what helped me be connected to the university. I don't communicate with hardly anyone I was in class with, but to this day I still connect with people I worked with and participated in athletics with at the rec."
Munroe's passion for recreational sports led to a career helping students as the Director of Campus Recreation at the University of Texas – San Antonio.
Munroe credits a big increase in student participation to the construction of the Health and Kinesiology Center while she was an undergraduate student in 1986, as well as the Recreation Sports Center addition in 2003.
"Before that, everything was spread out across campus," Munroe said. "When that was finished, we had a true hub on campus. It was a second home to a lot of students."
Last year, SHSU students accounted for 19,000 total participations across all intramural sports, ranging from weekly leagues to one-day tournaments or events. Outside of academic activities, recreational sports has the highest percentage of student involvement on campus. The department is proud to meet the diverse needs of all students.
"We don't just say if you want to play intramurals we can have you go play racquetball or basketball or softball," Jenkins said. "Yes, we still have those available, but we have evolved to include a ton of opportunities to get out and interact with fellow students."
SHSU takes pride in the 17 different club sports available, with more than 450 students playing on those teams. While many typical sports remain such as volleyball, soccer, tennis and even lacrosse, several new clubs have popped up over the last 10 years that may sound just as strange as competitive hacky sack from the 80s. Sports like quidditch, a game based on the popular Harry Potter book series, or competitive video games called eSports represent the growing trends in friendly student competition.
"Interacting with one another and connecting is constantly evolving and I think eSports is going to take advantage of that," Weaver said. "I think it is something that is not going to be a fad; I think it will stand the test of time."
Becoming a club sport may seem daunting, but it only requires a minimum of five students to start any new student organization, no matter how off-the-wall the idea may seem. After being an organization for one semester, the group can become an official club sport, if they meet all the requirements.
The SHSU quidditch team began that process with a small group and has seen their numbers grow to more than 50 participants, complete with "A" and "B" teams that travel to national competitions.
"Quidditch is a very interesting sport to watch, because it is actually intense," Weaver said. "There is a lot more strategy and it's more physical than you would think for a game created from a children's book."
Recreational sports represent one of the many interactions across campus that mold and shape each student's time as a Bearkat. Attending SHSU is not just about getting your degree and moving on, it is about a multitude of college experiences that produces creative, successful, productive members of the community.
"When someone comes to school, we want to affect not just their mind, but their heart," said Jenkins. "You don't just come to school for a degree. It is a formal education, yes. But it is also outside the classroom where we need to have a skill set developed both mentally and socially. That is where things like intramural sports, club sports and recreation come in to play, no pun intended.
Adventure is Waiting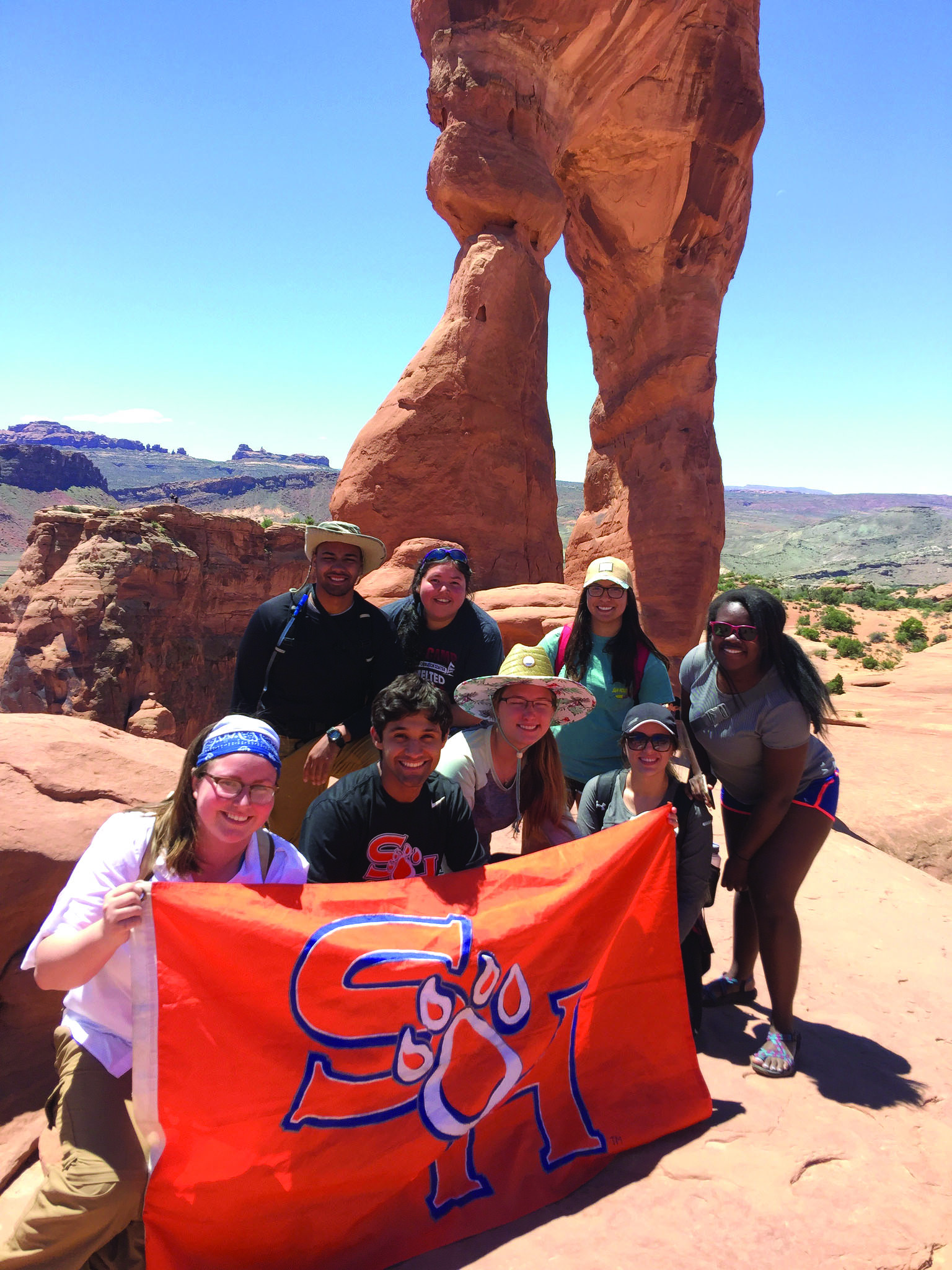 Recreational sports experiences at SHSU have evolved through the years providing opportunities for affordable student outings. Recent adventure trips hosted by the Outdoor Recreation Program encourage students to explore parks across the country. From trail riding to ski trips, strenuous back country camping to a simple afternoon in a canoe, these adventures are open to anyone who wants a truly unique experience and even come at a bargain price.
Bearkat Camp is another off-campus trip organized through recreational sports. This four-day, three-night trip takes place just outside of Huntsville at SHSU University camp on the banks of the Trinity River. Incoming freshman should not miss out on experiencing the spirit, pride and tradition that comes with being a Bearkat.
Let's Rodeo
The Sam Houston State University Rodeo Team qualified for another national finals this summer in Casper, Wyoming. This was the 63rd year SHSU was represented at the finals, which draws athletes from across the United States and Canada.
Rodeo team coach Bubba Miller, who calls all of his team "champs," said he is proud of what they continue to build at SHSU and believes it will continue for years to come.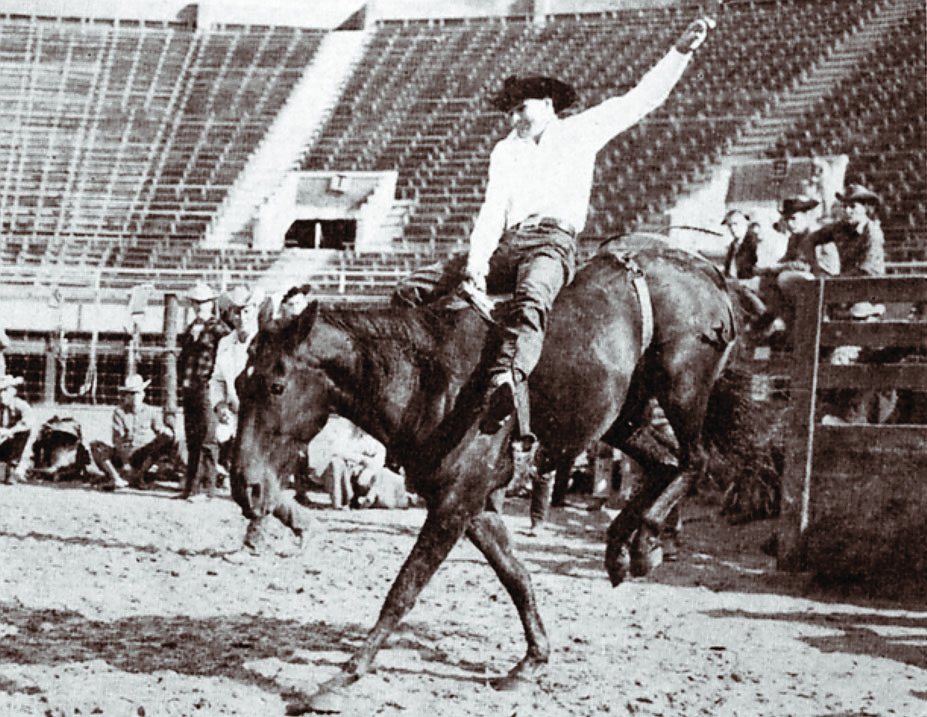 "I believe each kid will get exactly what they put back into this sport," Miller said. "If they'll train hard, work hard and do what they're supposed to do they'll see themselves rise up and be the next national champion."
Miller knows he has a reputation to uphold when it comes to SHSU's rodeo tradition. Former coach Sonny Sikes still checks in on his old team just about every week.
Sikes can be seen bringing donuts each Monday morning to the Bobby K. Marks Administration Building, before eventually finding Miller for their weekly meeting about the rodeo team. Even after 40 years of teaching and coaching, Sikes cannot get enough Bearkat news.
To find out more about the rodeo team, you can visit their facebook page, and to learn about the current capital campaign and its support of SHSU Agricultural Sciences department visit shsu.edu/campaign for more information.