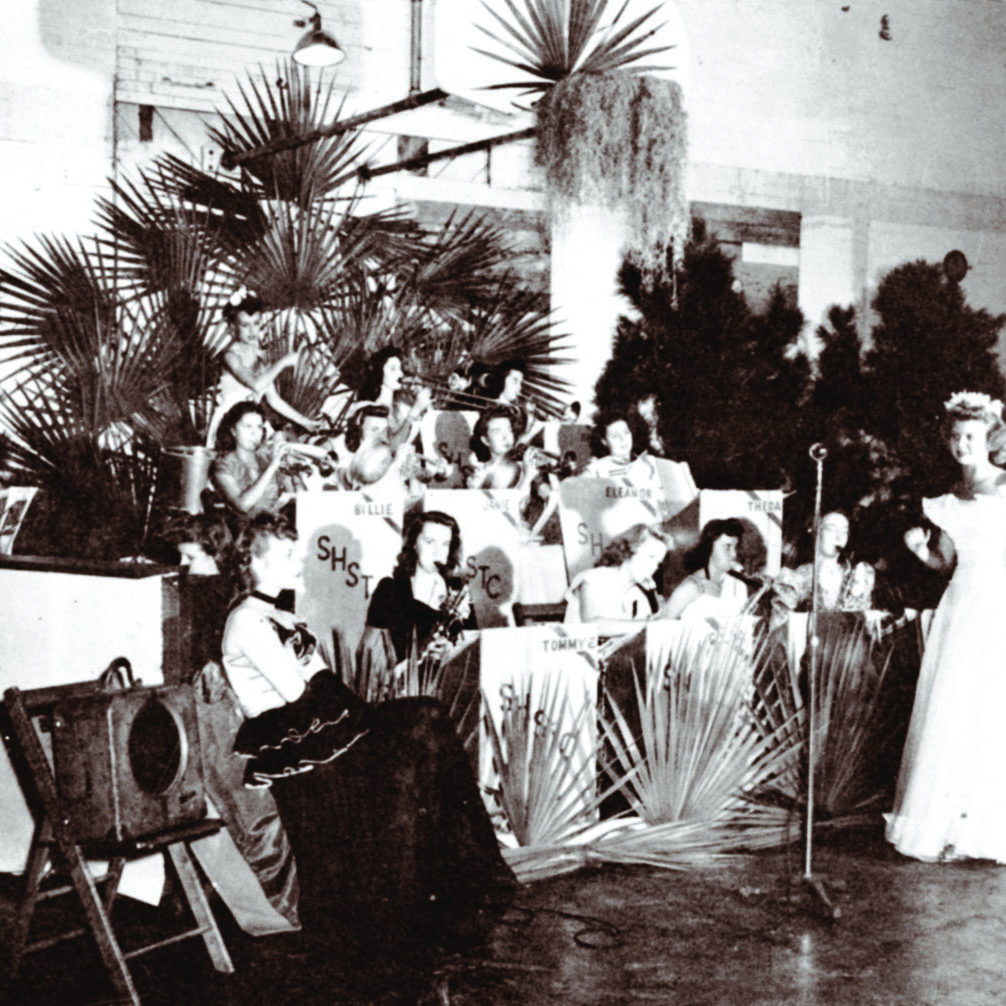 The All-Girl Orchestra provided entertainment at collegiate dances, assemblies and other social events around campus between 1943 and 1946.
Memory Strikes a Chord
Music has a distinctive way of bringing back the past. A certain song on the radio can quickly conjure up great times from our youth, triggering familiar people and places in our minds. Experiencing live music with others also has a unique power to bond us. Even before the creation of Sammypalooza, a tradition of live music on campus has been a longstanding part of Bearkat student life.
In the '60s, Peter, Paul and Mary's anthems for peace were embraced by youth. The folk trio made their appearance on campus in 1968, the same year their song "Leaving on a Jet Plane" became a No. 1 single. Alumnus Michael Boland ('70) shared his memories of the sold-out show.
"Peter, Paul and Mary put on a spectacular performance. I was very impressed the school was able to book such a popular group. I remember Mary Travers setting the record straight that night when she told the audience that their hit song "Puff The Magic Dragon" was about a young boy's fantasy and not about drug use," Boland recalled. "Other concerts at Sam included the New Orleans jazz trumpeter, Al Hirt and concert pianist and conductor, Andre Previn—all top artists."
Combining gospel and blues into a new genre of soul, Ray Charles captivated Sam Houston audiences in 1969. Joining him on stage were his female back-up singers, The Raeletts and The Ray Charles Orchestra featuring modern jazz.
Like Peter, Paul and Mary, Ray Charles performed for students in the campus gymnasium, as did many other touring music artists of the time. "I saw Neil Diamond in the old men's gym and Albert Brooks opened as the comedy act. I also recall First Edition in the gym. The bass player was Kenny Rogers. This was back before they became Kenny Rogers and the First Edition," alumnus Scott McCarly ('73) said.
Opening in 1964, The Lowman Student Center was the site of many popular concerts featuring groups or singers such as Cheap Trick, Manhattan Transfer, Climax, Mac Davis, Mel Tillis and more.
In 1971, ZZ Top, the hottest Texas super-group from Houston at the time, made their LSC debut donning much less facial hair in their younger years.
Once completed in 1976, the Bernard G. Johnson Coliseum—then known as University Coliseum—was able to accommodate larger audiences, which helped in drawing more notable acts to campus, from Kenny Rogers, Chicago, Willie Nelson to most recently, Wiz Khalifa.
In 1987, George Strait returned for his second SHSU appearance following the release of his No. 1 album, Ocean Front Property. Entertaining over 4,700 cheering fans in the Coliseum, Bearkats showed that country music was still going strong in the late '80s.
"The red-headed stranger" has made several SHSU visits through the years, but Willie Nelson's 1983 appearance was memorable when the concert paused briefly to watch (via satellite) the Grammy Awards broadcast from the west coast. Nominated for four Grammys that night, Willie traded his tuxedo on the red carpet for blue jeans and a red bandanna in the Coliseum. The Sam Houston audience was silent, watching from a large screen as Olivia Newton-John announced the winner for Record of the Year. Although he didn't win that category, he secured Song of the Year and Best Country Vocalist later that evening. And, it certainly didn't stop him from delivering a memorable show for students.
In 2010, Student Activities and Recreational Sports joined forces to present the first Sammypalooza music festival at Johnson Coliseum. Featuring nine music acts including Lifehouse, Jack Ingram and Story of the Year, the first event of its kind for Bearkats presented bands on two separate stages.
Offering a diverse range of rock, pop and hip-hop performances each year, Sammypalooza has gained a reputation for booking headliners that rival some of the biggest event venues in Texas.
"The goal is to provide students with an opportunity to see big-name artists here on our campus. Students usually have to travel a long distance to see concerts, so Sammypalooza provides an outlet for them to see high-profile concerts right here in Huntsville," Steven Begnaud, assistant director of Student Activities, said.
"I remember Sammypalooza was great because they were able to bring artists our age that students actually wanted to see like Ludacris, All American Rejects, Taking Back Sunday and Panic! At The Disco," alumna Misti Jones ('15) recalled.
As music changes through the years at Sammypalooza, the purpose of the festival has remained —entertaining students while bringing them together in a fun and energetic Bearkat tradition.
All-Girl Orchestra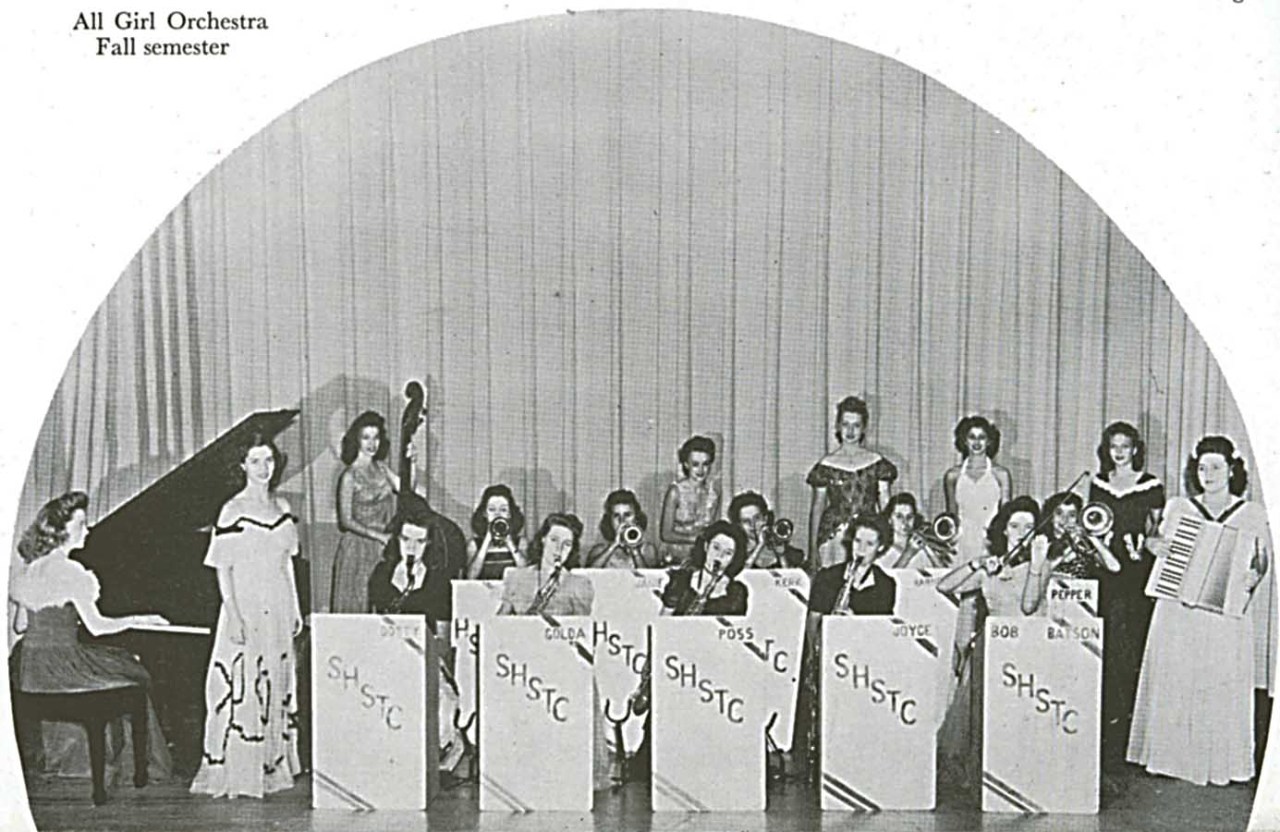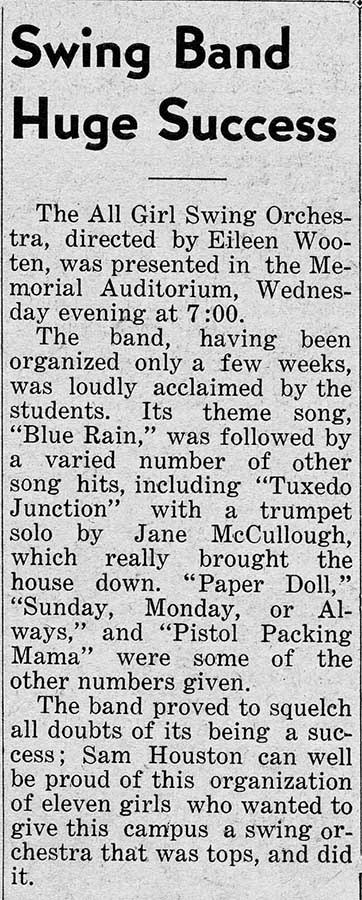 During World War II, widespread male enlistment left major gaps in the U.S. labor force, leading women to enter the workforce in unprecedented numbers. The Symphonic Orchestra of Sam Houston State Teachers College was no different. Musically talented women of Sam Houston knew they had a job to fill and formed the All-Girl Orchestra.
Maggie Parker ('48) was one of those girls.
"During the war, the campus had a student population of 900 with only seven males," Parker said.
The All-Girl Orchestra provided entertainment at collegiate dances, assemblies and other social events around campus between 1943 and 1946. Filling a large entertainment void, the orchestra quickly grew in popularity beyond Huntsville.
"We were very much in demand every weekend. We traveled all around Texas, performing in different places. We were the main form of entertainment and our charge was $300 per show. The members of the orchestra received $5 each per event. We were rich!" Parker said.
In 1946, the girls performed for the Officers New Year's Dance at Kearney Air Force Base in Nebraska. A captain in the U.S. Army Air Force flew the orchestra round trip from the nearest airport, which at the time was in College Station.
"Flying was very unusual then, so we jumped on the opportunity," Parker said. "This was the first flight for all of us."
Parker reminisced on how much SHSU has changed over the years. While she has fond memories of performing inside Old Main, she is pleased to see the tremendous growth of campus and beautiful new buildings like the James and Nancy Gaertner Performing Arts Center, where the SHSU School of Music performs today.