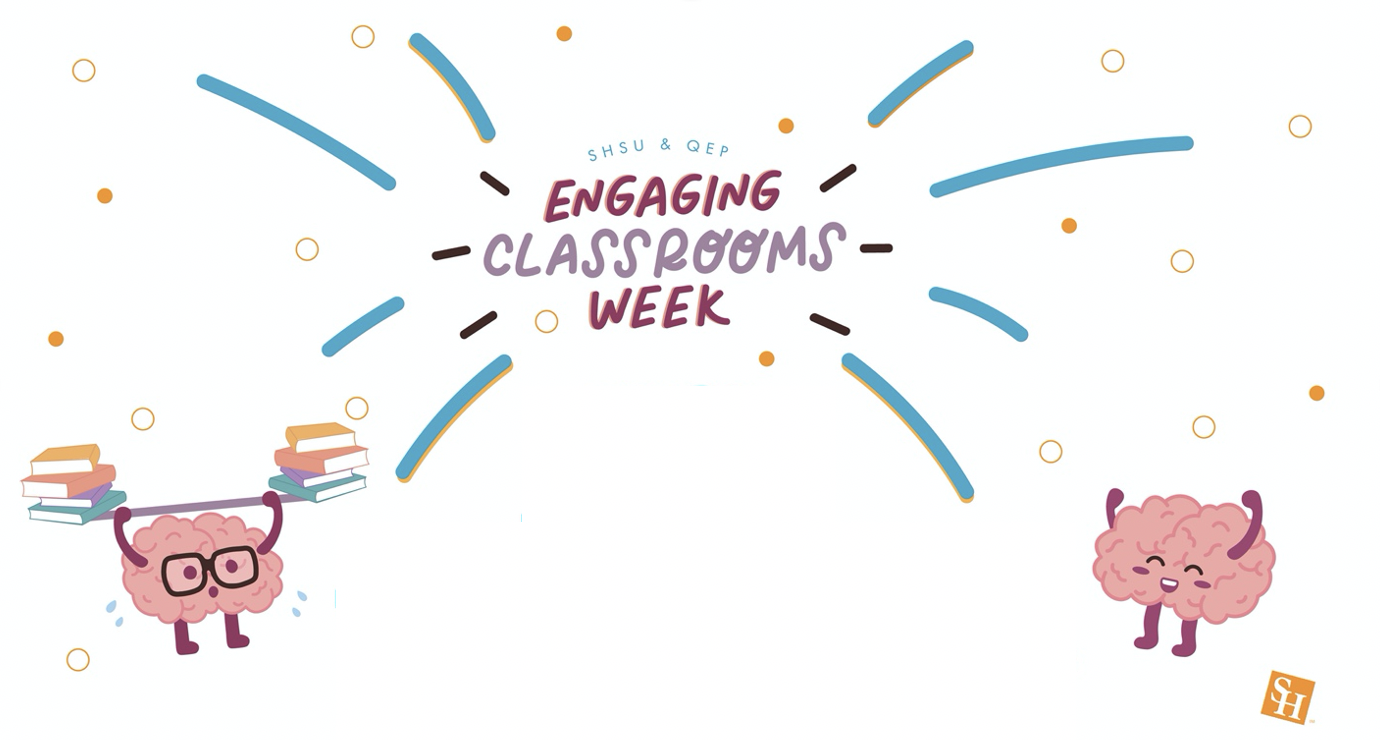 Join us April 12-16, 2021!
We are excited to provide Engaging Classrooms Week in a virtual* format this year. The idea behind this week is to provide a space for faculty to observe others in their discipline and in the greater Sam Houston community that are engaging in active learning in their classrooms.

*There is one classroom that is not equipped for Zoom/video calls so this class will host observers face-to-face. The class is Biology 2403: Human Anatomy and Physiology I with Olga Minich which will take place on Wednesday from 11:00-11:50. Space is limited to the first 15 registrants.
Classrooms open for observation
All open classrooms this year are undergraduate courses.
Monday,

April 12

Geography 3301: Environmental Geography

Professor: Ava Fuijimoto-Strait

2:00-2:50pm

Chemistry 2323: Organic Chemistry 1

Tuesday,

April 13

Biology 1436: Foundations of Science

Professor: Steven Koether

Sociology 2319: Intro to Ethnic Studies

Agribusiness 4340: Agribusiness Marketing

Wednesday,

April 14

9:00-9:50am

Kinesiology 4362: Biomechanical Analysis

Professor: Jennifer Didier

11:00-11:50am*

Biology 2403: Human Anatomy and Physiology 1

Thursday,

April 15

9:30-10:45am

Health 2383: Multicultural Health Issues

Professor: Adannaa Alexander

11:00-12:15pm

Biology 1436: Foundations of Science

Friday,

April 16

9:00-9:50am

Music 1303: Fundamentals of Guitar

10:00-10:50am

Dance 2373: World Dance Cultures

Professor: Donald Shorter
How to sign up to observe a classroom?
Complete the registration form below to sign up for the classes you would like to observe.
Registrants will receive a Zoom link for each class they have signed up to virtually observe the week before Engaging Classrooms Week.
Interested in hosting an open classroom?
We welcome all faculty who engage in active learning techniques to apply to host an open classroom. Please reach out to the Engaging Classrooms team (
engaging@shsu.edu
) if you are interested in this opportunity for the next Engaging Classrooms Week in 2022.