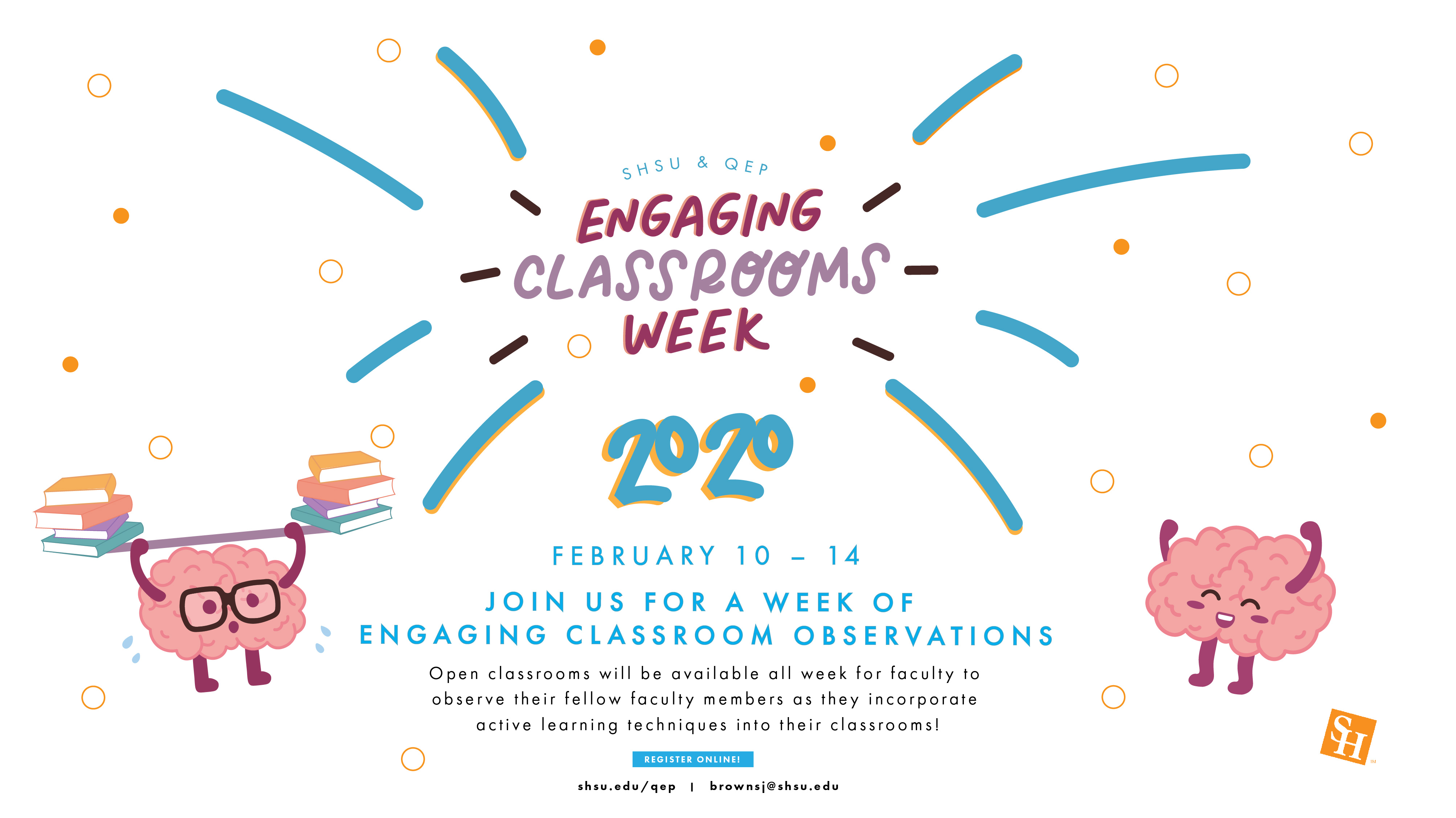 We are excited to announce our first ever Engaging Classrooms Week at Sam Houston State University.
The idea behind this week is to provide a space for faculty to observe others in their discipline and in the greater Sam Houston community that are engaging in active learning in their classrooms. The week will be concluded with a drop-in event at the new STEM Center active learning classrooms where faculty can come and meet others who are on their active learning adventure and reflect on the observations they made throughout the week. The drop-in event will be on Friday, February 14 from 11:00am-1:00pm in Farrington 213 and 217.
Come enjoy heavy refreshments and an opportunity to meet the Engaging Classrooms team!
Classrooms open for observation
Monday,

February 10

Geography 3301: Environmental Geography (undergrad)

Professor: Ava Fuijimoto-Strait

Computer Science 4349: Professionalism and Ethics (undergrad)

Tuesday,

February 11

Biology 1436: Foundations of Science (undergrad)

Professor: Steven Koether

Finance 4335: Financial Statement/Credit Analysis (undergrad)

Location: Smith-Hutson 335

Math 1430: Calculus 2 (undergrad)

Professor: Brandy Doleshal

Wednesday,

February 12

9:00-9:50am

Agriculture 5369: Equine Exercise Physiology (grad and upper level undergrad)

Professor: Jessica Bedore

11:00-11:50am

History 3335: Germany and Central Europe Since 1815 (undergrad)

Professor: Zachary Doleshal

Thursday,

February 13

9:30-12:20pm

Art 4343: Advanced Interactive Design (undergrad)

Location: Art Complex 313

12:30-1:45pm

Criminal Justice 2362: Criminology (undergrad)

2:00-3:15pm

Biology 2404: Human Anatomy and Physiology (undergrad)
How to sign up to observe a classroom?
Complete the registration form below to sign up for the classes you would like to observe. Space is limited based on the classroom capacity so please make sure to only sign up for observation times that you will be able to attend.
If you are unable to observe a class, please consider dropping by our closing event on Friday.
Interested in hosting an open classroom?
We welcome all faculty who engage in active learning techniques to apply to host an open classroom. Please reach out to the Engaging Classrooms team (
engaging@shsu.edu
) if you are interested in this opportunity for the next Engaging Classrooms Week in 2021