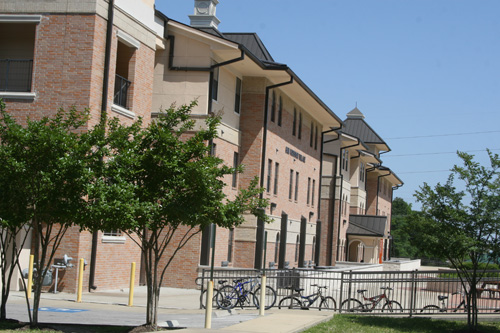 USING OUR CARD ACCESS SYSTEM
The Department of Residence Life offers increased residence hall security through the use of the Bearkat OneCard system. Residence hall exterior doors are locked 24 hours a day after move-in. Each of the main doors is equipped with a card reader and, by sliding the magnetic stripe on the back of your ID card through the reader, you will gain access to your hall. Only the residents of your hall are coded for access to your hall; therefore, it is important not to admit non-residents without an escort, doing so may result in disciplinary action. This system offers better security because if you lose your ID it can be instantly deactivated so that no one else can use it. Some other features of this system and related security policies are:
1. Should any card that is not authorized to access that particular hall be used in the reader, the system will identify the ID number, record the unauthorized attempt, and deny access.
2. Should there ever be a power outage, students may exit the doors, but the readers will not allow students to swipe into the building. Staff will we stationed at the main entrance to give access during the outage.
3. 24-hour lost card cancellation is available on-line by logging in at www.bearkatone.com. Students can obtain a temporary ID card from the Bearkat OneCard office in Estill 103 (first floor) from 8 a.m. - 5 p.m. Monday - Friday. This office will be able to give you a temporary card that will grant you access to your housing assignment, meal plan, the library, etc. until your new replacement ID becomes available.
4. Guests should contact their host, and then must be escorted within the hall.
5. Hitting, banging on, or tampering with a reader will set the alarm off. Damages to a card reader can be assessed to an individual or group-billed, and can range from $80 - $400.
Typically, during the check-in at the beginning of each semester, the exterior doors will be unlocked within certain time periods to assist with students moving in. Residence hall staff will provide specific schedules when exterior doors will be unlocked.
Should you have any problems in accessing your building with your card, or any related questions, please notify your hall staff, or contact the Residence Life Office at (936) 294-1812.
FAQs
1. What if my ID card does not work in the reader?
First, make sure your card has been activated. You may do this through the website at www.bearkatone.com. Next, make sure that you are attempting to enter the residence hall where you have been assigned. Finally, try another door into the building in case the particular reader is out of order (and then report that to staff, please!) If your card still does not work in any reader of your assigned building, please contact the residence hall staff.
2. What happens if I want to change halls?
If you are granted a hall change, you will receive immediate access to your new assignment. Your access to your old building will only work for another 48 hours, therefore you must be moved within the 48-hour period.
3. Will I be able to get into the hall during the break periods?
All students will be denied access to the residence halls during any of the break periods until they have signed up for the break and paid the appropriate break fee. Your inclusion on the break list will generate access for your building during the break period.
4. Can I loan my card to another resident or a guest?
Cards are not to be loaned to anyone for any purpose. This card is for official university identification purposes, and should be carried at all times. It is non‑transferable and its use is the responsibility of the named student. Misuse of the card may subject bearer and/or student to whom it is issued to disciplinary sanctions. Students must present their ID card when requested by any official of the university, including University Police, dining hall personnel, and residence hall staff.