Planning Your College Semester
Planning Your College Semester with Advising, Registration, and Financial Aid
December 20, 2021 | 4 Min Read | Written by Katrina Thornton and Ashley Pruitt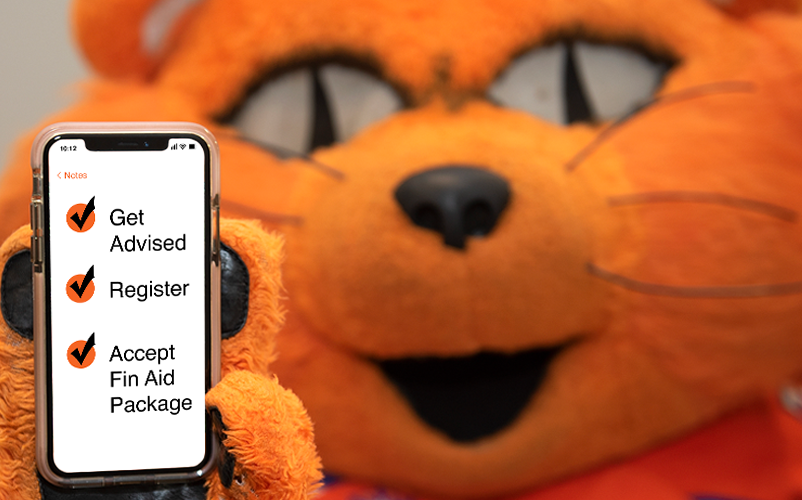 Whether you're a current student at SHSU or getting ready for your first semester, it's important to get a head start on the upcoming semester. You need to get advised early so you can register for classes. And you need to register for classes so you can accept your financial aid package. Follow these important steps so you don't get lost in the weeds of planning for the upcoming semester.
Step 1: Get Advised
College is an experience all on its own—from meeting new people and adjusting to different course and professor expectations to juggling work, classes, and other personal commitments. The peaks and valleys of the semesters can be overwhelming (hello finals week, am I right??).
Did you know SHSU has an entire department eager to make your academic journey as stress-free as possible? The Student Advising & Mentoring (SAM) Center houses an entire office of Academic Advisors ready to discuss your personal degree plan. Advisors are available via Zoom and in-person appointments! While the following is not a comprehensive list, the SAM Center Advisors are equipped with knowledge in:
Course offerings
Prerequisites needed to keep you on track for upcoming semesters
Academic recovery plans (i.e., how to recover your GPA if you fall into Academic Probation or Suspension)
Holistic referrals across the campus and community (e.g., career planning, counseling services, tutoring assistance, campus organizations)
Advisors are prepared to help you remember why you're here; everything you do today shapes your tomorrow. You came to SHSU to learn the skills and gain the knowledge that will help you prepare for and succeed in your life and future career. Schedule an appointment with your Advisor to make a plan for your academic journey and keep you on track to reach your ultimate goal: Graduation.
The SAM Center is available Monday-Friday, 9:00 am–4:30 pm in CHSS 170 and 190. Have questions? Contact the SAM Center at samcenter@shsu.edu or 936-294-4444.
Check out the Academic Calendar to see when advising opens for the upcoming term!
Step 2: Register for Classes
Now that you've been advised, it's time to grab your classes! Some classes fill up fast so it's important to get advised early. Check out the Registration Schedule to see when registration opens for you.
The first thing you need to do before you even attempt to register is to make sure all four boxes of your Bearkat Registration Dashboard are checked off.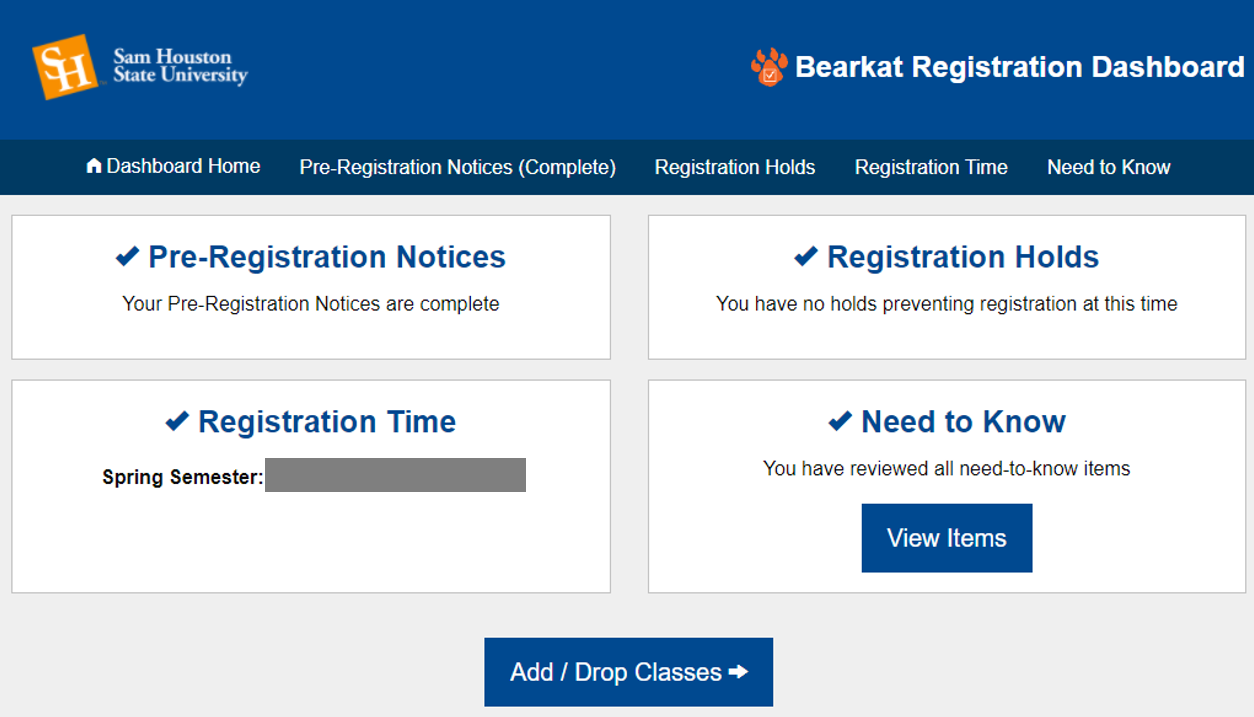 I've cleared the boxes, now what?
Now that all of your boxes are checked off and if registration is open for you, you can start adding your classes! From your Bearkat Registration Dashboard, click the "Add / Drop Classes" button to start registering for the next term.
If you get an error message when trying to add your classes, check out the Registration Error Solutions guide. Some classes require departmental approval or have prerequisites.
Want to get ahead before registration opens? Use Plan Ahead and plan your class schedule for the next term! With Plan Ahead you can draft multiple schedules, and then when you're ready to register, you simply add your preferred plan in the registration portal.
Stay ahead of registration! Check out the registration guides, complete your Bearkat Registration Dashboard steps, enroll in your classes, and get excited to start the semester!
Step 3: Accept Your Financial Aid Package
Now that you have advising and registration covered, let's talk about how you're going to pay for college each year. It starts with submitting the FAFSA! (And remember to also apply for scholarships!)
You must submit the Free Application for Federal Student Aid (FAFSA) each year to be qualified for financial aid. Remember the FAFSA opens October 1, and you should aim to submit your FAFSA before SHSU's priority date of November 1 for maximum aid consideration. You can still submit your FAFSA after November 1.
I've been awarded financial aid, now what?
Your financial aid package can include a variety of funding: student loans, parent loans, scholarships, or grants. You must accept your financial aid to apply the funds to your account. Here's how:
Go to shsu.edu/awards.
Select your aid year.
Click the General Information tab on the left. Review the information in each tab as you go from left to right. Read the information carefully!
In the Accept Award Offer tab, you can accept or decline each award offer. Be sure to click the Submit Decision button.
For detailed instructions with visual aids, please see the accepting my aid guide. Still have questions? Contact Financial Aid & Scholarships at 936-294-1774.
Other things to remember
Any extra funds will be refunded to your Bearkat OneCard. If you want your refund posted to a different account, you will need to update your refund preference.
Looking to gain financial independence? The Student Money Management Center (SMMC) can help through educational workshops, presentations, and private consultations. You can achieve financial wellness!
The Bottom Line
You've got enough going on. Help yourself out by getting an early start. Schedule your advising appointment when advising first opens; register for your classes as soon as you can; accept your financial aid package. And then check off that to-do list! Done, done, and done!
---
Related Links
Gaining Life Skills: Money, Job, and Things You May Not Know
Wellness for Your Body and Mind