SHSU Student Health Center
What does a student health center offer?
August 12, 2022 | 2 Min Read | Written by Mauri Smith
A student health center is an on-campus medical clinic that is dedicated to the health and wellness of the student body.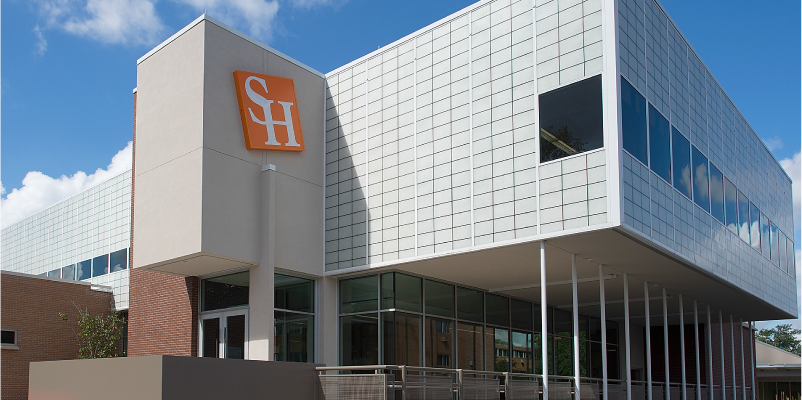 "We engage Bearkats in their personal health and wellness."
The SHSU Student Health Center (SHC) has a full offering of services to address illness and minor injuries with a large staff of medical doctors, nurse practitioners, a physician assistant, RN's, LVN's, medical assistants and even a dedicated Women's Health Clinic with a full-time OB/GYN.
In addition to general medical services, we have a pharmacy on site for prescriptions and over the counter medicine needs as well as laboratory services.
Why use the SHC?
Pre-paid Access
One of the great advantages of using the SHC is that you already have pre-paid access the clinic each semester through your semester fees. No out-of-pocket charges for your office visit! Any other charges associated with your visit, such as lab testing, prescriptions, or medical equipment, will go on your SHSU student account, so you do not have to worry about paying anything at the time of your visit!
Easy Access on Campus
The SHC is open Monday to Friday from 8 am to 5pm. You can easily schedule an appointment by calling 936-294-1805 or through your online Patient Portal at any time! We strongly encourage appointments, but we also have an RN nurse clinic available if we are fully booked on any day.
Full Service
Need other nurse services such as immunizations, allergy injections or routine lab work? We can do that for you as well!
As you can see, at the SHC we are here for you! If you need any additional information about our services, insurance or how to use your patient portal please visit our webpage at shsu.edu/healthcenter or call us at 936-294-1805 and let us know how we can help you.
What other health services are available?
The Office of Health Promotion, a component of the SHC, hosts various health and wellness related program and education sessions throughout the semester. Don't miss out because we always offer giveaway's while educating you and answering your health-related questions!
---
If you're not sure where to go or what to do, Tripod, the SHSU puppybot, is always available to fetch the info you need!
---
Related Links
Wellness for Your Body and Mind
Gaining Life Skills: Money, Job, and Things You May Not Know