UNIV 1101: First-Year Seminar at SHSU
July 8, 2021 | 5 Min Read | Written by Katrina Thornton
Learn about the benefits of taking this first-year learning frameworks course.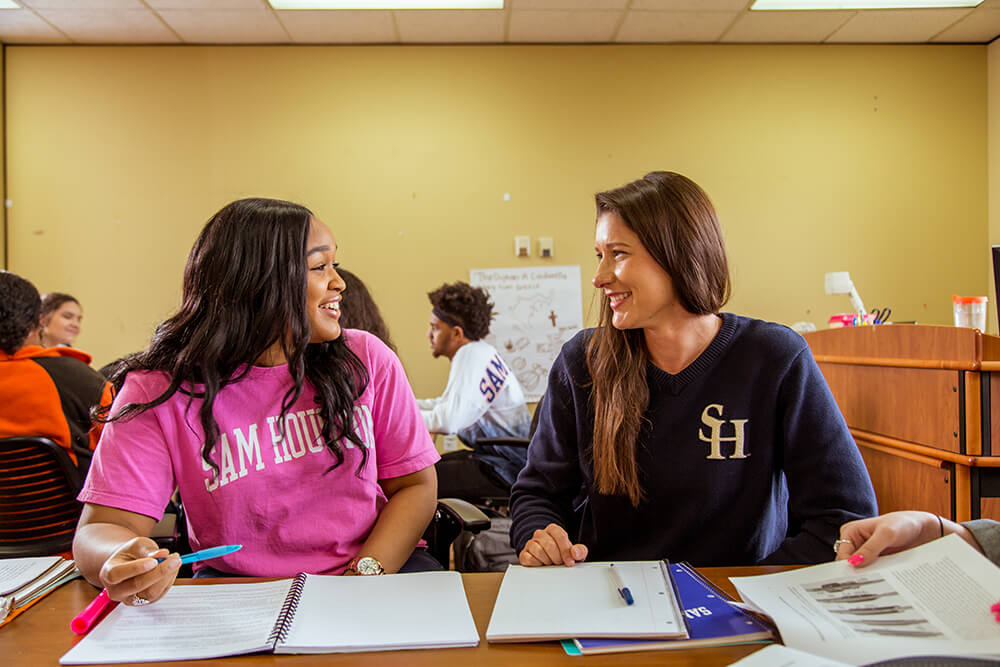 For many, the transition from high school to college is a big change. But college doesn't have to be a huge challenge. One way to tackle this unexplored—yet exciting—change is by taking advantage of the many resources Sam Houston State University has to offer.
One such resource is the Academic Success Center (ASC), which supports student learning and success. The ASC can help review your class paper, provide tutoring for your math or science class, share tips about time management and note-taking, and do so much more to help you jump-start your college career. Another resource is taking the first-year seminar course: UNIV 1101 Learning Frameworks.
Why take UNIV 1101?
Academic Support!
Sam Houston State University wants you to succeed, and UNIV 1101 was created with that goal in mind. This one-credit-hour course is designed to help you adapt to college life. With UNIV 1101, you can explore career paths, connect with peer mentors, discover campus resources, and help develop skills necessary for success.
Find Your Interests!
UNIV 1101 has many different sections designed to meet your individual needs. Each section is a mini-learning community that connects you to others who share your interests. Are you a first-gen student? Theatre major? CJ major? Honors student? There's a UNIV 1101 section for you! UNIV 1101 has sections for STEM majors, students wanting to become teachers, pre-law students, and many more to align with your specific interests.
Learn How to Do College!
Research has shown that UNIV 1101 has a positive impact on students' academics and ability to adapt to college life compared to those who do not enroll in the course. You want to succeed, to make your family and yourself proud, and we're here to help you build those skills for success and provide guidance on your journey to graduation.
Make Friends!
Taking UNIV 1101 is also a great way to meet new people, form study groups, and build long-lasting connections. Here, you will make friends who can hang out with and...
Your Gateway to Success!
College is an exciting time for you and your family: applying to different schools, receiving your acceptance letters, planning the move to a new town. You're so ready to take the next step in your life, ready to be on your own, to experience something new, to be your own person removed from the pressures of high school life...
With so many new things, it's easy to lose track of the resources that were shared with you at new student orientation. UNIV 1101 can reintroduce you to those resources. It's your gateway to learn about college, to navigate the unfamiliar waters of campus life, and to help you stay focused and on track to graduate.
College is a huge shift from high school. The course material might be a little more difficult or the assignments might be a little more intensive. So, use the resources you have available to you. Remember, you're not alone at SHSU. There is always someone or somewhere you can go for help with anything.
If you're not sure where to go or what to do, Tripod, the SHSU puppybot, is always available to fetch the info you need!
---
Interested in UNIV 1101 but not sure which section to choose? That's easy! Once accepted to SHSU, you just contact the Academic Success Center at 936-294-3680 or asc@shsu.edu to schedule an appointment with a mentor.
---
Related Links
Gaining Life Skills: Money, Job, and Things You May Not Know
Wellness for Your Body and Mind
Student Success in the Classroom
Planning Your College Semester with Advising, Registration, and Financial Aid