The COVID-19 pandemic has had a huge impact on many areas of our lives, including our mental health and overall well-being. If you find yourself struggling to manage feelings of anxiety, fear, isolation, sadness, grief, low motivation, or uncertainty about the future, you are not alone! These are just a few of the common reactions many people have while trying to adjust to life during these unusual circumstances.
The good news is that support is just a phone call or click away!
Counseling Center Resources
Attend the Coping with COVID-19 Support Group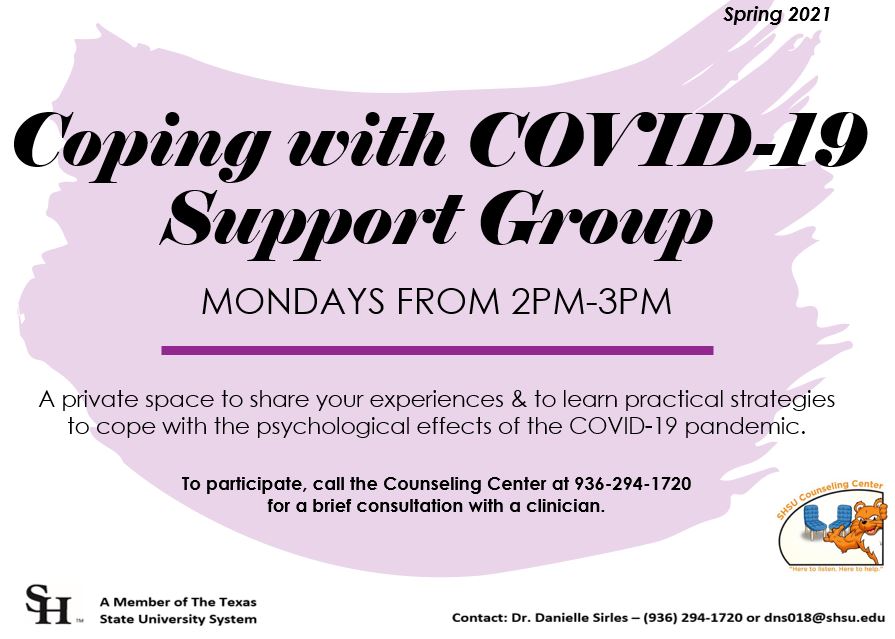 ---
Watch a Helping Kats C.O.P.E. mini workshop.
These workshops give you the basics on managing depression, anxiety, and sleep difficulties as well as good tips on how to support friends and family through their own mental health concerns:
---
Attend a full-length Helping Kats C.O.P.E. workshop.
These hour-long workshops cover a wide variety of topics, including increasing happiness, developing healthy relationships, learning meditation and mindfulness practices, increasing self-compassion, coping with anger, and much more! Each workshop is led by a Counseling Center clinician.
---
Join a therapy group.
Group therapy is an excellent way to decrease feelings of loneliness and isolation while learning strategies to manage common reactions to the pandemic (e.g., depression, anxiety, stress).
---
Call the Counseling Center Helpline.
Find time to connect and talk through problems with a trained SHSU Helpline volunteer! Call (936) 294-4111 Tuesday-Thursday from 4pm-8pm.
---
Call the Counseling Center for a Brief Phone Screening.
Unsure which types of services might be right for you? Call the Counseling Center for a brief phone screening with one of our clinicians. Screening clinic hours are Monday-Friday from 8:30am-11am and 1pm-2:30pm. Call us any time we are open (Monday-Friday 8am-5pm) if you are in crisis!
Online Resources
TAO
10-minute video containing practical steps that can help you cope with feelings of uncertainty, loneliness, and anxiety during the pandemic.
Want to begin online mental health "classes" through TAO for FREE?
Take the TAO Online Screening Survey
Answer the questions honestly. Your answers will determine which TAO programs will be selected to help improve your mental health.
Use your SHSU email address to register. It's free, private, and available 24/7!
Try completing a few lessons each week. The more you practice what you learn, the better your results!
---
HelpGuide.org
Useful tips, strategies, and meditations to help you manage coronavirus-related anxiety, stress, depression, and more.
---
Coronavirus Anxiety Workbook
Learn how to work managing feelings of anxiety caused by the pandemic through this workbook.
---
Websites
---
Texas Mental Health COVID Hotline
---
Videos