The new Counseling Center is located next to Old Main Market.
Physical Address
---
1608 Avenue J
Huntsville, TX
Mailing Address
---
P.O. Box 2059
Huntsville, TX 77341-2059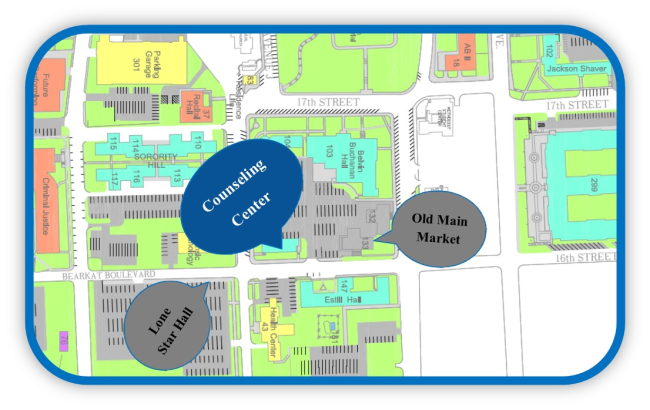 ---
Email & Social Media Policy
Although e-mail and social media are common forms of communication, the staff of the SHSU Counseling Center believes that they have significant limitations with regard to the counseling process. Please note the following guidelines for use of electronic communication as a client of the Counseling Center:
We cannot provide personal counseling through e-mail.
Although e-mail may seem like the fastest way to contact someone at the Counseling Center, the frequency with which we check e-mail varies a great deal. Absence from the office, a busy schedule, unexpected illness, or difficulty getting online may mean that several days may go by before a message is received. Please call your counselor or the office directly (936-294-1720) if your message is time-critical.
Counseling center staff do not accept "friend" requests from current students, nor do they respond to contact through social media.
---
Sam Houston Counseling Center
1608 Avenue J., Box 2059 | Huntsville, TX 77341-2059 | Phone: 936.294.1720 | Fax: 936.294.2639