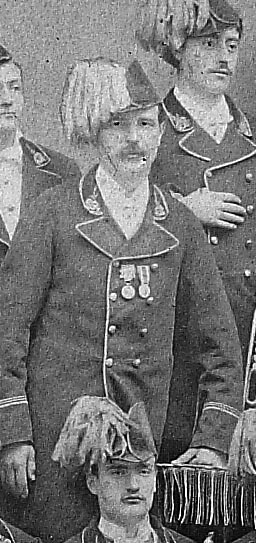 So shrouded in secrecy was Achille Bissocoli's entry into the Cremona band that his official audition document was never included with the official dossier. For many years a letter from Piacenza by Bissocoli asking to be excused from duties by reason of illness was taken to indicate that he had been a Piacentino. From Pazzoli's notation that Bissocoli died July 25, 1915 it was possible to find his recorded death certificate that identified him as coming from Mantua. Prior to his arrival in Cremona, Bissocoli had served as cornet/trumpet player in various army bands. Though a relatively young man, his duties as vicemaestro included the administration of the entire band and its associated school.
Recent examinations of the archival documents of the Pia instituzione musicale (a private music association with a a school of orchestral instruments) revealed that Bissocoli taught trumpet there after 1872, when Ponchielli left the city.
Over the years Bissocoli played cornet, trumpet, and flugelhorn at various times. In 1884 he is listed as first trumpet in the band. There is an 1880 letter from Bissocoli asking leave to perform as first trumpet in the opera house in one of the smaller cities near Cremona. His last entry in the "band" documents comes in 1913 when he is listed as one of organizers of the band's 'LAST" concert.