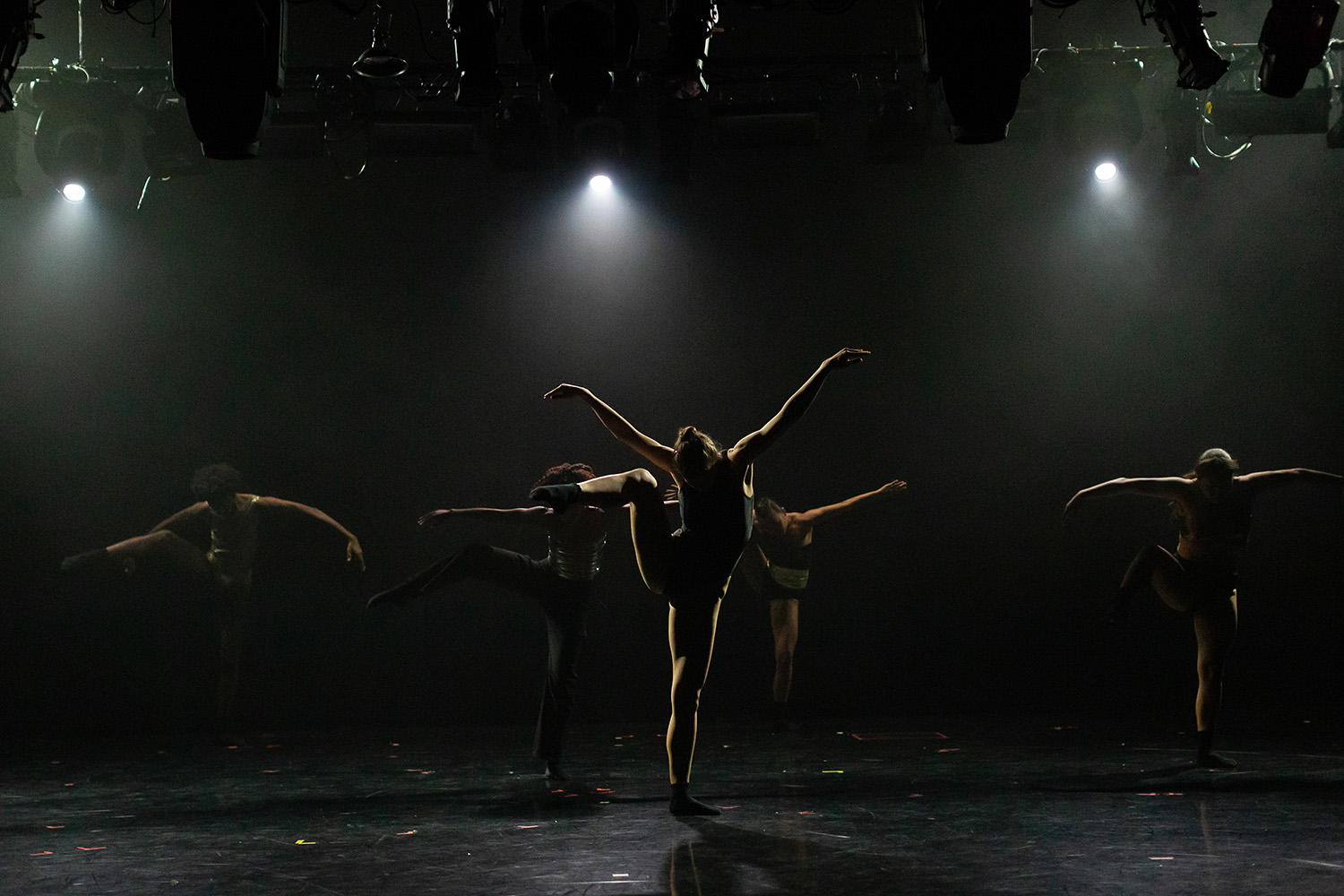 actors (in the flesh) by Guest Artist Sidra Bell; Photo by Lynn Lane
---
Program Overview
The Bachelor's in Fine Arts in Dance program provides intensive study in modern, ballet, partnering, pilates and jazz techniques; multiple performance opportunities; exciting guest artists and choreographers; opportunities for choreographic exploration including the integration of media into the creative process; as well as a solid academic grounding in coursework ranging from Dance History to Criticism and Analysis to Dance & Technology.

The BFA is a 120 credit degree in dance taking four years of residency in the Department of Dance. Admission is competitive with approximately 100 undergraduates in the program at a time. Graduates of the program go on to work professionally in various dance related fields such as: performing with companies or touring groups (concert, cruise ship, entertainment, etc); teaching, directing and choreographing in university, studio, and high school dance programs; working in arts management, dance technology, or health-related fields; or are continuing with graduate work in dance science (MA), history (MA) or fine arts (MFA).
---
Admission to the BFA Program
Auditions are required for admission to the Department of Dance.
Audition dates for the BFA program are:
Friday, November 4, 2023 from 1:00 PM - 4:00 PM
Friday, February 23, 2024 from 1:00 PM - 4:00 PM
Friday, April 12, 2024 from 1:00 PM - 4:00 PM

Learn More About BFA Auditions
Getting Started - What incoming BFA students need to know
Sam Houston State University is home of one of the oldest and most successful Departments of Dance in the state of Texas. The SHSU Department of Dance has had nearly 30 works selected for the American College Dance Festival Association Regional Festival Gala Concerts and has been invited to six of the eight National College Dance Festivals hosted by ACDA which showcase the best of American college dance at the Kennedy Center for the Performing Arts in Washington D.C. In the fall of 1998, the program was listed as one of the 25 outstanding programs in the United States by Dance Spirit Magazine.
---
Opportunities for Dance Majors
Performance Opportunities - Performance opportunities in dance include: two faculty choreographed dance concerts (Spectrum) per academic year, graduate (ROYGBIV) & undergraduate (Dances @ 8 and Senior Studio) student produced concerts, MFA Thesis concerts, and regional and national dance festivals. Dance Spectrum auditions are held each semester on the first Wednesday of classes to determine casting.
Exciting Guest Artists and Presenting Series - The Department of Dance has a history of bringing guest artists, choreographers, and performances to campus. Since 2010, The Department of Dance has worked closely with The Dance Gallery Festival hosted by Astrid von Ussar out of New York City to bring a performance series to SHSU supporting emerging and established dance artists. The Dance Gallery: The Texas Experience cultivates relationships between students and professionals through a master class series, performance series, and guest artist commissions. Each year 8-12 dance artists/companies come to Sam to perform in the Dance Gallery Festival Texas and out of those participants, one-two artists are commissioned to set a work on the students at SHSU to be performed in Dance Spectrum. Learn more about The Dance Gallery Festival here.
Dance Gallery choreographic commissions include: Dual Rivet - Jessica Smith and Chelsea Ainsworth (NY), Sidra Bell (NY), Rohan Bhargava (India), Mike Esperanza (Manilla, Philippines), Manuel Vignoulle (France), Astrid von Ussar (Slovenia), Enzo Celli (Italy), Maurice Causey (Netherlands), Rohan Bhargava (India), Stefanie Nelson Dancegroup (NY), somebodies dance theater (CA), Bliss Kohlmyer (FL), iMEE (RI), Jane Weiner (TX), Amy Cain and Dawn Dippel (TX)
Other Guest Artist Classes and Choreographic Commissions have included: Takehiro Ueyama (NY, Japan), Shen Wei Dance Arts, Joshua L Peugh (Dark Circles Contemporary Dance), Jennifer Mabus, Cameron McKinney, Alethea Alexander, Jarod Theoret, David Justin, Lauren Anderson, Sandra Organ, Teoma Nacarrato, Gregory Nuber, and many others.
Download BFA Digital Information Packet
---
BFA in Dance Student Handbook - All Dance majors are required to follow the guidelines laid out in the BFA student handbook.
---
BFA Course Requirements
The BFA is a 120 credit degree in dance which requires a minimum of
24 credits in upper level course work in residence
30 credits taken in residence
42 credits in Advanced Hours course work
18 credits in Writing Enhanced (WE) course work
42 credits in Core Curriculum
78 credits in Dance course work
Curriculum - Four levels of ballet and modern dance technique are offered. The curriculum includes Choreography, Contact Improvisation/Partnering, Dance History, Jazz Dance, Principles of Dance, Pilates, Criticism & Analysis, Dance & Technology, Career Resources, Repertory, Dance As Art, and Dance Pedagogy, as well as numerous popular dance forms. All dance majors are required to attend seven to twelve hours of technique each week in addition to rehearsal hours per week. Students must demonstrate an advanced level of proficiency in ballet or modern dance technique before graduating. The first Thursday and Friday each semester are placement auditions during modern and ballet to place dancers in their appropriate technique level.
Transfer Students - Most transfer student need a minimum of five semesters of study at Sam Houston State University to complete the BFA in Dance. If you have completed courses at another university that we recognize as equivalent to our courses, we will give you credit for those. We cannot waive requirements.
Sophomore Gate – Occurs in conjunction with DANC 3376, Choreography 2. This review of candidates for the BFA degree in dance is intended as an opportunity for the faculty to assess the student's progress and potential for completion of the BFA program, and for the student to fully consider her/his own commitment to such pursuits. In addition to assessing performance and choreographic skills demonstrated in the Sophomore Gate solo, the faculty will confirm that the student has maintained a minimum 3.0 GPA in dance classes and an overall commitment to the requirements of a Dance Major. Candidates will present a 3-5 minute solo, which they have choreographed under the guidance of their assigned faculty mentor and junior mentor.
There are three outcomes possible for The Sophomore Gate; passing and retention in the BFA program, not passing and student will be advised out of the program, and a probationary period of one semester where the student is asked to improve grades in dance classes or to repeat the gate process itself.
Visit the Undergraduate Catalog for updated course offering information.

---
Department of Dance
815 17th Street, Suite 150, Huntsville, TX 77340
Phone: (936) 294-3342 or (936) 294-1875 | E-mail: shsudance@shsu.edu