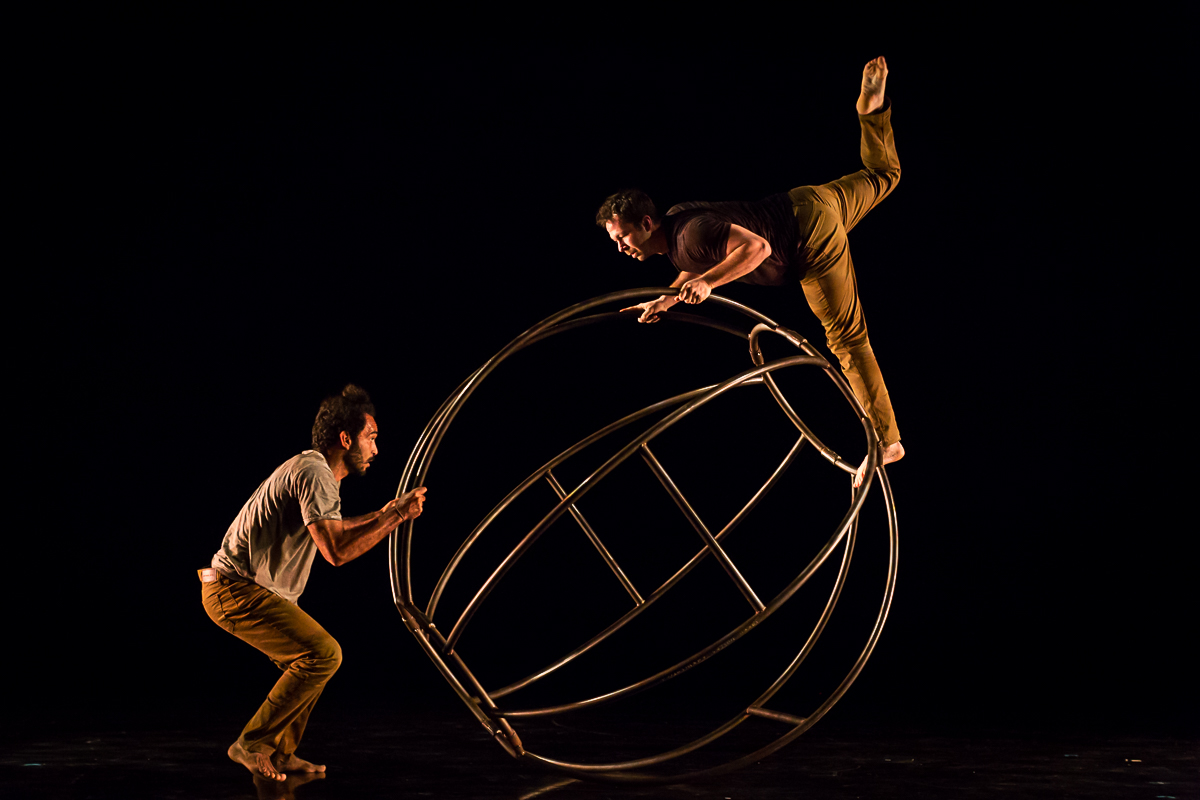 Umbilic by Graduate Student Jared Doster and performed with undergraduate Joel Rivera;
This work was selected for performance at the National Dance Festival in Washington, DC
and for Jacob Pillow's Inside/Out series! Photo by Lynn Lane.
---
Program Overview
The Master of Fine Arts program in the Department of Dance at Sam Houston State University is a dynamic, challenging education that integrates creativity, performance, and scholarly pursuits. In addition to an intensive studio experience with substantive choreographic and performance opportunities, the MFA program offers exposure to pedagogical, theoretical, and research orientations to dance as an art form. Courses in composition, dance theory, production, dance technology, and Laban Movement Analysis broaden the scope of study.
The MFA is a 60 credit terminal degree in dance taking three years of residency in the Department of Dance. For qualifying applicants with extensive professional experience it is possible to complete the degree in 4-5 semesters. The degree culminates in a creative thesis project designed by the candidate that expands the student's area of interest through specified research and creative investigation. Graduates from the Department of Dance are successfully employed around the nation in a variety of careers including performing arts and higher education teaching, performance, choreography, administration, and production.
The Department of Dance also offers a returning professional track that allows artists who have substantial experience in the field to return to school on an accelerated time table to assist them with the next step in their professional careers. This program is supportive of candidates who are interested in shifting the focus of their dance career - such as from performing to teaching.
"After a dedicated performing career, the returning professional MFA program allowed me to develop my next role as an educator and artist. I was able to strengthen my pedagogical skills and broaden my knowledge. As a creator, the department gave me the space to explore my curiosity, deepen my research, and strengthen my choreographic voice. This degree prepared me for the leadership a mid-career artist must take in the field of dance." - Jennifer Mabus, Returning Professional and MFA Graduate Class of 2016
Dance MFA students have regularly been recognized for exceptional teaching on campus through The Graduate School and The Sammys (recognizing SHSU's outstanding student leaders and organizations). Examples of recent acknowledgments:
Outstanding Teaching Assistantship Awards (awarded to only two graduate students campus-wide a year)

Jared Doster (MFA, 2018)
Evelyn Toh (MFA, 2020)
Outstanding Graduate/Doctoral Student Award (awarded to only one graduate student campus-wide a year)
Shohei Iwahama (MFA, 2022)


This degree is structured to meet two objectives:
(1) to offer advanced preparation of the dance artist by providing intensive studio training, choreographic and performance opportunities and
(2) to provide the developing artist with a philosophical, theoretical, and research orientation to dance as an art form.
For additional information, please contact the Graduate Academic Advisor for Dance, Dionne Noble at 936-294-1588 or dln008@shsu.edu.
---
Highlight Video: MFA in Dance at SHSU
---
Admission Requirements - MFA in Dance
Audition dates for the MFA program are:

Friday, October 20, 2023 from 8:30 AM - 5:00 PM
Friday, March 1, 2024 from 8:30 AM - 5:00 PM
The application process for the MFA program is two-fold. Candidates must audition for acceptance into the Department of Dance MFA program by attending an on-site audition or long distance audition process and apply for acceptance to the University through the Office of Graduate Admission.
To apply to the MFA in Dance degree program, submit the following application materials:
Graduate Studies Online Application with the Application Fee (Once this is received you may upload your supplemental materials online at the

SHSU Self Service Center

.)

Transcripts of all Previous College Work
Confirmation of Degree Conferral
Once your Graduate Studies Online Application is received, you may upload the following supplemental materials online at the SHSU Self Service Center.)
Resume/Curriculum Vita
Three Letters of Recommendation
Letter of Inquiry
Video Portfolio of Performance and Choreography (Do not upload this to the Self Service portal. Please instead send links to Dionne Noble at dln008@shsu.edu)
In addition, applicants must also attend an onsite audition that will include:
Submission of a Writing Sample (inspired by a prompt provided at the audition)
Interview with Dance Faculty
Technique Audition in Ballet and Modern Dance
Presentation of a solo performance of a choreographic work composed by the applicant
Where to send Transcripts:
Office of Admissions – Graduate Programs requires official transcripts. Examples of official transcripts and how to send to Office of Admissions – Graduate Programs are listed:
You may arrange for your school(s) to send sealed official transcripts to Office of Admissions – Graduate Programs. Allow for a minimum of two weeks for delivery.
You may obtain a sealed official transcript from your school and mail it (still sealed) to Office of Admissions – Graduate Programs.
You may request that your school(s) send electronically submitted official transcripts to SHSU Office of Admissions – Graduate Programs.
Photocopies or faxed transcripts are NOT considered official.
You may mail your official transcript(s) to:
Office of Admissions – Graduate Programs
Sam Houston State University
Box 2478
Huntsville, TX 77341-2478
For FedEx, UPS, and DHL deliveries, please use our physical address:
Office of Admissions – Graduate Programs
1903 University Avenue
Estill Bldg. Suite 112
Huntsville, TX 77340
Office of Admissions – Graduate Programs accepts official electronic transcripts submitted directly from your university or from a valid third party provider.
For More Information and additional questions please visit this link: https://www.shsu.edu/dept/graduate-admissions/faq.html
Admission is based upon an aggregated evaluation of all application/audition components.
*A long distance audition including a Skype interview and video submission of technique and choreography can be arranged if the applicant is not able to make it to campus for on-site audition.
Please see Admissions link for scholarship information for MFA candidates.
Please note that international applicants must submit additional information. For International Admissions requirements, please visit shsu.edu/international.
Entrance and Retention Requirements
Admission is based upon an aggregated evaluation of all application components.
TRANSFER CREDIT. Up to 18 hours of graduate credit may be transferred toward the Master of Fine Arts in Dance degree. However, the MFA Graduate Committee reserves the right to refuse graduate credit from another institution or from Sam Houston State University for any courses not done specifically under the direction of the Dance MFA Graduate Committee.
PERIOD OF STUDY REQUIRED. The Master of Fine Arts degree requires a minimum of 60 semester credit hours. A grade point average of 3.0 must be maintained. Requirements of the degree must be completed within a period of six years.

Ballad of the Assassins by graduate student Evelyn Toh; Selected for Gala Concert at the American College Dance Association; Photo by Lynn Lane
A thesis performance is required of all MFA candidates. Defense of thesis and oral examination are also required. The thesis will be a formal concert or alternative creative project of the student's work, accompanied by a supporting thesis portfolio. A Defense of Thesis is conducted following the conclusion of thesis study. The student must also pass an oral examination testing general knowledge of dance concepts, philosophy, and traditions as they relate to his/her thesis work. The oral examination will be conducted by the candidate's graduate committee and selected members of the division faculty. After the oral examination has been passed and the thesis performance and supporting thesis portfolio have been approved by the graduate committee, the candidate is recommended for the degree of Master of Fine Arts in Dance. A record of the thesis will be supplied by the candidate to be retained permanently by the university.
MFA in Dance Student Handbook - All Dance majors are required to follow the guidelines laid out in the MFA Student Handbook.
---
Graduate Assistantships
The Department of Dance awards competitive graduate assistantships each year to students based on qualifications and academic standing. The Graduate Assistantships are generally awarded to second and/or third year students. Assistantship responsibilities include fulfilling six credit hours of assignments in support of the department's activities equivalent of .50 FTE. Assignments are determined based on department needs. Once Graduate Assistants have completed 18 hours of course work, they may be listed as the instructor of record for courses and assigned classes to teach as part of their load.
Assistantship criteria:
Remain enrolled as a Graduate Student in the Department of Dance at Sam Houston State University throughout the academic year.
Fulfill all requirements of assistantship responsibilities including consistent teaching of courses, completion of tasks, and display of professional, positive, leadership qualities.
Fulfill academic requirements as specified by the graduate course of study and graduate faculty.
Maintain a grade point average of 3.0 or higher.
As a recipient of a Graduate Assistantship, understand that you are representing the Department of Dance. The award may be reevaluated or revoked at any time based upon the review and discretion of dance faculty.
To apply for a Graduate Assistantship from the Department of Dance the following must be submitted to Dionne Noble, Graduate Advisor. Due date for Fall 2023 consideration is March 20, 2023.
Teaching resume
Two letters of recommendation (at least one from a non SHSU employee)
Unofficial transcripts
Please note that you will be asked to upload the additional documents with the application. Recommenders may email their letter to Dionne Noble at dln008@shsu.edu or you can upload your letters to the application.
For information about the assistantships contact Dionne Noble, Graduate Advisor for Dance at dln008@shsu.edu or 936-294-1588.
---
Department of Dance
815 17th Street, Suite 150, Huntsville, TX 77340
Phone: (936) 294-3342 or (936) 294-1875 | E-mail: shsudance@shsu.edu