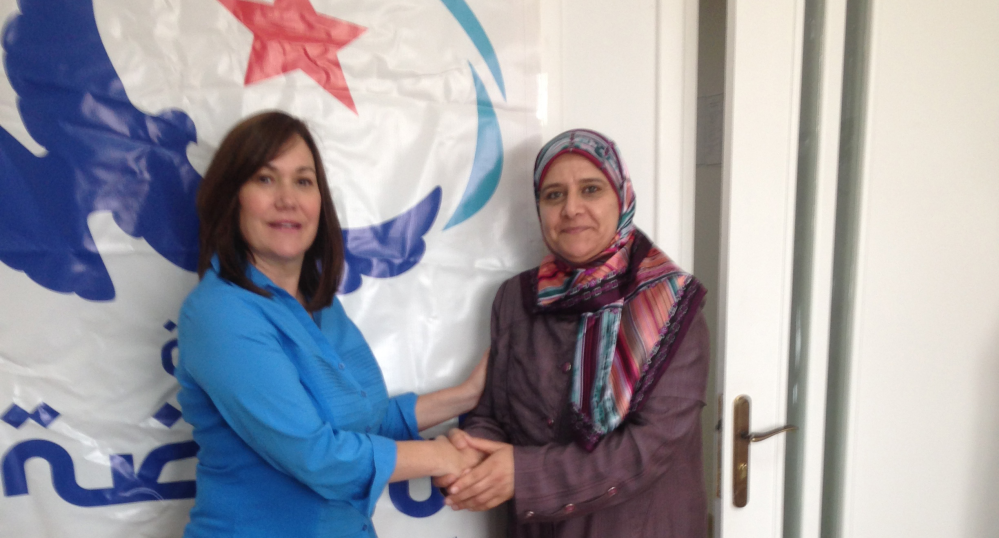 Tunisian citizens want better communication from political leaders to help them understand the new constitution and the steps being taken toward the next elections, according to GCJD partner, National Democratic Institute (NDI). This created a perfect opportunity for the Global Center for Journalism and Democracy to travel to Tunisia to work with political parties to improve communication strategies in partnership with NDI.
"This is a great time to engage with Tunisians. The country has a new constitution, and election planning is underway. It's humbling to play a small role as democracy takes hold," said GCJD Executive Director Kelli Arena.
GCJD spent a week in Tunis, meeting with six leading parties from across the political spectrum to help them understand the need for effective communication with the public. Instead of talking "at" citizens, the parties were encouraged to engage in meaningful dialogue with citizens about the issues they are most concerned about: rising prices and high unemployment. Time is running out. According to the country's constitution, an election must be held by the end of 2014.
Arena and French political communications expert Ziad Gebran offered strategic advice and coaching in private sessions with individual parties from across the political spectrum.
It's important to note that neither GCJD nor NDI has any political affiliation or agenda.
GCJD also conducted a session with an election observation group, Mourakiboun. Many Tunisians are confused about the election commission, the ISIE, leading to concerns about transparency. An NDI survey shows that those citizens are depending on election monitors to safeguard the process, underscoring the importance of working with civil society groups.
"I am convinced that providing advice and recommendations is very important at this stage of their development. Thanks to the GCJD mission, political parties and civil society associations can have a clear communications action plan coming from a team of professionals. Making these stakeholders more professional is key to a successful democratic transition," Gebran said.
Gebran reflects back to his experience in Tunisia.
SHSU student Cody Lewis, a Public Relations major and Political Science minor accompanied Arena and Gebran. While in Tunisia, he blogged about his experience.
This is GCJD's second collaboration with NDI Tunis. Back in November, GCJD trainers worked with journalists and political parties. NDI is a non-partisan NGO based in Washington DC.
GCJD IN THE NEWS