The Mass Communication Department focuses on undergraduate education in print, broadcast and online journalism, video production, media management & sales, public relations/advertising and film production. Housed in the Dan Rather Communications Building, the department is home to an award-winning student newspaper, 24-hour student radio station, and student operated community television facility. Students produce television and radio news programs for the SHSU and Huntsville communities and broadcast the only university Spanish-language television newscast in Texas.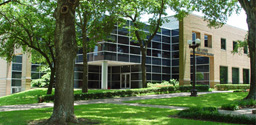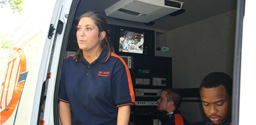 Students engage in a variety of experiences inside and outside the classroom that will prepare them for a career in the mass communication field. Students are encouraged to participate in the department's co-curricular activities and to complete at least one industry-related internship.
Mass communication is one of the most popular programs on campus, with more than 600 majors and 80 minors. One of the fastest-growing departments at SHSU, the Mass Communication Department saw an increase in enrollment of almost 11 percent in Fall 2008.
The Mass Communication Department emphasizes the education of ethical and technologically proficient communication professionals who are capable of making a positive impact on their environment and on society. Through their work in our program, students grow to become informed, responsible, creative, and critical communicators capable of participating broadly in a diverse, multi-cultural, and rapidly changing media world.
>>>NEW Beginning Fall 2017: Graduate Certificate in Health Communication & Public Relations
Discover the FAMC Creative Community in Belvin-Buchanan Hall Open to College of Fine Arts and Mass Communication majors who choose to live in the Belvin-Buchanan Hall.
Screenwriter John McLaughlin on Mass Communication opportunities
Broadcast icon Dan Rather on his alma mater, SHSU
Loading...
Mass Communication News and Information
Black Swan and Hitchcock writer to teach summer course on writing for the screen

Screenwriter John McLaughlin (below), noted for his work on critically acclaimed films Black Swan and most recently, Hitchcock, will teach a Summer I course on Screenwriting at SHSU. Students will learn what it takes to write for film from a Hollywood veteran in MCOM 3375 (Scriptwriting), which begins May 13.

Houstonian staff create special issue for 2012 Election

Members of the Houstonian staff work on election night to bring the results from national, state and local races on Tuesday, Nov. 6.

From left: Viewpoints Editor Misti Jones, Editor-in-Chief Stephen Green, Web and Multimedia Editor Matt Frazier, faculty advisor Robin Johnson, Senior Reporter McKinzie Brocail, Associate News Editor George Mattingly, Sports Editor Cody Lewis, Staff Reporter Brandon Scott, Entertainment Editor Molly Waddell, and Staff Reporter Caitlin Adamcik. Photo by Connor Hyde, sports reporter.

Dan Rather with Jean and Theresa Bodon and mass communication students at an Arbor Day celebration, April 27, 2012.

Left to right: Jean Bodon, Chair of the Mass Communication Department; mass comm student Chris Chamberlin; Dan Rather; mass comm students Courtney Schoenemann and Samantha Hernandez; Theresa Bodon; and mass comm student Jordan Bontke.

Warner Chair Kelli Arena was a guest on CNN's Reliable Sources to discuss media coverage since 9/11.
Contact Information
Mass Communication Department
Dan Rather Communications Building, Room 123
Box 2207
Huntsville, TX 77341-2207
Phone: 936-294-1341
Fax: 936-294-1888