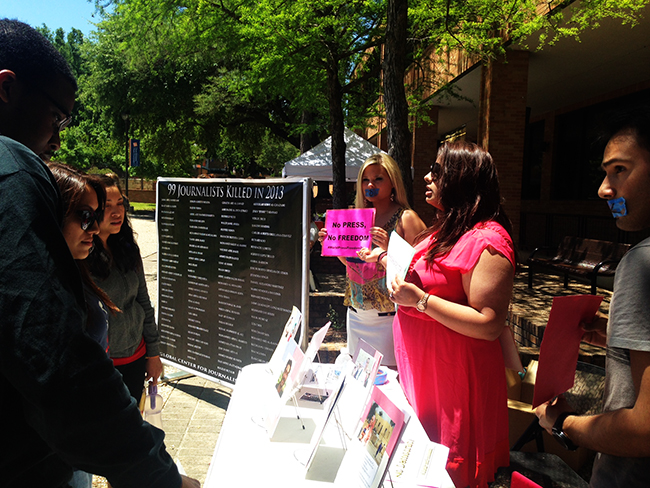 By Cody Lewis
"No Press, No Freedom." That was just one of the messages boldly written on signs held high by SHSU Mass Communication students, their mouths taped shut, during a dramatic World Press Freedom Day demonstration held Wednesday in the mall area.
The demonstration, organized by the Global Center for Journalism and Democracy was staged in an effort to promote awareness about the international event that will officially be celebrated on Saturday, May 3.
The United Nations founded World Press Freedom Day in 1993 to promote the principles of journalism and to provide insight about the state of the media.
GCJD workshop students took turns explaining World Press Freedom Day to people passing by while the others stood silent; their mouths taped shut in a sign of solidarity with persecuted and slain journalists. Those students were joined by volunteers, GCJD's intern, and members of the Houstonian staff.
The event lasted for four hours and featured a large banner with the names of the 99 journalists killed last year.
The demonstration also included a table that displayed short research reports by the GCJD students about six journalists who were prosecuted, kidnapped, missing or killed.
"It was informative and it was also chilling," Junior Mass Communication major Marissa Hill said. "Seeing what all those journalists endured just to be able to report a story is beyond courageous."
The GCJD class spent months preparing for the event and was very happy with the results.
"I feel like the event was a success. Our objective was to inform the students not only about World Press Freedom Day, but that journalists are targeted around the world for doing their job," Senior Steven Snook said. "We had a great turnout of students stopping by our table to learn more about World Press Freedom Day as well as the Global Center."
This is the second year in a row that GCJD was an official participant in World Press Freedom Day. Last year students put together a series of interactive and other reports that can be found on the center's website.
---
Global Center for Journalism and Democracy
Dan Rather Communications Building, Room 201, Huntsville, TX 77340
Phone: (936) 294-4399