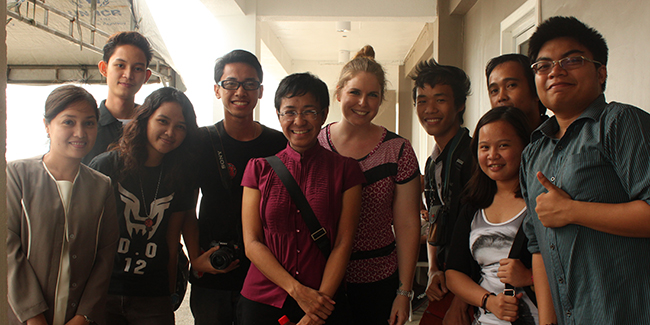 I first want to start off by saying thank you for picking me to accompany the Global Center of Journalism and Democracy in the Philippines for the 2014 Summit. As someone who works for the fire department, I gained some invaluable insight.
Before this trip, I gave little thought to the media and journalists and the role they play during a natural disaster, or emergency. In fact, any time I've been approached at a scene, I have simply pushed them off on someone else. I've always felt my main goal in the field is to solve problems, not to talk to journalists about what I'm going to do.
I figured a journalist's main goal was to get a story, whether true or not. But I left this training with a very different opinion. I learned journalists do much more than emergency managers may know.
During the conference, I heard a lot of discussion about the importance of checking facts before disseminating stories to the public. While some journalists may be reckless, it seems most are trying to get it right. Journalists are essential during and after a disaster. For example, in Tacloban, there were donor signs everywhere, touting the work they were allegedly doing. Yet I saw no repairs being made, or any sight of the money being used toward what it was intended for. Journalists can hold these donors and others accountable in a way that many other institutions cannot.
I learned more than I thought I would during this trip. I was able to meet new people, learn about a new culture, and make contacts within the emergency management field. Most importantly, I felt more a part of the University than I ever have. As a graduate public administration student, the majority of my classes are online, so I have not been able to feel really connected. This helped me forge tighter bonds with SHSU. Being given this opportunity proved to me that even on-line students are given amazing opportunities at the university.
---
Global Center for Journalism and Democracy
Dan Rather Communications Building, Room 201, Huntsville, TX 77340
Phone: (936) 294-4399