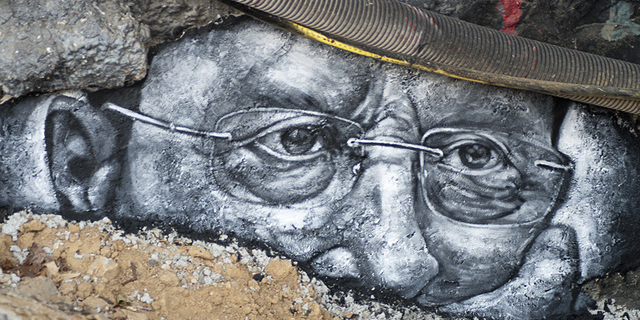 GCJD was back in Beirut, Lebanon to work with journalists to help them understand the important role they play when covering the arts and culture beat. The center again joined forces with the Samir Kassir Foundation to host a two day conference.
Journalists, artists, and professionals from the Lebanon, Jordan, Syria, Palestine, the UK, the Netherlands, France ,Spain and the U-S attended the conference to share insights and experiences. Trainers and speakers were brought from Europe, Lebanon, the Middle East and the United States. The conference consisted of workshops for journalists bookended by panel discussions that were open to the public.
One of the journalism workshops was led by Jack Morgan, an arts and culture reporter for Texas Public Radio in San Antonio. His session focused on the difference between arts reporting and critiquing. Morgan put together a 5-part radio report during his stay in Beirut, which can be listened to here.
Eric Gonon, former Vice President of Digital Media for Louise Blouin Media, spoke with journalists about how to visually cover the beat, and put together pieces that are both entertaining and informative. Gonon also reported while he was there, and his pieces can be seen here.
Katherine Boyle of the Washington Post conducted a session about covering arts and culture for the print media, focusing on the necessary versatility journalists must have to do the job well.
Finally, Ginanne Brownell, a London-based freelance arts and culture writer spoke about the fine line between cultural and gossip articles. There was much discussion about ethics, and avoiding the many temptations that come with covering the beat.
As always, GCJD brought an SHSU student along on the trip. Connor Hyde, a senior majoring in mass communication joined the team to manage social media coverage. He also wrote a column about his experience.
The project was GCJD's third in Beirut.
GCJD IN THE NEWS IN LEBANON
SKeyes and GCJD Host a Two-Day Workshop on Cultural Journalism>>
---
Global Center for Journalism and Democracy
Dan Rather Communications Building, Room 201, Huntsville, TX 77340
Phone: (936) 294-4399