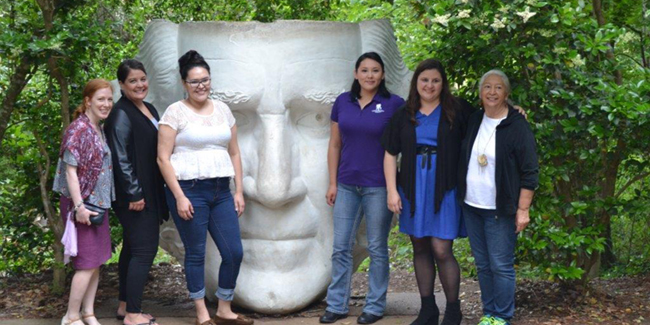 GCJD and the Global Press Institute have teamed up to train journalists for GPI's Tribal Nations news desk. Participants from the Pine Ridge Reservation traveled to Huntsville for a week of intensive journalism training. GPI trainers will then spend at least six months working with trainees to help them start producing news content.
"I love the detail, the degree of thought and reflection to really prepare us to be reporters that are of the highest integrity and ethics," said Gloriana Under Baggage, a participant in the program.
All of the participants are women, as GPI only employs female journalists. After several long days of training, they engaged in field exercises, interviewing various city and campus leaders for stories.
"I really love the idea of women taking a leadership in the storytelling process…to make sure that these stories are presented in the right way and that our community is well represented," said participant Binesikwe Means.
SHSU journalism students were able to attend some of the sessions, and had an opportunity to engage with GPI journalists.
GPI is building a network of professional women journalists across the globe. Its news content is marketed to dozens of partners ranging from local publications to major news outlets.
"Our mission is to change the narrative of some of the least covered places on earth, and there are many tribal nations in the United States that fit that category" said GPI founder and CEO Cristi Hegranes.
GCJD trains journalists and civil society around the globe. "This was definitely a good fit for us. We are dedicated to getting credible, relevant information to the public, and educating journalists is one sure way to do that" said GCJD Executive Director Kelli Arena.
This is the first time GPI has worked with journalists in the United States, and the first time it has partnered with GCJD on a project of this magnitude.
"We're really fortunate to be here. SHSU has been a great partner for us, both as a syndication partner but also a thought partner, and now a training collaborator", said Hegranes.
The Pine Ridge Reservation project is just the first phase of a much larger plan to recruit, train and employ Tribal journalists from several reservations.
GCJD IN THE NEWS
---
Global Center for Journalism and Democracy
Dan Rather Communications Building, Room 201, Huntsville, TX 77340
Phone: (936) 294-4399