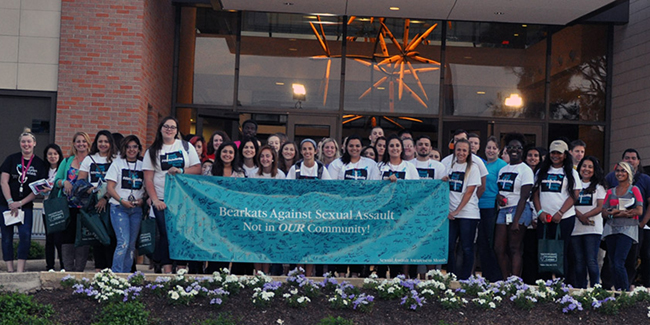 This semester's ACE class went above and beyond to attract community partners to join forces in their effort to raise awareness and combat sexual assault on campus.
Statistics show that 1 in 5 women and 1 in 16 men are sexually assaulted on college campuses each year, and students in the GCJD class were passionate about raising awareness to try to change the way people react to and think about sexual assault.
In cooperation with the national StartByBelieving movement, students produced a month-long campaign and worked with the city, county, University Police, local non-profits and businesses on a variety of projects. Many stood proudly by as both Walker County and the City of Huntsville officially declared April to be sexual assault awareness month.
Members of the GCJD class created a social media information campaign, wrote articles for the Houstonian student newspaper, and produced two videos that were widely distributed on various global venues. They collected donation items for both the SAAFE House and Montgomery County Women's Center, which provide resources and assistance to sexual assault victims.
Throughout the month, students maintained a strong presence on the campus mall, informing the SHSU community about the resources available for sexual assault victims. They also helped host Ignite the Night, an evening of entertainment and dialogue followed by a march in support of Sexual Assault Survivors. Other activities included Denim Day, Walk a Mile in Her Shoes, and Not a Number.
As soon as the class finished with the Sexual Assault project, students moved on to planning World Press Freedom Day. This year, they created a cemetery on the campus mall to bring attention to the dangers journalists face around the world. Students were equipped with information about journalists who were killed in the line of duty, and shared their stories with Bearkats who were largely unaware of the fact that 72 Journalists were killed last year alone.
This semester's Academic Community Engagement Class put in an astounding number of volunteer hours, and saturated the community with relevant, and vital information.
---
Global Center for Journalism and Democracy
Dan Rather Communications Building, Room 201, Huntsville, TX 77340
Phone: (936) 294-4399