40 journalists remain missing around the globe. Houston native Austin Tice is one of them. He was kidnapped while reporting in Syria in 2012, and his whereabouts are unknown.
To commemorate World Press Freedom Day, GCJD worked to re-focus attention on Tice and other missing journalists.
World Press Freedom Day is officially celebrated on May 3rd, but to ensure greater student and community involvement, GCJD celebrated on April 29th and 30th.
GCJD is recognized as a participant in World Press Freedom Day by the United Nations, and by the Global Forum for Media Development.
World Press Freedom Day presents an opportunity to celebrate the fundamental principles of press freedom. It also provides an opportunity to assess the state of press freedom around the world and to pay tribute to journalists who are missing, have been wounded, or lost their lives in the line of duty.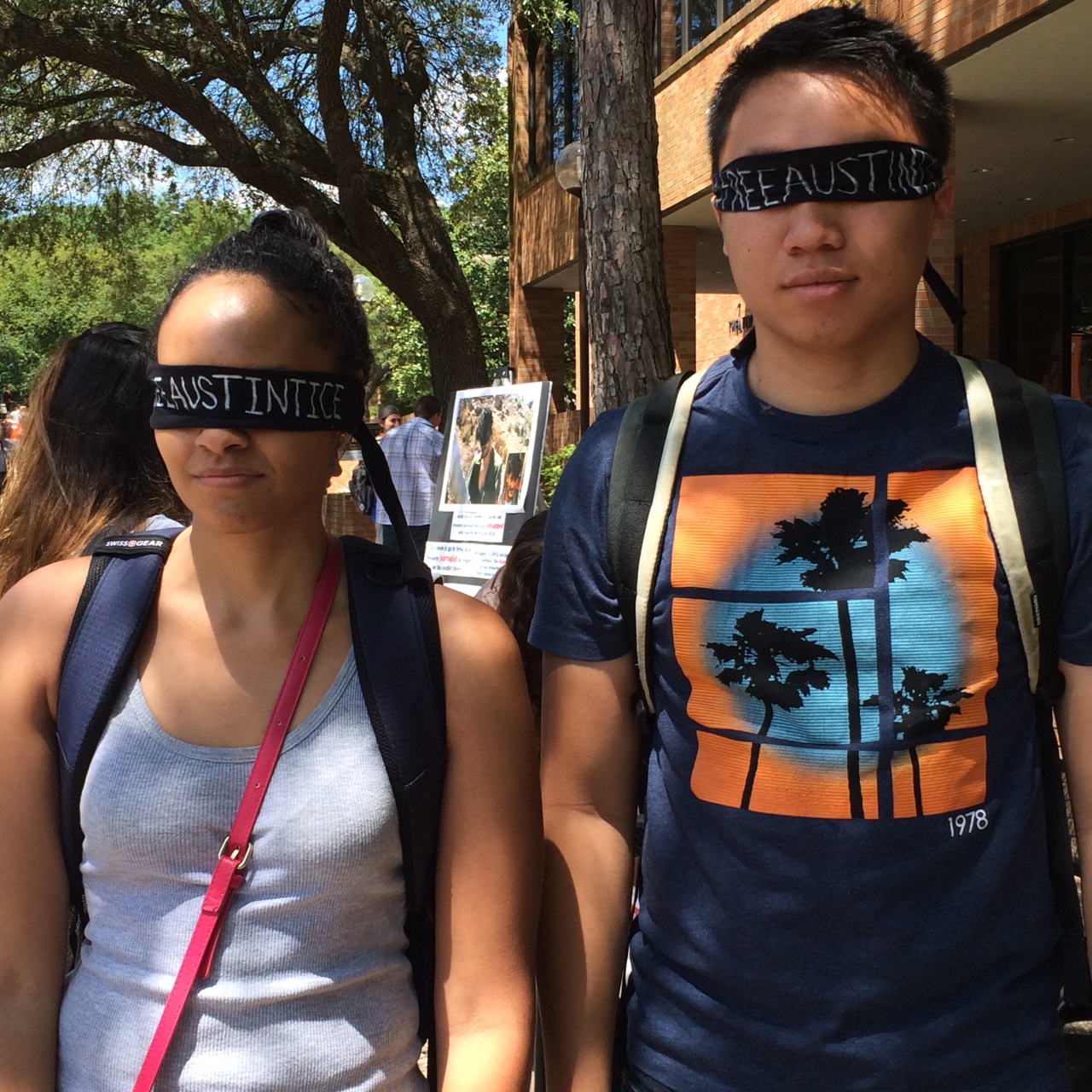 GCJD planned several activities. The SHSU community joined the international social media campaign #FreeAustinTice by taking pictures of themselves blindfolded. The blindfold symbolizes the world we would live in without journalists and information.
Participants were urged to take a "Blindfold Pledge" to stand up for freedom of expression, and to sign an e-letter to President Obama urging him to do all he can to bring Tice safely home.
GCJD hosted a separate social media campaign to highlight the dangers that journalists face.
On Wednesday April 29th, the community was invited to join a prayer circle at noon in the mall area for Tice and other missing journalists. The GCJD table was on the mall on the 29th and 30th and we shared information and handed out dark blue ribbons, the color for press freedom.
Two articles were written; one about Austin Tice and another about World Press Freedom Day, and published in the Houstonian and can be found by following the links below.
Austin Tice's parents were aware of SHSU's effort and his mother publicly thanked us for our support.
GCJD IN THE NEWS WITH WORLD PRESS FREEDOM DAY
Press Freedom:The Houstonian>>
Missing Journalists:Huntsville Item>>
---
Global Center for Journalism and Democracy
Dan Rather Communications Building, Room 201, Huntsville, TX 77340
Phone: (936) 294-4399