SHSU students, faculty and staff gathered on the main campus here in Huntsville to show support for racial unity. The event, "Hands Across Sam", was hosted by the Global Center for Journalism and Democracy. "In light of the racial tension that we've seen on other campuses around the nation, we want to start a discussion here at SHSU to promote understanding and tolerance on our campus" said Jesse Starkey, program manager at GCJD.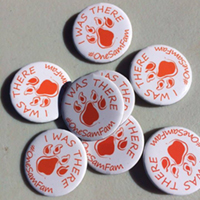 More than one hundred Bearkats were entertained by a student saxophone ensemble led by Professor Masahito Sujihara as others joined a circle holding hands around the SHSU Christmas tree. Members of the football team, and various student organizations participated in the effort. Attendees were given buttons with the saying "I Was There" and photos of the event were shared on social media venues under the hashtag #OneSamFam. SHSU's Dean of Students, John Yarabeck who attended the event said "Things like this are extremely important for our students to be exposed to; where we can all come together as one and show the rest of the country how great a school SHSU is, showcase our diversity". As enrollment grows at SHSU, diversity is increasing. According to SHSU'S latest report on ethnicity and gender, nearly 18 percent of SHSU'S students are African American and more than 20 percent are Hispanic.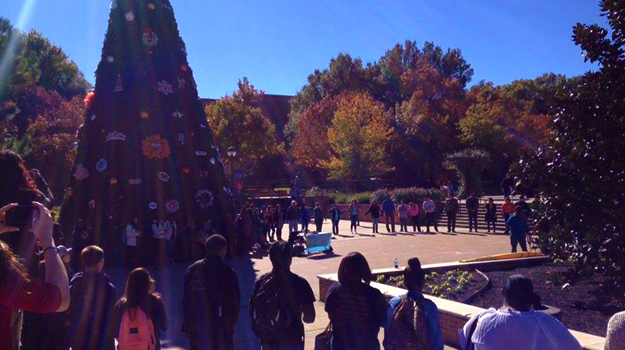 "Race and racism are hard things to talk about", said SHSU senior Teashia Harrison. "SHSU is not immune and the best way to get ahead of any problem is to talk about it openly" she added. This years event was quickly put together in response to unrest at the University of Missouri and incidents at other colleges and Universities. GCJD is planning on making "Hands Across Sam" an annual event and is hopeful members of the community will participate next year.
GCJD IN THE NEWS
---
Global Center for Journalism and Democracy
Dan Rather Communications Building, Room 201, Huntsville, TX 77340
Phone: (936) 294-4399