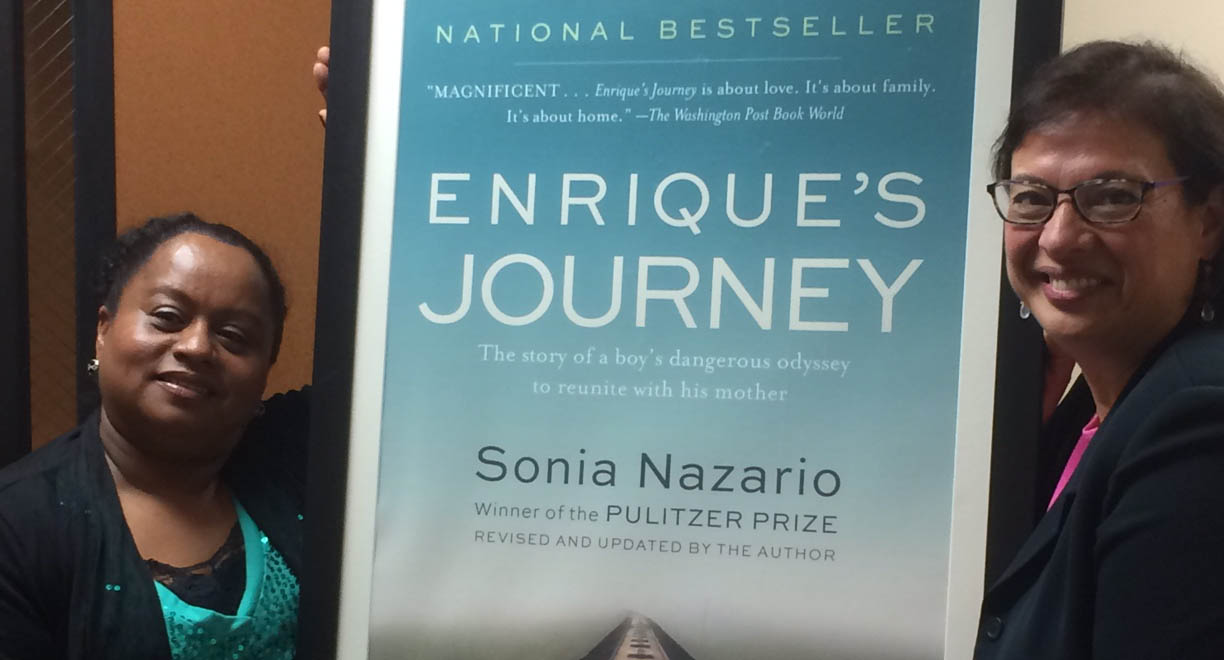 Photo: Sonia Nazario and Lourdes, Enrique's mother at SHSU
This full presentation is available for viewing!
For access to the full video, please email gcjd@shsu.edu.
There is a fine line between advocacy and journalism, and Sonia Nazario says it took her quite a long time to cross it.
The author of the best-selling book Enrique's Journey detailed how her own journey was impacted by spending time with children trying to get to the United States from Central and South America.
Nazario rode on top of Mexican freight trains, known as the "trains of death" from Chiapas, Mexico to the U.S. border to report on unaccompanied minors. " To this day, when I see a train, my heart starts to race and I still suffer from post traumatic stress" she says.
At first, she explains she tried her best not to interfere, and only document what she saw. She was writing for the Los Angeles times and in that role she believed she needed to remain neutral. "Activist and advocate used to be the dirtiest words in the English language to me" she exclaimed. "When I report something, I'm not supposed to help anyone I write about because I'm not supposed to change reality."
But the suffering she says she witnessed forced her to change that approach.
Nazario now spends most of her time as a self-professed "social activist", speaking out on behalf of immigrant children who are in the United States illegally. Her biggest beef is with the U-S Justice system.
In front of an SHSU audience of about 200 people, Nazario told stories of small children being detained in jails with adult criminals, "horrible places" that caused children to try to "kill themselves."
She spoke of children, even infants, being brought to immigration court without legal representation.
"They are asked to fill out forms in English. Sometimes it's a baby who was abandoned by a smuggler being asked to fill out complex asylum forms!"
Nazario says many of these children are fleeing from some of the most violent places on earth. She told stories of children being forced to take drugs, and have sex at ages as young as seven.
Nazario says it's clear the many approaches the United States has taken to fix the child refugee problem have not worked. She is pushing for increased foreign aid to Central America, to get kids attorneys in U.S. court, and to increase the number of refugees the U.S. will accept.
After visiting SHSU, Nazario was headed to her first fundraising event. She is helping a woman who helps migrants mutilated by trains.
"I've gone from never help anyone, to holding fundraisers for hundreds of people. It's been quite an evolution."
The Global Center for Journalism and Democracy, SHSU Common Reader, and the College of Criminal Justice hosted Pulitzer Prize Winner and author of Enrique's Journey, Sonia Nazario, on November 17, 2015.
Leading up to her presentation, GCJD students hosted a series of events to raise awareness about immigration issues.
---
Global Center for Journalism and Democracy
Dan Rather Communications Building, Room 201, Huntsville, TX 77340