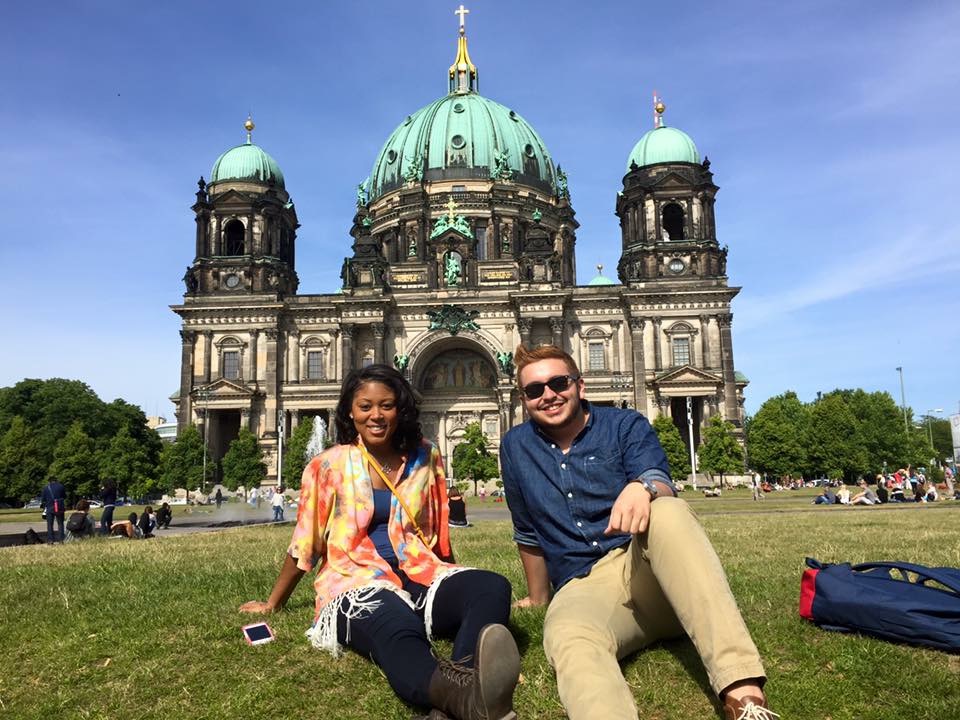 Mass Communication student Amshi Stephenson and Public Relations & Advertising student Cesar Jimenez had an opportunity to travel to Germany to accompany GCJD on a training covering non-profit journalism. They helped report on the conference on social media, aided in coordinating the event on the ground, and conducted interviews with the GCJD trainers.
Both students were excited to travel abroad and reflected on their experiences in Germany.
Oh, the Places You'll Go
By Amshi Stephenson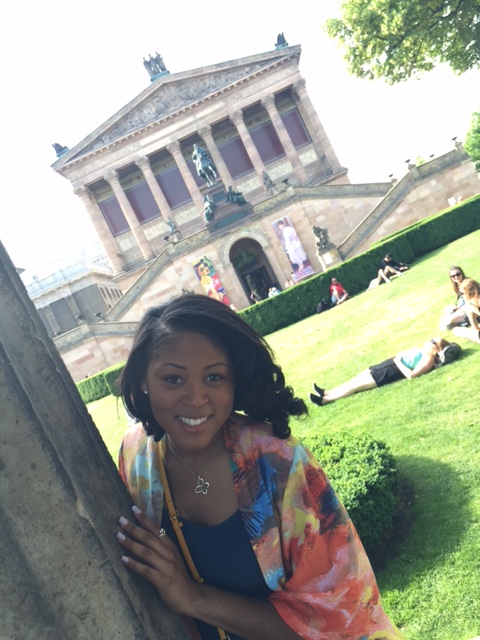 If I could sum up Germany in one word, it would be unforgettable. This was my first trip out of the country so I didn't know what to expect. Stepping foot in Berlin, my eyes opened 10 times bigger as I looked at how beautiful the architecture was. Back at home, our buildings are uniform and block shaped, but here not a single building was alike. There were some major differences I quickly adapted to like walking what seemed like hundreds of miles daily, taking public transportation, eating smaller portions, and paying for water at restaurants. I couldn't believe that water cost as much as an alcoholic beverage, so I learned to chug as many glasses of water in my hotel room before leaving for the day. Many Germans bike around the city, aided by bike lanes on the sidewalks. That's another great thing too, sidewalks. I wasn't used to them, but they sure made me feel safer. For students, it's a phenomenal place; No tuition!
Seeing the country was one thing, but participating in the GCJD conference was the icing on the cake. I was so humbled to spend time with the trainers who came. These amazing men taught me so much about non profit journalism and are so respected in the field. I now find myself tuning in to NPR and looking into investigative reporting.
I have become a more appreciative person after this trip. I learned to be more open to new things whether it be trying the curry sausage or learning a few German words with some students. I am excited to venture off to new places of the world.
As one of the trainers, Paul Steiger said; "Journalists need to expand their brains all the time. Anything that helps them learn about things they didn't know that are happening someplace else, will be a great aid for them." I agree and am so grateful for this opportunity.
Four Thoughts from Germany
By Cesar Jimenez
When asked to write a reflection about my recent trip to Germany with the Global Center for Journalism and Democracy, I was a bit lost and not sure of how to begin. I thought about how it should be structured and - I hate to admit - Googled "how to write a reflection paper." In the end, though, I decided that writing it in my own voice, in my own way would probably be the best. So here are four things I know for sure after coming back from Germany.
Number one; I learned to take advantage and savor each moment. In the days coming up to the trip, while I was packing and gathering my passport and other important essentials, I remember thinking to myself, "I really want to document this – whether it be by video or photo – I want to remember everything." Over the course of this trip, I got left behind, stared at while I got up-close and personal with a statue and watched as I scrutinized the layout of my meals for the perfect shots.
Number two; being pushed out of your comfort zone can be a positive adventure. I learned to look for opportunities to push myself and do things I never thought I would do. In Germany, public transportation is life. That was a culture shock for me. Going from plane to bus to subway to train was crazy. One night in Berlin, my student colleague and I took the train back to the hotel alone. Now, to say I was a bit nervous would be an understatement but some how we made it listening to the scratchy voice announce each stop in German until we heard the one we had been told to get off at, Zoologischer Garten. It was truly exciting.
Number three; being willing to listen to someone discuss a certain topic, even if it's not in your field, can broaden your interests and have the potential to help you later on down the road. So take a second to actually listen, you never know where it could lead.
Participating in a journalism conference was something I hadn't experienced before. Being a public relations and advertising major, we're taught to write biased articles and overemphasize how amazing the companies are that we represent . But listening to four experts discuss new and innovative ways of producing news that allow them to do more investigative journalism minus the pressure from advertisers or investors was fascinating. I found myself drawn in to the discussions they were leading and actually asking questions wanting to know more.
Number four; even people you just met can become close friends. Give others a chance and let your guard down. If I hadn't, I would have missed one of the best nights I ever had while in Germany. Hanging out with the students from Hochschule University in Magdeburg had to be the highlight of my experience. From the beginning, we told them we just wanted to do whatever it was they would typically do after class. From trying their "insanely hot" – which turned out not to be that hot – ketchup that went on top of German sausage to chatting in an authentic "beir garten" with a large mug of Kostrizer beer, it was the perfect night out.
I learned, I grew and had a fantastic time.
---
Global Center for Journalism and Democracy
Dan Rather Communications Building, Room 201, Huntsville, TX 77340
Phone: (936) 294-4399