Our license plate recogition software alerts parking enforcement of a parking violation. We will take photos of the vehicle and email the citation to the registered email. If the vehicle is not registered, a yellow sticker will be placed on the vehicle. If the citation is not resolved and the vehicle continues to be parked on campus, a tow notice will be placed on the vehicle. Citations must be taken care of within 10 calendar days of issuance.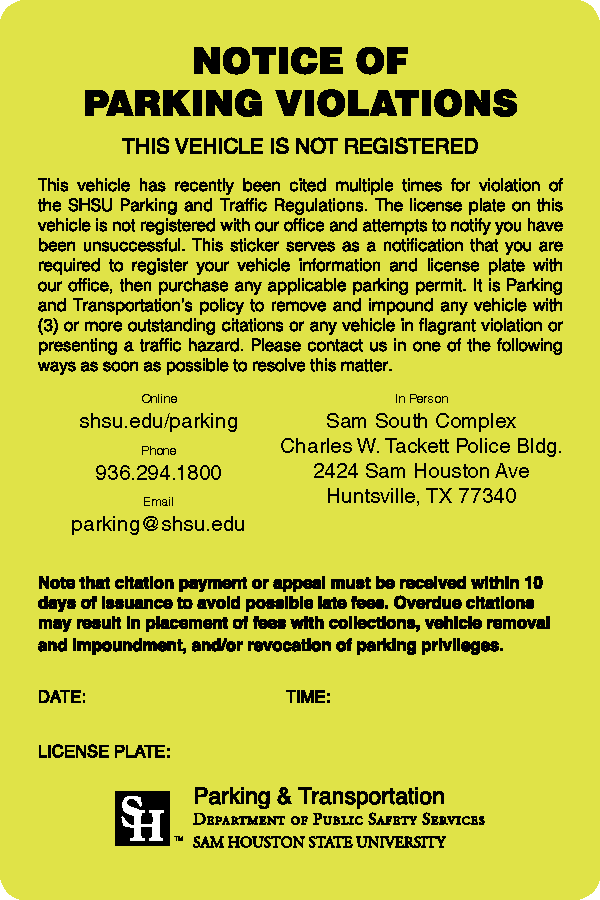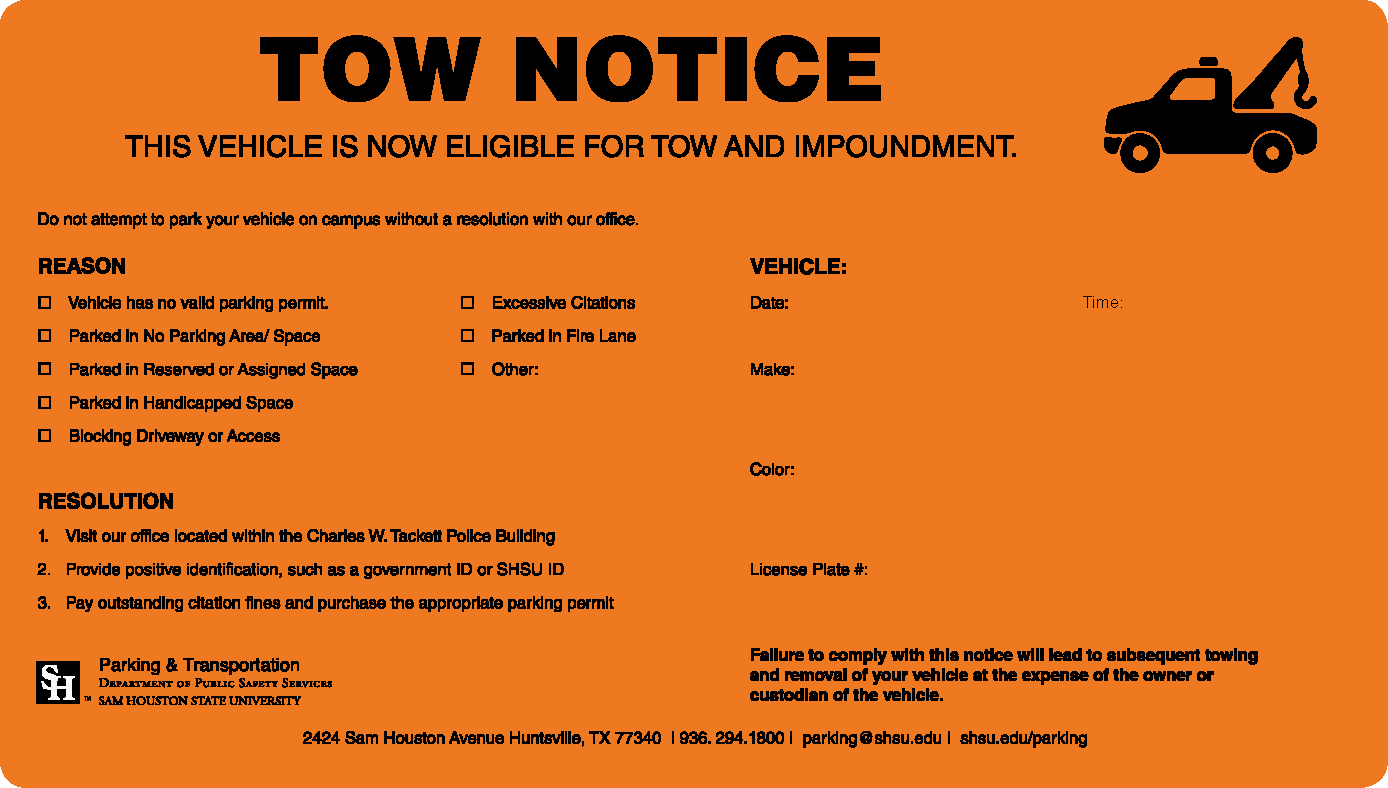 Violations
Cost varies for each type of violation. Citations are issued for each violation. If your vehicle is not registered and parked without a permit, you may recieve 2 citations.
Parked in unauthorized ePermit zone.
Parked on or across marker lines.
Parked in a No Parking (Yellow) Zone.
Parked in an undesignated area.
STARTS AT

$30

Citation will increase with repeated offenses.
$35, $40, $45, $50
Vehicle not registered with valid ePermit.
$10
Parked without a valid or shared ePermit.
$40
Parked in a reserved space.
$75
Parked over posted or paid time limit.
Improper manner of parking.
$20
Possession of, attempted use, or use of altered decal or license plate.
Parked in a Fire Zone (Red Zone).
$100
Standing or parked in a Handicap Zone, without an accesibility hangtag or license plate.
$150
Paying for Citations
Failure to Pay Citation Fees
Students may be barred from registration, re-admission, and have grades, degree, refunds, or official transcripts withheld pending payment of overdue charges.
Upon notice, violators may be subject to the impoundment of their vehicle(s) pending payment of overdue charges.
When unpaid charges are recorded, the P&T office shall notify the registered ePermit holder, university affiliate of the ePermit holder, or owner/operator of said vehicle by their registered e-mail address. Such notification shall state that unless payment of all accumulated charges is received by the date specified, the recorded vehicle may be impounded or booted.
Students, Faculty, & Staff
Citation fees are transferred to your MySam account. Payments can be made online through your account or in-person at the Bursar's office.
Visitors
Visitors or unaffiliated parties with SHSU who receive a parking citation may pay for a citation using any major credit card by going to http://shsu.nupark.com/portal/citations.
Forgiveness
We have programs that will help reduce or void citations. Not all citations are eligible. Our programs are not intended for repeated use.
First-Time Citation
Anyone that received a citation for their first time ever, of $30 or less, are eligible for Citation Forgiveness. Vehicles not registered prior to issuance are not eligible. You must ask forgiveness within 10 calendar days of being issued a citation. Only one ticket will be canceled per account and/or license plate. Participants will fill out a form, which includes a 10 question parking quiz. Participants must pass the quiz, with a 70 or higher to be granted Citation Forgiveness.
Revisit or share this form with shsu.edu/forgiveme
Two No-Permit Citations
If you have two No-Permit citations, we will void them with the purchase of an annual ePermit. Prorates do not apply, because citations happen prior to the purchase.
Appeal
If you believe your parking citation was issued an error, you may submit an appeal within 10 calendar days of receiving a citation using the following guidelines either online with your parking account.
After Submitting
All parking citation appeals are reviewed by the appeals officer. When Parking and Transportation receives your appeal, the appeals officer will read the appeal, review the information on the citation, review the Parking and Traffic Rules and Regulations that are relevant to the appeal, review area maps or digital photographs of signs in the area, then make a decision on the appeal. The decision of the appeals officer is based on the type of violation, any previous tickets, area signage, existing parking permit, and your reason for appeal.
The Decision
The appeals officer makes one of the following decisions after review:
Reduce the amount of the fine.
Provide a Warning and the fine is waived.
Void the citation as it was not valid.
Deny your appeal. The citation is upheld and the fine must be paid.
Disagree with the Decision
If you do not agree with the decision of the appeals officer, you may make a final appeal to the appeals panel made up of faculty, staff, and students.
To appeal at this level, you must:
Pay the fine. This becomes bond until the appeals panel makes a decision.
Resubmit the appeal by sending an e-mail to parking@shsu.edu within 5 calendar days of the appeals officer's decision, including all of the required information.
The appeals panel may reduce the fine, excuse the fine, or uphold the original decision. You have the option of meeting with the Appeals Panel in person or we will submit your prior appeal and information on your behalf.