Information related to funding your graduate degree can be found by clicking the links below.
The General Graduate School Scholarship Application- Summer 2019 deadline is May 1st!
The General Graduate School Scholarship is intended for high-quality students in SHSU graduate programs. Applications for this $1000 scholarship will be accepted for both new and current students. Students may submit new applications each semester while enrolled in graduate programs.
Application Open: Scholarship Application Form (Updated 9/13/18)

Graduate A.S.P.I.R.E. (Academic Success Program in Research Empowerment) Program
Applications for Fall 2019 are due June 15th.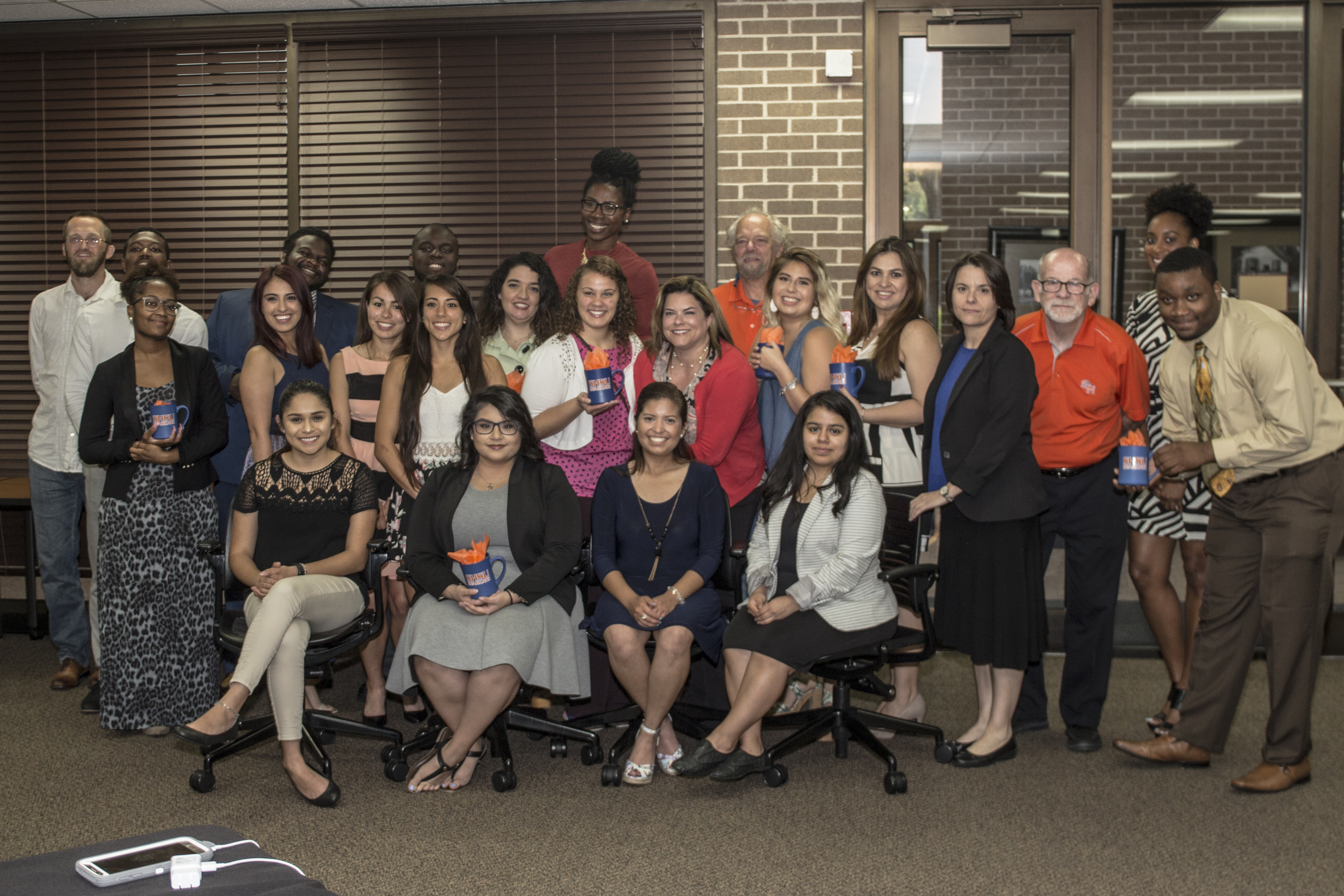 Bridge ASPIRE members at the 2017 End of the Year Banquet.
The Graduate School's A.S.P.I.R.E. scholars program provides minority graduate students with mentoring and academic success programming to promote professional development and to strengthen the graduate school experience. During the academic year selected, the A.S.P.I.R.E. Scholars Program provides students an intensive training consisting of professional development, academic success seminars, and mentoring experiences to facilitate a smooth adjustment to the academic rigor of graduate education. In addition, A.S.P.I.R.E. scholars attend a series of workshops as well as other cultural and educational activities. All program participants receive $2000 in scholarship ($750-Fall, $750-Spring, $500-Summer), $600 in textbooks, and other program incentives.
To apply, please submit the following Graduate A.S.P.I.R.E. Program Application to the Graduate School.
Graduate School R.O.A.D. to PhD program
The Sam Houston State University Graduate R.O.A.D. to PhD program provides qualified students with the opportunity to adjust smoothly to the academic rigor of doctorate education. This doctoral student engagement program will provide accelerated and focused learning opportunities to help students acquire specific knowledge and skills needed for successful completion of their degrees.
Following a road map laid out by research completed by the Council of Graduate Schools the R.O.A.D. to the PhD is a holistic student mentoring with the promotion of graduate student support as indicated through program concentrations by:
1) focus on supporting doctoral students from admission all the way through completion, 2) focus on supporting students by working on individualized completion goals and career prep. Doctoral students will work with Graduate School staff and a faculty mentor to build a comprehensive plan of research and professional development. All program participants receive $3,600 in scholarship funding ($1200-Fall, $1200-Spring, $1200-Summer) and other program incentives
To apply, please submit the following Graduate R.O.A.D. Program Application to the Graduate School.
Graduate Student Organization Leadership Initiative

2018-2019 Outstanding Graduate Student Organization, GSPO.
The Graduate Student Leadership Initiative is a student scholarship program to promote graduate student engagement and leadership development. Research shows that leadership programs teach important life skills, such as introspection, cultural sensitivity, moral acuity, people skills, and decision-making acumen. Our student organization leadership initiative is a program collaboration between Academic Affairs and the Graduate Schoo and the Center for Leadership and Service. Students who hold executive level leadership positions in University and Department sanctioned student organizations are eligible to participate in this scholarship and leadership program. Students must be elected to the leadership cabinet of a sanctioned Graduate Student Organization, holding position titles such as President, Vice President, etc. Each participant who completes the Fall leadership training will receive a $500 stipend and another $500 after completion of the Spring semester training.
If your graduate student organization is interested in becoming a part of the leadership initiative, please contact the Graduate School for more information.
Civic Engagement Policy Statement, Civic Engagement Volunteer Proposal Form, Service Hours Log
Financial Aid for Graduate Students
Please see the information available at the Office of Financial Aid website.