Graduate Student Appreciation Week
Each spring, we celebrate the contributions and accomplishments of more than 2,800 graduate students at Sam Houston State University, spread out over 56 master's programs and 8 doctoral programs by hosting programs specifically for them throughout Graduate Student Appreciation Week. Events are open to all graduate students (unless otherwise noted) free of charge. Descriptions of this year's events are below.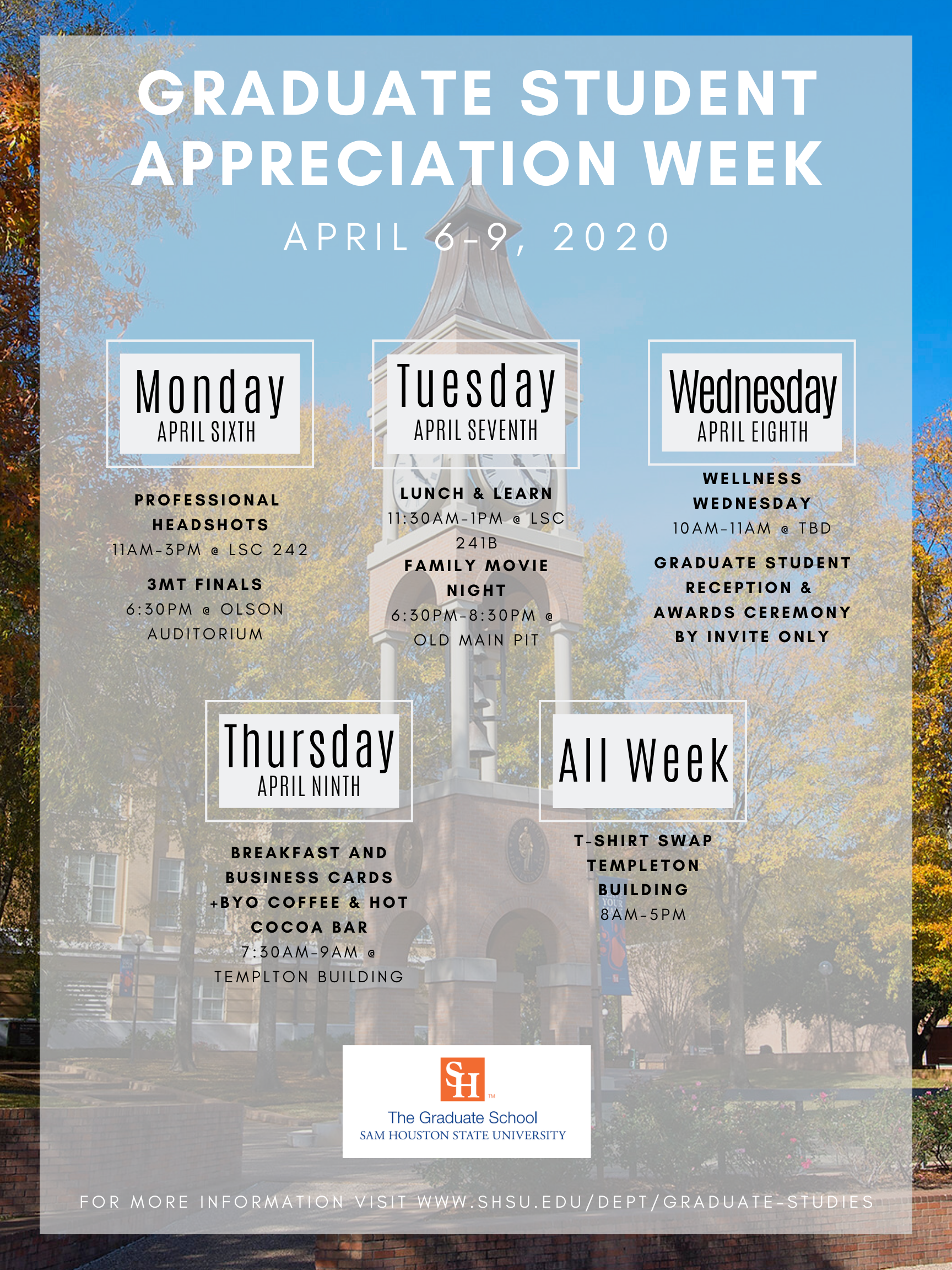 *Earn a chance to win one of three (3) $1000 scholarships at each event attended. Winners will be selected by drawing on the last day of GSAW and will be notified by email.
2020 GSAW Events
Monday, April 6th
Professional Headshots
11:00am-3:00pm @ LSC 242
Need a headshot for professional networking or applications? We will be taking free headshots for all graduate students to use as necessary!
3MT® Finals
6:30pm @ Olson Auditorium
Come out and support the 12 finalists present their research for the top awards. Contestants have 3 minutes and the use of only one static slide to convey the importance and implications of their current research. Each audience member plays a role in selecting the People's Choice Award, so come out for this fun and fast paced event!
Tuesday, April 7th
Lunch & Learn
11:30am-1:00pm @ LSC 241B
TOpic: TBD
Family Movie Night
6:30pm-8:30pm @ Old Main Pit
Complete with popcorn and a family friendly movie!
Wednesday, April 8th
Wellness Wednesday
10:00am-11:00am @ TBD
A mental health counselor will give you tips on how to de-stress during the semester in an interactive presentation.
Graduate Student Awards Reception
By invite only
Join us for our Seventh Annual Graduate Student Award Reception to recognize the achievements of our graduate students and those who work closely with them.
Thursday, April 9th
Breakfast and Business Cards + BYO Coffee & Hot Chocolate Bar
7:30am-9:00am @ Templeton, 1st Floor
Customize your coffee or hot chocolate and grab breakfast before heading off to class or work with The Graduate School. All students in attendance can receive 100 FREE personalized SHSU business cards to utilize for future networking events.
All Week Long:
T-Shirt Swap
8:00am-5:00pm @ Templeton, 1st Floor
Bring by a t-shirt from another college or university and receive a SHSU shirt to replace it with! Show your Bearkat pride!