Graduate Student Appreciation Week
Each spring, we celebrate the contributions and accomplishments of more than 3,000 graduate students at Sam Houston State University, spread out over 56 master's programs and 8 doctoral programs by hosting programs specifically for them throughout Graduate Student Appreciation Week. Events are open to all graduate students (unless otherwise noted) free of charge. Descriptions of this year's events are below.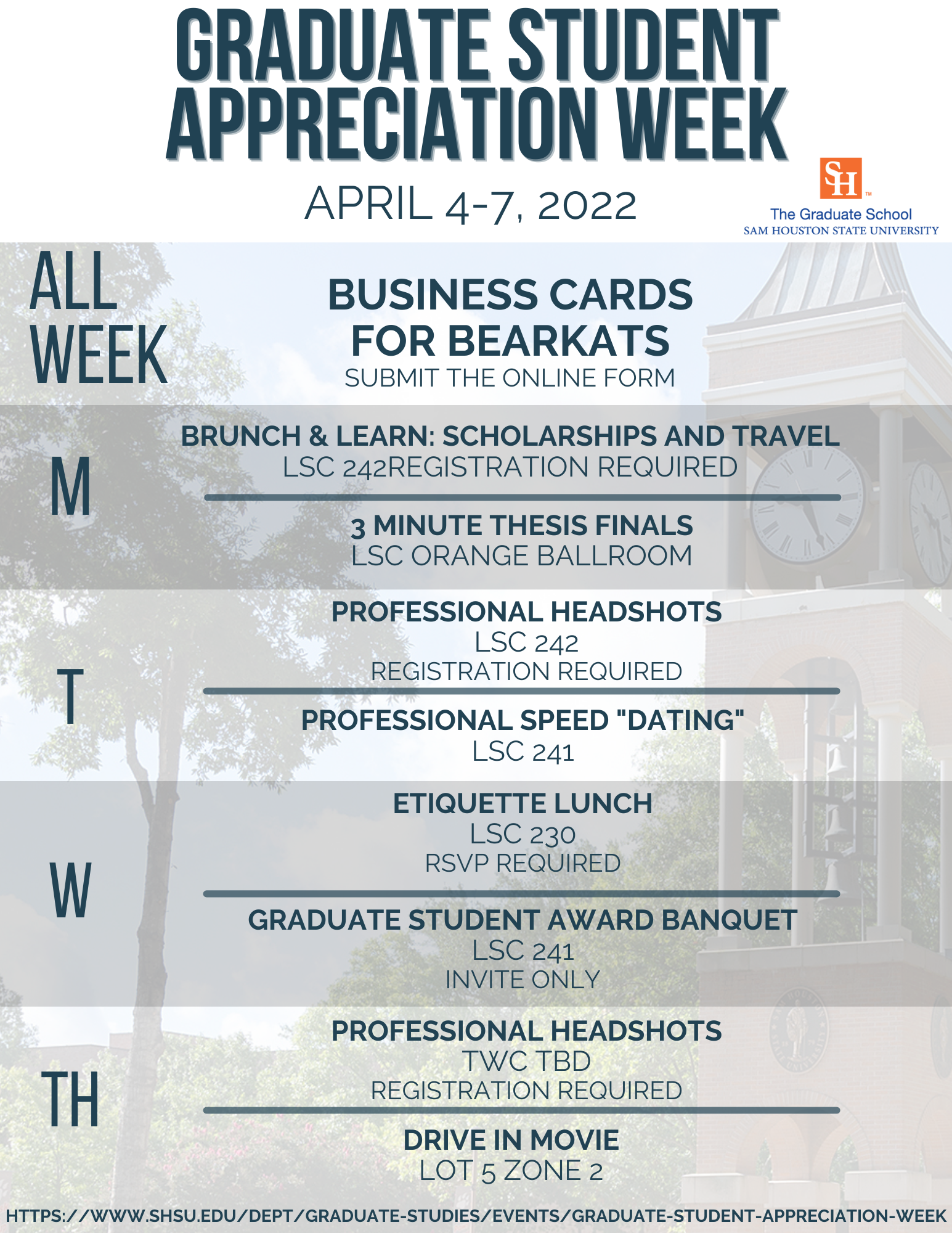 2021 GSAW Events
All Week
Business Cards for Bearkats
Need business cards for social networking? Click here to fill out the form. Please complete form form by Friday, April 8th.
*You must be a current SHSU graduate student*
---
Monday, April 4th
Brunch and Learn: Scholarships & Travel
Join us to learn more about scholarships for graduate students as well as travel scholarships.
LSC 242
9:45-11am CDT
Registration Required*
Registration opens Jan. 2
3 Minute Thesis Finals & Undergrad Poster Presentation
6:00pm-9:00pm CDT
LSC Orange Ballroom
---
Tuesday, April 5th
Professional Headshots
9:30am-12:30pm CDT
LSC 242
3pm-7pm CDT
TWC West Commons
Registration Opens January 2
---
Wednesday, April 6th
Drive-In Movie
In partnership with Program Council, join us for an old-fashioned Drive-In Movie! We will be screening Monsters University and provide snacks and beverages. All graduate students who register and attend the event will receive a goody bag. Registration opens Jan 2! Please register by April 4th.
Zone 2 Lot 5-Huntsville Campus!
Gates open at 7pm CDT
Movie starts at 8pm CDT
---
Thursday, April 7th
Virtual Awards Ceremony
Invitation Only*
---
---
The Graduate School
T-Shirt Design Contest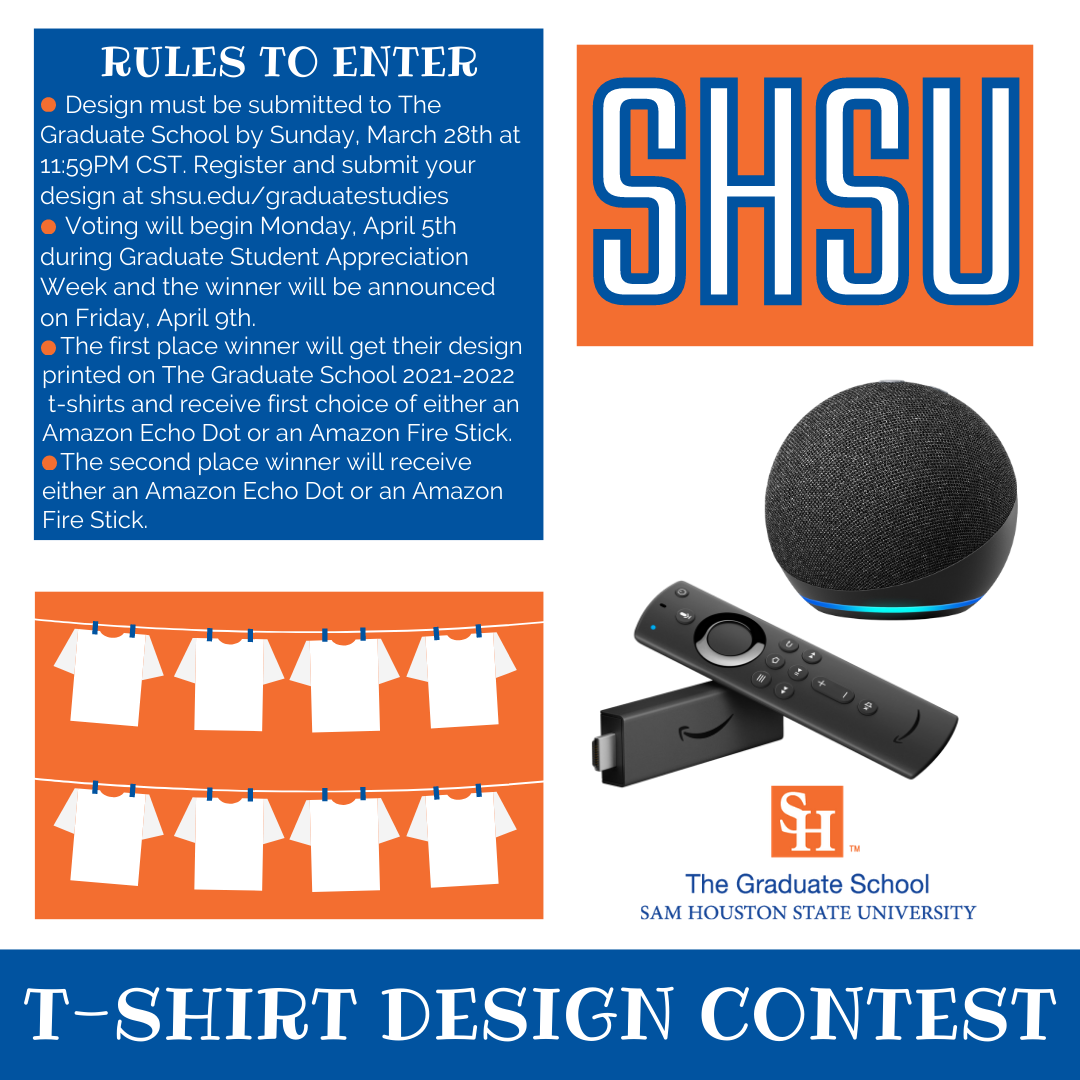 Artistic Guidelines
Design MUST include "SHSU" and "Graduate Student". Please keep in mind, the winning design will be printed on T-shirts.
Design should be limited to two colors in addition to background color. Please keep SHSU colors in mind (blue, white and orange).
Submission Guidelines
Designs must be original and submitted by or on behalf of the designer/artist and with the designer's direct consent.
By entering the contest, the submitter certifies that the design is original and does not contain any copyrighted material, including images/copy found on the internet, unless clearly marked as published under a creative commons (cc) license.
Designers must agree to the full Official Contest Rules (below).
Designs must be 300 dpi or better so they are suitable for print media as well as for use in online channels (The Graduate School's website, social media, etc.) JPG, PDF, PNG files are accepted.
Submit designs via email to thegraduateschool@shsu.edu by 11:59 CTS, March 28th, 2021. Submission online are time stamped and late entries will not be accepted.
Official Contest Rules

The contest is open to all SHSU students.
You must be 18 years or older to submit an entry. If you are under the age of 18 you may still create and submit a design, but it must be submitted on your behalf by a parent or guardian.
All entries must be original creations of the contestant that has never been published, and does not contain trademarks, logos, or copyrighted works of any other person or business.
We reserve the right to pick one entry as the winner from the top five finalists.
We reserve the right to terminate this contest at any time, effective on the date of issuing the termination notice. We do not need to give you notice prior to the date of termination.
You agree that if you submit an entry, you will sign an assignment and release form prepared by us acknowledging your acceptance and understanding of the complete contest rules including that the design is the property of SHSU The Graduate School.
If you win, you will be required to provide the original design in a high res format that is compatible with Photoshop, Illustrator, Corel Draw or another professional design program.