Helping Kats C.O.P.E.
Helping Kats C.O.P.E. is a workshop series that helps students find ways to become more Centered, Optimistic, Productive, and Empowered. Workshops provide quick tips to help attendees learn how to address many concerns, such as low self-esteem, stress, and test anxiety.
MAIN CAMPUS WORKSHOPS in the LOWMAN STUDENT CENTER (LSC)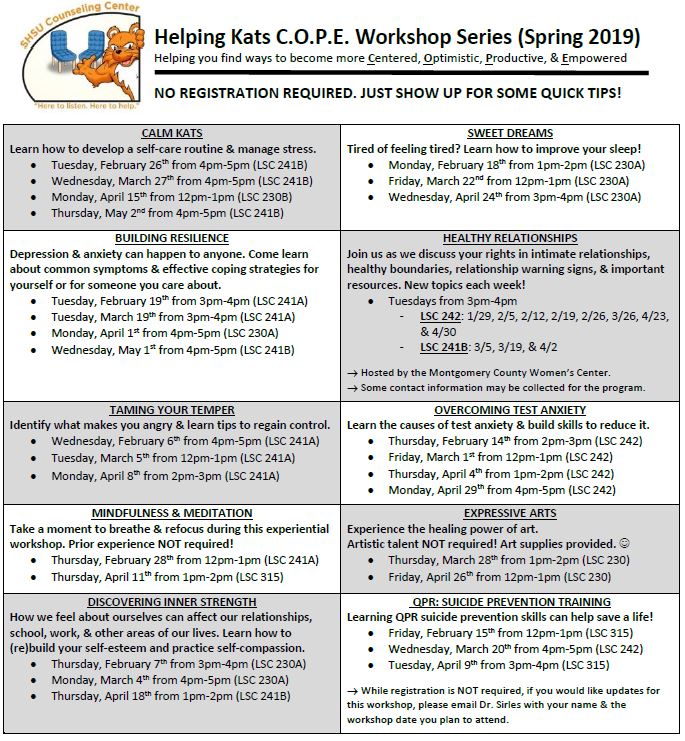 Frequently Asked Questions
How are workshops different from traditional individual or group counseling?
With traditional forms of counseling, you meet one-on-one or in a small group setting to discuss your concerns. Traditional counseling can last anywhere from a few weeks to several years.
Workshops, on the other hand, are actually similar to many of the college classes that you are taking. Participants listen to an interactive presentation given by a therapist. This presentation teaches you practical ways to address many common problems.
How many people will be at the workshop?
Workshops typically have 1-2 presenters and up to 25 attendees.
I have a busy schedule. How long are workshops?
We know that your schedule is full of important committments that you need to keep. That's why our workshops only last 1 hour and are offered several times throughout the semester.
I'm nervous about attending a workshop. Am I going to be forced to talk?
Given that workshops are similar to classes, you are not required to talk during the presentation. However, students who ask questions and who are actively engaged during the workshop tend to get more out of the experience.
How do I attend a workshop?
Just show up! No pre-registration or trip to the Counseling Center is required!
Each workshop is conveniently located at the Lowman Student Center (LSC). Specific dates, times, and LSC room numbers are listed on the flyer.
I still have questions about workshops. Who can I talk to?
You can contact the Group/Workshop Coordinator, Dr. Danielle Sirles, by email at dns018@shsu.edu. Please remember that e-mail is not an appropriate medium for counseling, nor can privacy/confidentiality be guaranteed through electronic communication.