A Science Training Community for Neurodiverse Students
Neurodiverse individuals, such as those with autism conditions, have unique strengths in their cognitive experience of the world. However, many neurodiverse individuals face challenges as they transition through school to the workplace.
To tackle these challenges, we created a unique training environment. We call it our sandbox lab; a place where neurodiverse students learn to manage basic laboratory operations and research. A great way to develop confidence and familiarity in a science lab is to go behind the scenes. During this two-semester training program, our neurodiverse students assume complete control of all lab operations, including supply inventory and ordering, equipment management, safety protocols, and stock preparations.
In addition, our neurodiverse students develop and apply their own unique workplace communication skills, building a sense of comfort and confidence amongst their colleagues.
Our objective is to develop skilled neurodiverse students for competitive employment in the scientific community.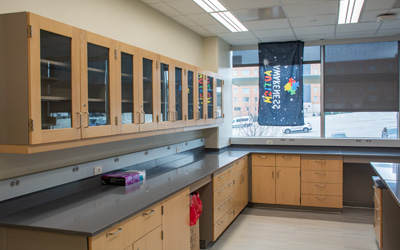 Your Lab,Your Experience,Your Success.
---
Contact Us
For more information on the biology training lab for neurodiverse students, contact:
---
FAQ