About Us
The Eleanor and Charles Garrett Center on Transition and Disability Studies was proposed to the Dean of the College of Education at Sam Houston State University (SHSU) in October of 2016. Dr. Stacey Edmonson, Dean of the College of Education, approved the proposal and supported the movement of the approval process through the SHSU Council of Academic Deans, the Office of Provost, and the President. In February of 2017, Dr. Dana Hoyt, President of SHSU, approved the creation of the Eleanor and Charles Garrett Center on Transition and Disability Studies.
Mrs. Eleanor Garrett is an alumna of SHSU from Garland, Texas. She graduated with a Bachelor of Science in Education in 1954 and with a Master of Education in 1955 at what was then Sam Houston State Teachers College. Mrs. Garrett taught in Trinity, Nederland, Vidor, Port Neches, and Garland before she and her husband started the Garrett Metal Detector Company.
Her late husband, Mr. Charles Garrett, was an engineering graduate of Lamar University in Beaumont, Texas. Their company has grown into the world's largest manufacturer of metal detection equipment for law enforcement, military, security, and hobby equipment.
The generous support of Mr. and Mrs. Garrett has provided for the College of Education undergraduate and graduate scholarships. In addition, they have funded an Endowed Chair Position in Special Education.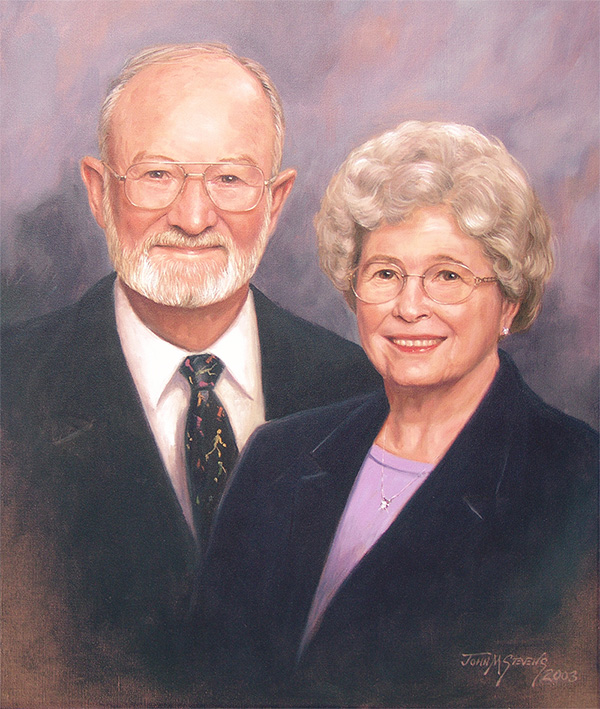 In 2008, Mrs. Garrett was named SHSU Distinguished Alumna of the Year. In 2010, she was conferred with an Honorary Doctor of Laws Degree. The Teacher Education Center at SHSU is named after alumna Eleanor Garrett and her husband, Charles.
The Garretts shared a common goal to help improve education services for children, and in particular children with disabilities, in Texas. Several of the graduate and undergraduate scholarships for education majors are dedicated to College of Education majors studying special education. During childhood, one of Garretts' children acquired a disability as a result of a serious childhood illness. The Garretts experienced first hand the joys and challenges of raising and educating a child with a disability while supporting their son to have opportunities for a better life in adulthood. The Garrett Center is dedicated to carrying on their mission by making a difference for all children with disabilities in Texas, their families, and the educators and community partners who serve and support them.
The center is the first of its kind in Texas to have a dedicated focus on the practitioner aspects of transition services. It will serve as a gateway of information for transition team members including educators, students with disabilities, their families, and community partners.
The purpose of the Garrett Center is to provide information, professional development, training, and resources to university preservice teachers, practicing educators from Early Childhood Special Education through 18+ programs, students with disabilities, their families, state agencies, and the community. The Garrett Center facilitates multi-level and wraparound systems change activities through program evaluations and technical assistance to improve post-school results for students with disabilities. Multiple information pathways were created to support the information and training needs of educators, such as the use of technology, Zoom training and social media, as well as face-to-face professional development.
Recently, the Texas Education Agency awarded the Garrett Center a grant to lead the Student Centered Transitions Network, which is responsible for working with the 20 regional Education Service Centers to provide resources, training, and support to the 1,260 school districts and charter schools in the state.
Staff
Vickie Mitchell is the Eleanor and Charles Garrett Endowed Chair in Special Education for the College of Education at Sam Houston State University. She is also an associate professor and the Executive Director of the Garrett Center. In 2017, Dr. Mitchell was awarded the Donn Brolin Award for State/Province Leadership and Service at the International Conference of the Council for Exceptional Children, Division of Career Development and Transition in Milwaukee, Wisconsin. She has been a general and special education teacher; special education administrator; Transition Specialist for the Region 4 Education Service Center in Houston, Texas; and a private consultant working with school districts and regional education service centers. Her teaching and research interests include transition services, self-determination practices, work-based learning, and program evaluations of all areas of transition services.​
Jaime Betancourt Durán is an assistant professor and the Director of Outreach and Communications for the Garrett Center at SHSU. He has served in south Texas public schools as an elementary special education resource teacher, as a high school special education life skills teacher, and as an educational diagnostician at a middle school. He has also taught and supervised post baccalaureate students seeking special education certification. Dr. Duran's research and teaching interests include transition services, family involvement in the transition process, transition assessment, disability advocacy and legal issues, and culturally and linguistically diverse exceptional learners. Dr. Duran is a past President of the Texas Division of Career Development and Transition (TxDCDT).
Leena Landmark is an associate professor of special education and Director of Research and Grants for the Garrett Center at SHSU. She holds Texas educator certifications in pk-12 generic special education and the principalship, and she taught students with disabilities at the middle school level for seven and a half years. She has worked on the state and federal grant projects at Texas A&M University and Ohio University, and she was an associate professor of teacher education at Ohio University. Her research focuses on the instruction and transition of secondary students with disabilities. She researches topics such as self-determination, transition planning, classroom management, family involvement, leadership experiences, and postsecondary educational practices, all related to individuals with disabilities.
Corinna Villar Cole is an associate professor; the graduate coordinator and advisor of the master's degree programs in Special Education, and Bilingual Diagnosticians at SHSU. At the Garrett Center, Dr. Cole serves as the Director of Appraisal and Diversity. Her research interests include English learners' special education assessment practices, special education, bilingual education, early childhood education, and second language acquisition. Her area of teaching expertise includes preparing educational diagnosticians to conduct special education assessment of students with suspected disabilities. She teaches assessment courses that include the administration of achievement, cognitive, and adaptive behavior instruments in English and Spanish, as well as the use of informal assessment instruments, how to determine language dominance and proficiency for English learners, and how to interpret results and make recommendations for learners in school settings. Dr. Cole is the University Advisor for HOUMET, the Houston Chapter for the Texas Educational Diagnostician Association (TEDA) and has been a member of the Houston area Bilingual Assessment Leadership Group (BALG) for over 25 years.
Christina Gushanas is the Eleanor & Charles Garrett Endowed Assistant Professor in Special Education for the College of Education at Sam Houston State University. Christina has over 15 years of experience of supporting students with disabilities, their families, and their teachers. Her Texas public school experience has included the roles of secondary special education teacher; Admission, Review, and Dismissal Committee meeting facilitator; 18+ program teacher and coordinator; and district-wide transition program support. She has worked on several grant funded projects that support individuals with disabilities and has taught pre-service special education and general education teachers. Dr. Gushanas's research interests include positive behavioral interventions and supports that promote the transition to employment and postsecondary education, postsecondary education programs, and evidence-based transition practices.
Jessica Ann McQueston is a disabled scholar (identity-first preferred) who uses her own experience with disability to ground her work in teaching, research, and service. Jessica is an assistant professor of special education at Sam Houston State University and Director of Disability Studies at the Garrett Center. Jessica was a K-6 special educator, general educator, and reading interventionist in New Mexico for six years and is also a BCBA and LBA. Her research focuses on the following themes: (a) understanding and addressing barriers to inclusive education for students with disabilities, particularly those with extensive support needs, (b) training and support planning to enhance the inclusion of students with disabilities, and (c) incorporating disability inclusive curriculum into the school system. She has taught coursework and professional development focused on inclusive education, disability studies, literacy instruction for students with disabilities, disability as a form of diversity, diversity in schools, UDL, applied behavior analysis, and supporting students in inclusive settings using evidence-based and high leverage practices.
Brynn is a graduate of Texas A&M University and a former member of the Aggie Corps of Cadets and Fightn' Texas Aggie Band. She graduated with an undergraduate degree in Special Education and a Master's degree in Educational Psychology. After completing her master's degree she received her educational diagnostician certification from Stephen F. Austin University. Brynn has over ten years of Texas public school experience, which includes the roles of secondary special education teacher, transition specialist, and 18+ Programs Instructional Coach. During her time in Bryan ISD, she brought Project SEARCH to the district and oversaw its operations until her transition to the SCTN. Brynn also assists in leading district-level, state-level, and national-level professional development on various topics in the area of transition. Brynn is a wife and mother of 3 children and resides in Bryan/College Station with her family.
A graduate of Texas A&M University and the University of Oklahoma, Jeanette has an undergraduate degree in Business Administration and her master's degree in Special Education with a Transition Certificate. She worked for Northside Independent School District in San Antonio for 14 years, where she served as a coach, resource teacher, co-teacher, Transition and Employment Designee and Transition Specialist. In her role as the district Transition Specialist, Jeanette supported all NISD campuses, oversaw the vocational instruction program at all NISDs comprehensive high school campuses, created transition tours and virtual family information sessions, and organized a yearly Community Resource Fair. Jeanette also presented public education legislation to district staff while attending statewide training and conferences to provide pertinent information to her district. Jeanette and her husband, Steve, reside in the San Antonio area with their two children.
Kayla met her husband while attending Baylor University. She earned a bachelor's degree in Secondary Education, specializing in English and Special Education. Using her study of English, her first career was in investment marketing. After ten years, she felt drawn to make a difference. She embraced a career in education and taught middle and high school for 12 years before earning her master's degree in Educational Leadership from Texas A & M University-Commerce. She then continued to serve as a district Transition and Employment Designee, Vocational Adjustment Coordinator, high school Assistant Principal, district Special Education Coordinator, and taught the special education content seminar for an alternative certification program. Most recently Kayla was an Education Specialist for the Region 12 Education Service Center in Waco, focusing on transition, accessibility, and inclusive practices for students with disabilities. She has been a guest lecturer in transition for several university teacher preparation programs and has trained many educators across the state through professional development and conference presentations. Kayla has a heart for homeless youth and young adults with disabilities and serves on multiple local, state, and national committees. She is part of Leadership Waco through the Greater Waco Chamber of Commerce. Kayla and her husband, Joe, live in the Waco area near their two adult daughters.
Erin Kline is the Coordinator for the Garrett Institute at Sam Houston State University. Ms. Kline worked for the Houston Independent School District for 16 years. Ms. Kline served as a Special Education Department Chairperson, Skills for Learning and Life Teacher, Reading Interventionist, Resource Teacher, Licensed Specialist in School Psychology-Intern, and as a Transition Coach. As a Transition Coach, Ms. Kline supported many campuses in addition to supporting Houston ISD's Project SEARCH-TCHP from 2016-2020, Ms. Kline was part of Region IV's transition leadership network and was active in Region IV's 18+ network. She has a Bachelor of Science in Professional Writing from the University of Houston-Downtown. In 2017, she was awarded a MA in Psychology with a concentration in school psychology and counseling from Houston Baptist University. Ms. Kline is passionate about transition. As a result of her own college transition experiences, she developed a keen interest in Health Care Transition.
Marilyn is the Grant Administrative Assistant II for the Student Centered Transition Network. She has worked in the private sector at the First National Bank in Livingston and at the Polk County Clerk's Office prior coming to Sam Houston State University in 2003. She had over 17 years of service as an Administrative Assistant at SHSU's KatPost post office before starting with the SCTN. When she is not working, she volunteers at her local SPCA, the Society for Prevention of Cruelty to Animals, and Habitat for Humanity. She is also active in the women's ministry at her local church.