Examples of Student Research
Below are a few featured undergraduate/faculty projects in departments of the College of Humanities and Social Sciences.
Communication Studies
As an undergraduate student majoring in Communication Studies, Everrett Moore presented a paper that he developed as part of Dr. Rick Bello's deception class at the Undergraduate Research Symposium in spring of 2017. He was then able to have it published in the first edition (2017) of The Measure: A Journal of Undergraduate Research, which is sponsored by CHSS. Upon graduation, Everrett was accepted into a graduate program.
English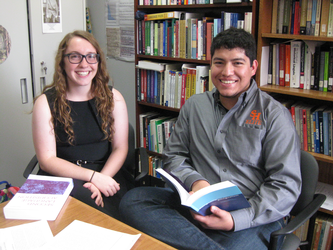 Helen Wakefield and Diego Ibarra worked with Dr. Helena Halmari on the literature review for the project entitled "One, Dos, Trois: Bilingual Proficiency and the Acquisition of a Third Language." Factors such as age, motivation, personality, and aptitude have been shown to influence success in foreign language learning. Using questionnaire data from students in language classes at SHSU, they explored whether bilinguals have an advantage over monolinguals in the task of language learning. They received a EURECA grant in the summer of 2016 to complete their research.
Political Science
Jessica Habib, Bryan San Jose, Danielle Litzen, Ashlee Ziegenbein and Dr. Heather K. Evans worked on a project during the summer of 2017 about the way that third party candidates used Twitter in both the U.S. House and U.S. Senate elections since 2012. They attended the Southern Political Science Conference in January 2018, and their manuscript was accepted for publication at PS: Political Science and Politics.